3 E-Forms that Simplify Public Procurement
When it comes to purchasing the goods and services that keep business running, public agencies have a lot of hoops to jump through.
The forms, restrictions and approvals involved in public procurement can slow down—or even stop—an important transaction from taking place. Here are three e-forms that can simplify procurement.
Procurement RFIs
Using requests for information (RFIs) to collect information about vendors bidding on a project can be a difficult stage of the procurement cycle in a paper-based office. RFIs request a wide range of details about a vendor, such as:
The number of employees or project-related resources the contractor has
The level of prior experience the contractor has with similar projects
The estimated amount of time the project will take
Receiving all of this information on paper makes it difficult to select a winning bidder, requiring the recipient to sort through physical forms to compare different submissions. However, some electronic forms solutions make it easy to analyze information received from different vendors by:
Generating reports that give the recipient a side-by-side view of each vendor's response
Assigning numbers to application responses—such as a 1-10 scale for expected project turnaround time—which make it easier to quickly assess a supplier's capabilities
Dividing the form into categories, such as prior experience, pricing or technical capabilities, to review a vendor's qualifications in a specific area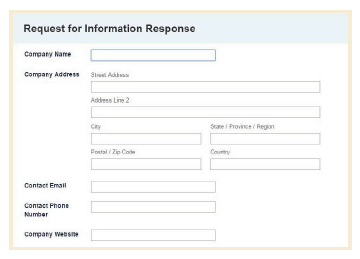 These electronic forms features allow organizations to easily compare advantages between bidding parties—and pick the right supplier for the job.
Purchase Approval Forms
Once a vendor has been selected, many organizations require that a form be submitted for approval from multiple managers within the organization. Purchase approval forms typically include information, such as:
Vendor contact information
The quoted price of each good being purchased
Signatures from each manager approving the purchase
Manually compiling this information can be a time-consuming process. However, when using a robust electronic forms solution, organizations can automatically populate these fields of the form using metadata.
For instance, an organization using Laserfiche Forms could auto-populate the vendor contact details, pricing information and other forms of metadata from the RFI form that the vendor originally submitted—eliminating redundant data entry and saving valuable time and effort.
In addition, the organization can automatically route the purchase approval form to every decision maker and collect digital signatures from each of them. This approach saves time that would otherwise be spent walking the document from one person's office to the next.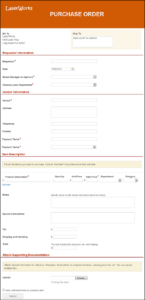 Purchase Orders
At the end of the procurement cycle, a purchase order must be created and approved by multiple department managers. This can be a time-consuming process in a paper-based office, as it requires the review and approval of multiple staff members.
However, with a dynamic electronic forms solution, there is a quicker, easier way to get the job done:
The accounts payable clerk fills out an electronic purchase order form
The total price of the purchase order is automatically calculated once the "Quantity" and "Unit Price" fields are filled out
When the form has been completed, it is routed to multiple department managers for approval
Each department manager can approve, deny or make comments about the purchase order
The accounts payable clerk receives an automatic reminder to create an invoice, which is pre-populated with the same reference number and total as the original purchase order. If the total of the invoice is different from its original purchase order, a reason must be specified.
Once the final payment is processed, the purchase order, invoice and proof of payment are archived in a folder in the repository so that they can be retrieved later

By pre-populating and routing purchase orders to multiple parties, organizations can efficiently and accurately procure business-critical products and services. In addition, intuitive archiving capabilities allow organizations to instantly find all documents associated with a particular transaction.
To learn more about how ECM systems can simplify public procurement, download a complimentary copy of the eBook, How Government Agencies Can Digitize Procurement!