5 Bad Pieces of Advice about Business Process Automation
If you're looking at automating your organization's business processes, you're bound to face a lot of advice from many different sources.  How do you distinguish the good advice from the bad? I sat down with Laserfiche Sales Engineer Zachary Buck to find out the worst advice he's heard about business process automation (BPA).
1. Your automated process should replicate your manual process.
Just because something has been done a certain way for years doesn't mean that it's still performing as efficiently as possible (or was even the right approach to begin with…). Once you decide to automate your business processes, you have the perfect opportunity to analyze and reengineer them.
For example, Girard Securities, Inc. reevaluated its approach to new client onboarding before automating the process. "The best money we ever spent on our back-office technology was bringing the experts onsite for a three-day whiteboarding session," COO John Barragan explains. "We sat down with representatives from every department to map out their processes and agree on the best way to automate them."
Claire Maurer, Girard's AVP of Advisor Relations, adds, "I joke that our Laserfiche programmers are 'business process therapists' because they helped us to look at what we were doing, what we needed to do and where we could add efficiencies and streamline processes."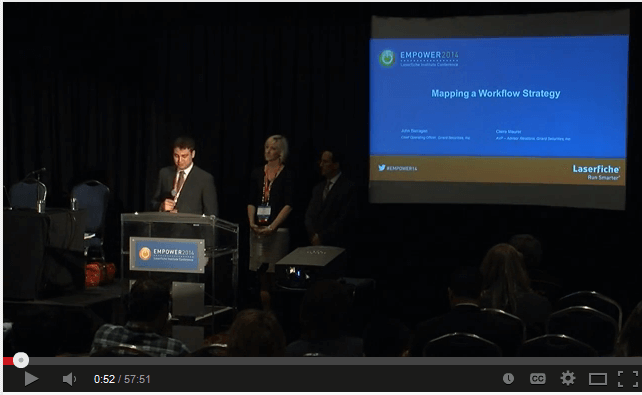 Anyone interested in a step-by-step example of how to reengineer a process prior to automating it should read "Rework an Existing Business Process with Capture Workflow," a Solution Exchange post that explains how a winery reengineered its  bottle and label approval process.
2. The bulk of your time should be spent on building out the automation.
Building out the automation is actually the shortest phase of the whole project, while planning and gathering requirements can and should require the most time. This involves defining the purpose of the project, figuring out who is involved in each step of the process and what actions are performed by each person. It is very important to know exactly what the business process should look like and who is involved before you begin automating. As an example, take a look how the Town of Marana, AZ manages its projects. The majority of the time is taken up by requirements gathering with the other stages—process mapping, work breakdown, database design and end-user testing—flowing from that important first step.
3. Automating a process is something the IT staff can handle all on its own.
BPA should be a collaborative effort between IT and every department involved in the business process. IT can help leverage existing technology and new applications to gain efficiencies while making sure to meet the departments' needs. When the Florida League of Cities decided to automate the accounts payable process, IT worked together with the accounting department throughout the automation, constantly communicating to make sure that the new automated process met  everyone's needs.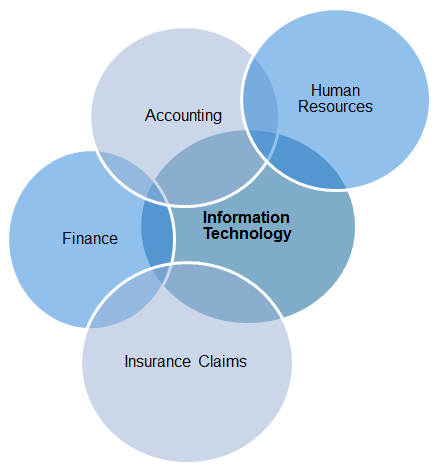 4. Speaking with one person involved in the process is sufficient—don't waste everyone's time.
Collaboration must extend to more than one person involved in the actual business process. In the accounts payable example described above, it was important to hear from the AP clerk as well as the AP comptroller. Each person has a different point of view on the process and their part in it. The City of Lakewood, CO, avoided this pitfall by creating a multi-departmental digital archive group. Representatives from different departments meet regularly to discuss BPA initiatives within the city.
5. Once you've built out the automation, you will never have to change it again.
Departments' needs change over time. For example:
There may be new legislated mandates to which the department must adhere.
A departmental business process might change or a current process may become obsolete.
New technology advances present opportunities for greater efficiency.
It is important to periodically re-evaluate the automated process to take into account any of the changes listed above.
Ready to learn more about BPA technology?
Download this free guide
to learn how process automation improves workplace efficiency and saves time and resources across the enterprise.