7 Document Imaging System Capabilities Your Office Needs
Robust document imaging capabilities are crucial to any organization that needs to digitize, process and store paper documents. Rather than searching through filing cabinets to find documents, forward-thinking organizations are using document imaging systems to quickly find the information needed to make business-critical decisions. Here are seven important document imaging capabilities that every office needs.
1.  On-Demand, High-Volume Capture
The most robust document imaging systems feature customizable folder structures in which all documents can be stored and accessed on demand. Document imaging systems should give users the ability to import documents in multiple ways—from scanning single sheets of a document to batches of documents.
In addition, leading document scanning systems include mobile capture options that allow users to import photos taken with smartphones or tablets directly into the repository.
Lastly, some document imaging systems give users in different departments and geographic locations the ability to scan documents into the same repository—regardless of the capture tool being used.
2.  Full-Text Search and OCR
A key reason for implementing document imaging software is to gain instant access to critical information. In order to search for specific keywords or passages inside a document, the document imaging system must have a built-in master index of searchable text—which is generated using optical character recognition (OCR).
In addition to full-text search, an important feature of a document imaging system is to provide different ways to search for information, such as:
Document name, path or creator
Documents within a particular folder
Pre-configured searches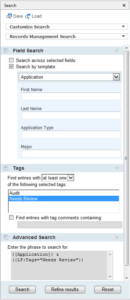 3.  Metadata
To help make information accessible on demand, a critical feature of a document imaging system is to use metadata to index documents stored in the repository. Metadata—or data about data—is often generated through templates and fields that can be applied to a wide range of document types. It contains information, such as account number, customer name and expiration date, that makes documents throughout the repository easy to identify.
For example, when a reference number has been applied to a purchase order as metadata, some document imaging systems allow users to instantly find the invoice, payment source and all other archived documents that are related to the purchase order.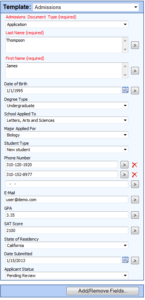 4.  Security
To protect information stored throughout the repository, some document imaging systems can apply access and feature rights to different documents and folders. For example, granular security rights:
Make it possible for only authorized users to view particular content or perform certain functions—such as deleting a document—within the system
Ensure regulatory compliance with HIPAA, SEC, FINRA and other recordkeeping standards
Simplify repository audits by displaying every user interaction with archived documents
In addition, some ECM systems allow users to track who made changes to documents stored in the repository and find out when the changes were made.
5.  Annotations
The ability to annotate documents is a crucial feature of document imaging systems. It allows users to collaborate on the creation and modification of documents stored across the enterprise. Quality document imaging systems provide a host of annotation methods, such as:
Sticky notes
Photos or images
Black- and white-out redactions
Text boxes
Stamps
For security purposes, leading document imaging systems also make redactions to OCR text so that unauthorized users will not have access to sensitive information.
In addition, annotations can be used as bookmarks, making it easy for users to find the desired section of a long document.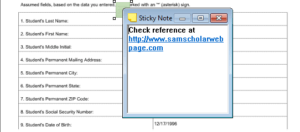 6.  Versioning
Robust document imaging software retains multiple versions of the same document using version control. Users can easily see all of the revisions that have been made to a document over the course of its history, including changes to:
Document text
Metadata
Image pages
In addition, if the user makes an inaccurate or invalid change to a document, it is easy to revert to an older version of that document.
7.  Document Linking
It is important for document imaging systems to link related documents together, so that organizations can find relevant information in a timely manner.
For example, every invoice has a corresponding purchase order and proof of payment. Leading document imaging system allows users to easily cross-reference one document with another related document—even if the two files are stored in different folders of the repository.
Selecting a document imaging system
For an overview of how document management can help your organization streamline operations, watch our webinar, ECM 101: An Introduction to Document Management Features.
To learn more about the important features to look for in a document imaging system, download your complimentary copy of the Document Management Buyer's Handbook.