Amplify Content Capture with Advanced Topics in Laserfiche Quick Fields
Laserfiche Quick Fields is a great tool for automating content capture within your organization. Yet, it can be much more than that—when used in the advanced ways described below it can play an essential part in your business processes.
Customize Metadata within Laserfiche Quick Fields
Simplify working with metadata in Laserfiche Quick Fields without changing the way templates are viewed in Laserfiche by:
Moving fields around in a template in order to make data input more intuitive for the scanner operators.
Hiding template fields that scanner operators do not need to see to keep them focused on only the data that they must review.
Making certain fields read-only to prevent their content from being unnecessarily edited by scanner operators.
Making certain fields required so that scanner operators will not be able to store documents with required fields that are blank. This will help with data consistency.
Setting various field constraints in order to simplify data entry.

For example, it is possible to restrict the Social Security number field format to be ###-##-#### and to notify users if they violate the constraint.

Verifying that the data you entered in a particular field is also present in an existing database. This will ensure data integrity throughout Laserfiche and the outside database.
Configuring zoom fields to speed up the process of verifying or manually populating data in a field. Clicking on a zoom field automatically enlarges the specific area to allow for easier data entry or verification by taking the scanner operator directly to the information they need.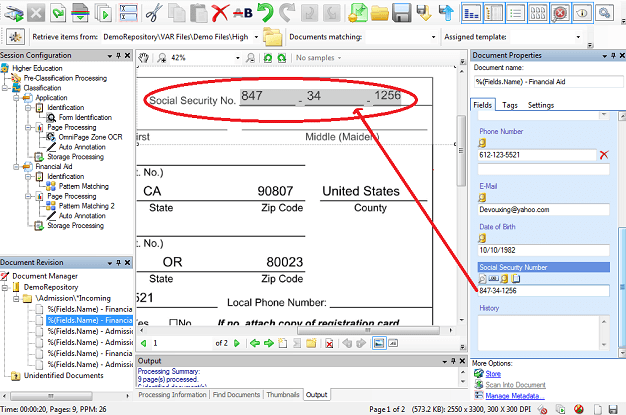 Looking up information from an external database based on the value of one field and using it to populate other fields. This process reduces the probability of an error based on incorrect Zone OCR or manual data entry.

Note that there are two different lookup processes: Field Lookup and Lookup. Field Lookup enables you to rerun the lookup during Revision if you have accidentally entered an incorrect value in one of the fields. Lookup is useful if you want to use the results of the lookup in another process.
You can perform all of the actions described above in the Metadata Management dialog box accessible by selecting a document class and then accessing the Actions – Manage Metadata menu: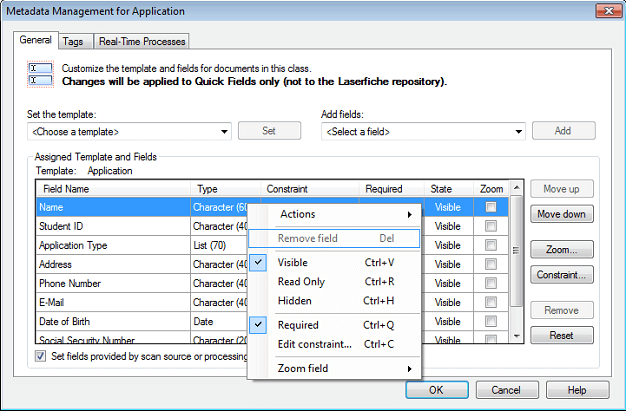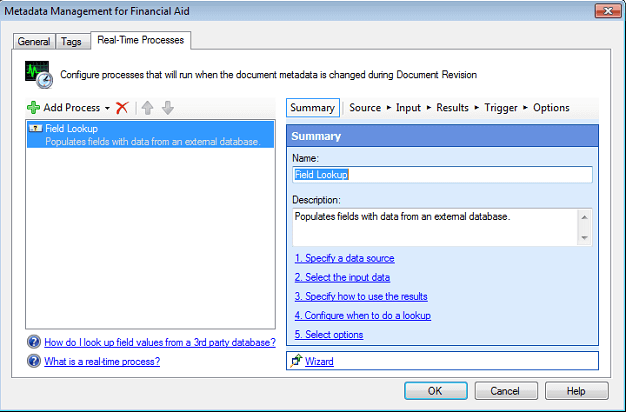 Additional information about customizing metadata in Laserfiche Quick Fields can be found in the "Customizing the Quick Fields 8 Interface" whitepaper. Note that the template constraints specified in the Laserfiche Administration Console still apply – if a field is marked required in Laserfiche, it will still be required in Quick Fields.
Search for processed documents
When you are scanning a very large batch of documents, you may want to review the metadata of certain files to make sure they've been processed correctly. Before storing your documents in the Laserfiche repository, you can open the Find Documents Pane and search for processed documents that contain a particular term in their text, path or metadata. You can then select any of the search results and do any of the following:
Bookmark the document for easy review later.
Store the document in the Laserfiche repository.
Delete the document from the session.
Edit the value of any of the document's fields.
Note that you can perform the first three actions above on more than one selected document at a time.

Process Profiles
A process profile is a group of processes and image enhancements that can be manually applied to a single document during revision. It is best practice to set up process profiles for a certain series of revision steps that you tend to run more than once. This will simplify and speed up your document processing.
Example: Let's say that your employees usually scan invoices using a central scanner, but every once in a while, the document volume is so high that a backup scanner is necessary. Since using this backup scanner always results in documents that need to be despeckled, you can create a saved process profile that scanner operators can run whenever they use the backup scanner. This profile can both despeckle and OCR the resulting image.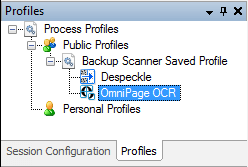 Process profiles are especially useful when some, but not all, documents in a session require revision with the same steps. Rather than apply the same processes repeatedly to different documents or needlessly over-processing all documents, you can configure a process profile and apply that to each document.
A public process profile will be accessible to any user working with that Quick Fields session.
A personal process profile will be accessible only to the Windows user logged in to the machine when that profile was created.