A Lifetime with Laserfiche: An Interview with President and CTO Karl Chan
During its annual 2015 CIO/CTO Awards ceremony on June 3, the Los Angeles Business Journal recognized Karl Chan, President and CTO of Laserfiche, with its highest honor: a Lifetime Achievement Award. Karl received this distinction for his leadership and vision in creating innovative technology solutions for Laserfiche and its customers.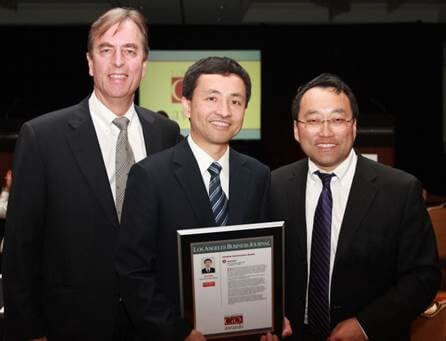 We sat down with Karl to get his perspective on Laserfiche, what it's like to rise through the company and what makes the Laserfiche community special.
Karl, what went through your mind when you heard that you won the Lifetime Achievement Award?
I was extremely honored, but I don't feel old enough to have a Lifetime Achievement Award! I'm in my 40s, so hopefully there are many productive years in my future.
Plus, there were 62 finalists from great companies in Los Angeles, so I was humbled that I was selected.
You joined the company back in 1989. How has Laserfiche changed since then?
I came on board as employee #13 many years ago, so our company has definitely grown significantly. Laserfiche was pioneering a whole new category of software that would later be coined enterprise content management (ECM). It was exciting to be in on the ground floor of that innovation—and to see our solution gain traction with millions of people around the world.
Nowadays, Laserfiche software is a dynamic ECM suite that includes automation, records management and e-forms, among many other components. There is a great video on the history of Laserfiche that gives you an idea of just how much the software has evolved.
How has your career at the company evolved?
I started at Laserfiche as an entry-level programmer, so I was solving technical problems first. As the software development organization grew, I gravitated toward managing the team. Our founder Nien-Ling did a lot to help me along the way. The way she led Laserfiche, both as a businesswoman and a technologist, inspired and taught me a great deal.
What would your team say makes you a strong leader?
I'm a builder and a problem solver. I like laying out a roadmap and plan. However, I know that strong leaders are only as good as their teams. Winning this award is a testament to the strength of our team and the larger Laserfiche community.
What makes the Laserfiche community so strong?
Laserfiche strives to foster customer interaction and community growth. Regional user groups, training sessions and the annual Empower conference are all ways that we develop deep, meaningful relationships with our clients. The fact that Laserfiche is privately held also makes a big difference; we're not subject to quarterly earnings pressures so we can invest in our software long-term and do what's right for our community.
This is how Laserfiche Forms came about. We saw a need based on customer feedback, so we developed a solution. It was very organic. Our customers love engaging with us because they know their voices are directly contributing to the product's development. For example, Laserfiche Answers, our collaborative online user and technical support forum, is always in use with robust community discussion. I often monitor Laserfiche Answers personally and requests from clients are promptly fed back into development.
This level of engagement has given us a community that you don't really see at other software companies. To give you an example, at Empower 2012, our annual conference, Nien-Ling told a parable about a pair of red shoes, and how we need to use the things we have before we outgrow them. The next year at Empower 2013, attendees came wearing red shoes in her honor.
Stories like these—which show our customers' passion for our software—motivate me to find ways to drive more innovation and business value after 26 years on the job.