Capture Strategies in Laserfiche
Capture—the process of getting data into Laserfiche—is an integral part of many business processes. The sooner documents are stored in Laserfiche, the sooner they become auditable, available to other users and subject to record retention rules. Below is an overview of the various capture tools available in Laserfiche.
Drag and Drop, or Import
Dragging and dropping is the simplest form of capture. Simply select an entry and drag it into a folder in Laserfiche.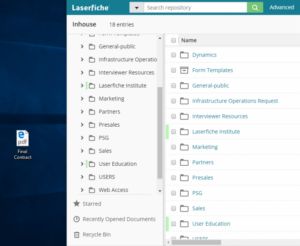 It is possible to drag and drop any of the following:
Single files
Whole folders
Entire hard drives
Dragging and dropping is good for:
One-time or irregular captures
Capturing locally stored documents
Additionally, it is also possible to import individual files into Laserfiche from both the Windows and web clients. Documents can be imported from the hard drive, network drive or, in the web client only, from Microsoft One Drive or Google Drive. Note that the latter is only available if your administrator has enabled and configured it.
Laserfiche Snapshot
Laserfiche Snapshot is similar to a printer, except that the documents being printed are converted to TIFF and saved in the repository instead of being printed on paper. Laserfiche Snapshot is a great tool for:
Archiving documents
Saving copies of webpages
Sharing unalterable copies and unsupported file types with others
Appending pages to existing documents
During printing with Snapshot, a user can select the appropriate folder in the repository where the document should be saved, and add appropriate metadata.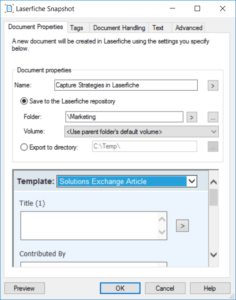 Microsoft Office Integration
The Laserfiche Microsoft Office integration, which is part of the Laserfiche Windows client installation, allows users to:
Save Microsoft Word, Excel or PowerPoint files directly to the Laserfiche repository.
Edit document metadata from inside Microsoft Word, Excel or PowerPoint.
Save emails to Laserfiche directly from Outlook and automatically populate email metadata fields.
Attach documents stored in the Laserfiche repository to outgoing emails.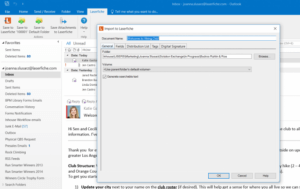 Laserfiche Import Agent
Laserfiche Import Agent monitors certain network folders and imports documents from them into the Laserfiche repository. The utility can be scheduled to look for documents during a certain time frame or continuously.
Laserfiche Import Agent is useful for fax servers, multi-function printers and FTP sites, and anywhere that users scan documents into a network folder.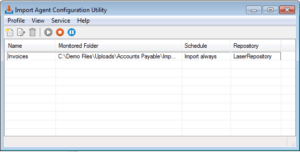 Laserfiche Scanning
Laserfiche Scanning comes standard with the Laserfiche Windows client. It can be used for capturing and processing physical documents as well as image files stored locally or on a network.
Laserfiche Scanning is great for capturing:
Physical documents
Large quantities of documents to be processed later
Documents that don't require much metadata entry
Mixed batches of documents
Access Laserfiche Scanning from a button in the Laserfiche Windows or web client.
There are two different scanning modes:
Basic mode, which is recommended for scanning one document at a time
Standard mode, which is recommended for scanning a batch of documents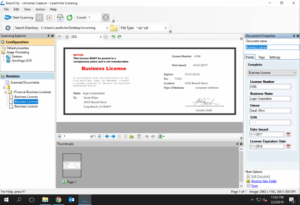 The Laserfiche Standard Scanning interface
Laserfiche Quick Fields and Quick Fields Agent
Laserfiche Quick Fields is a version of Laserfiche Scanning with increased automation. It is a great tool for scanning and processing a batch of different documents. Laserfiche Quick Fields can capture and process:
Physical documents
Digital documents stored on a network drive or in the Laserfiche repository
Laserfiche Quick Fields can be configured to:
Automate metadata entry
Look up and validate information from a database
Perform a variety of image enhancements
Classify different documents based on a variety of identifying factors
Extract information from barcodes
Laserfiche Quick Fields is ideal for:
Processing a large number of documents
Automating data entry and classification
Centralized processing
Laserfiche Quick Fields Agent allows an administrator to automate Laserfiche Quick Fields sessions and run them on a variety of schedules. When configured to run on a schedule, no manual processing is required. Quick Fields Agent is useful for processing document during off hours.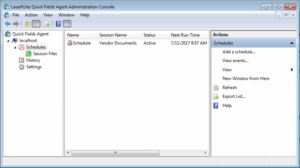 Laserfiche App
The Laserfiche app for iOS, Android and Windows simplifies capturing information in the field or on-the-go. The app makes it easy to take a photo with the camera on a mobile device and upload it to the repository along with metadata. It is also possible to save the exact location coordinates of the photo as a field in the metadata.
The Laserfiche app also allows users to submit electronic forms (see the Laserfiche Forms section below). Forms can be filled out while the user is offline and submitted when he gets back into network range.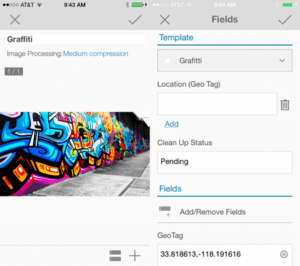 Laserfiche Forms
All of the methods described above deal with capturing existing documents into Laserfiche. Laserfiche Forms, known as business processes in Laserfiche Cloud, allows for the capture of unstructured data through an electronic form.
In addition to filling out the form fields, users can also attach documents to the form. Forms can be saved in the repository as TIFF or PDF files with appropriate metadata. The attachments that are submitted with a form can also be archived in their current format.
Forms can be linked to an external database so that some of the information can be pre-populated for the user.
Laserfiche forms can be submitted from a computer or through the Laserfiche app.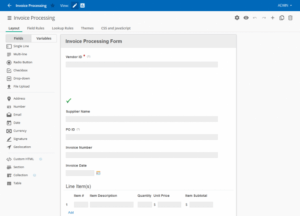 Capture Profiles
Capture profiles extract data from documents so that it can be used in a business process. For example, you can create a capture profile for a standard document such as a purchase order or a job application. This profile extracts information from the document, which can then be used as tokens in a workflow to update metadata, name folders and more.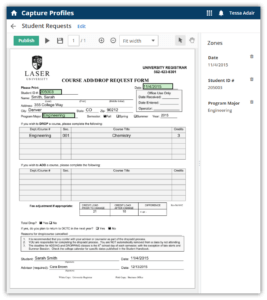 In a typical capture profiles scenario, users import documents to Laserfiche. Automated triggers immediately kick off capture processing. Documents are then processed and correct metadata is automatically applied.
Smart Invoice Capture
Smart invoice capture is a type of special capture profile that uses machine learning technology to capture information from any type or format of invoice. Smart invoice capture captures the following information from invoices:
Invoice number
Purchase order number
Total due
Invoice date
This information can then be applied to invoices as metadata and used as part of an automated process. See Smart Invoice Capture in action.