Configure Your Entry Ownership in a Batch
What is entry ownership?
The entry ownership mechanism in Laserfiche enables users to manage their own entries (documents and folders), without needing to call in an administrator or privileged user.
An entry's owner can set security for that particular entry and can manage the entry's annotations. This gives entry owners the ability to configure security for and otherwise manage their documents, without granting them larger-scale rights over the repository.
By default, the starting owner for an entry is its creator.
A user with the read entry access right on the entry and either the Change Entry Owner entry access right (on the entry in question) or the Manage Entry Access Privilege (on the repository) can reassign the document owner to another user or group after document creation.
The repository can be configured so that documents have no owner when they are created.
So why would I need this utility?
While entry ownership can be configured within the Laserfiche Client, it must be done one entry at a time (step-by-step instructions), often a time-consuming process. By configuring entry ownership in a batch, you not only save time, but also ensure that your documents are securely managed by the appropriate users and reduce errors associated with configuring each entry individually.
Example
Over the course of her career with Laser City with Laser City Police Department, Elizabeth has created over a thousand documents in the repository.
When she leaves the organization, the Laserfiche administrator can run this utility to make himself the owner of all of her entries.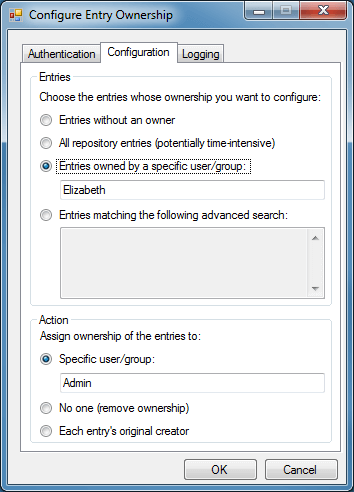 After clicking "OK" a bar updates the conversion progress.

When finished, the utility processes the batch and automatically converts the ownership to the administrator without requiring him to make those changes one-by-one.
Other Scenarios in which the utility might be useful:
An organization decides they want to disable the entry ownership feature and remove the ownership property from all existing entries.
An organization decides they want to enable the entry ownership feature after having it disabled since purchasing Laserfiche. They want to assign ownership of each entry to its original creator.
How can I install the utility?
Please note that in order to download this zip file, a Support Site login is necessary.
Download the zip file from this location.
Open the folder named "Install."
Run the "Configure Entry Ownership.msi" file and follow the prompts.
The complete Visual Studio project, including the utility's source code, is found in the "Source" folder in the same zip file.