Digital Transformation by the Numbers
Digital transformation is a hot topic: It's a buzzword that's become ubiquitous in the media, at conferences, and in analyst reports and predictions. While digital transformation is a nebulous term, the goal is the same for organizations of all sizes: Make information available, accessible and usable—anywhere, anytime, from any device.
It's important to realize that digital transformation is not an overnight success; however, it's a journey that requires consistency, committed leadership and strong grassroots engagement. Attempting to complete the digital transformation journey all at once would be overwhelming from a technology standpoint, which is why Laserfiche developed the Digital Transformation Model.
The model features five relatable phases based on common challenges, enabling organizations to set clear goals and identify the progressive improvements needed to transform into a digital workplace. Additionally, organizations don't have to leverage the Laserfiche Digital Transformation Model in a linear fashion—it's meant to meet departments or companies where they currently are in their journeys.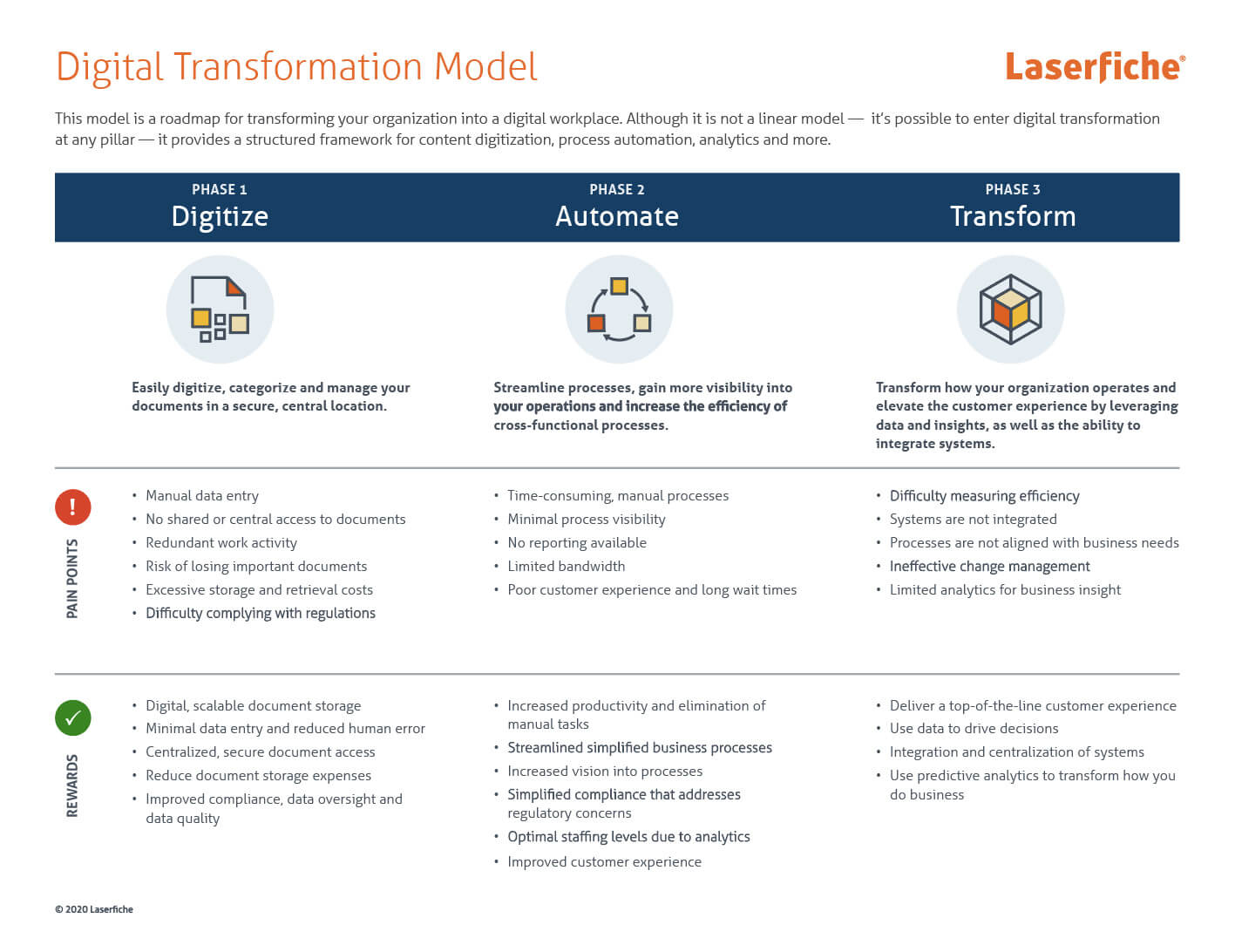 Whether an organization is in phase one or five, it's imperative for its leaders to stay on top of the latest technology tools that can support and advance a digital transformation strategy.
Leveraging Cloud in Your Digital Transformation Strategy
Many IT leaders believe that the cloud plays a large part in this success. In fact, Cloud Industry Forum reports that 79 percent of respondents whose organization has implemented a digital transformation strategy say that the cloud is very important to the overall strategy.
According to IDC, worldwide cloud services and infrastructure spending is expected to reach $160 billion in 2018, an increase by over 23 percent from last year. Organizations are under increasing pressure to create more agile and cost effective IT environments, and there are significant benefits to consider when pursuing both digital transformation and cloud strategies in tandem. By digitizing forms and using Laserfiche Cloud, organizations have a cost effective way to securely store data while eliminating the need to maintain infrastructure. Because of this, cloud technology is enabling organizations to rethink IT services, allowing them to redirect focus from infrastructure to new innovative technologies that impact how the entire enterprise operates.
Do More of the Work That Matters With Robotic Process Automation 
For years, organizations have been weighed down by manual process, and lack of time and resources to invest in new products and services. When asked what their organization's top objectives were for their digital business strategy, the majority of leaders responded that they expect to improve process efficiency through automation. However, a Laserfiche survey showed that only 1 in 10 organizations have started using business process automation to reach their goals.
Robotic process automation (RPA) is a technology that can help to speed process automation initiatives by enabling non-technical users to automate their own processes. A report from Transparency Market Research states that RPA will reach spending of $4.98 billion by 2020. This tells us that RPA is playing a significant role in digital transformation. Not only does this new technology enable employees to focus on the work that matters, but it is also making it easier to collect and leverage data, helping organizations make better business decisions. Because of this, RPA should be a top priority for every business leader.
Gaining a Competitive Edge
The benefits of digital transformation are clear. According to the MIT Center for Digital Business, organizations that have embraced digital transformation are 26 percent more profitable than their average industry competitors. Digital transformation is changing the competitive landscape, and many organizations are feeling the competitive pressures. This is now the main reason why organizations are optimizing paper processes and updating business infrastructure.
While digital transformation projects can be driven by increasing competition, technology can fight off these competitive threats. Organizations that have made the most progress with digital transformation are the ones that have responded aggressively to the changes in the competitive landscape, and see them as opportunities.
Some ways you can help your organization stay ahead of the curb:
Find new technologies to accelerate the pace of change
Find two or more executives to be help lead digital transformation initiatives
Look for grassroots engagement throughout your organization
Look for digital processes of at least one kind that are fully integrated into other processes
Consistency, strong leadership and grassroots efforts—and an understanding that digital transformation is a journey and not an overnight success—will enable a successful digital transformation strategy. The project requires a holistic approach to organizational change, and Laserfiche can provide tools and resources to assist you, no matter where you are in your digital transformation journey.
Learn more about how you can impact change at your organization with our white paper, 5 Strategies for Driving Digital Transformation.