How Eastmont Towers Streamlines Patient Charting
Contributed by: Beth Nelson, Health Care Administrator, Eastmont Towers
When a patient transfers into Eastmont Towers Community's care facilities from area hospitals, the organization receives a bundle of electronic and paper medical records. Laserfiche Rio streamlines the charting process and increases staff efficiency across five buildings on two campuses.
The medical records staff at Eastmont Towers used Laserfiche Quick Fields and Workflow to create the following patient charting process:
When a patient transfers to Eastmont's Skilled Nursing facility, Laserfiche Quick Fields generates a chart by recognizing document types from an Excel spreadsheet.
Laserfiche Quick Fields then populates metadata template fields according to patient name and ID number.
Laserfiche Quick Fields then builds the folder structure out according to what documents fall under respective chart headings.
Laserfiche Workflow then notifies the pharmacy and dietician according to document type (nutrition information, etc.)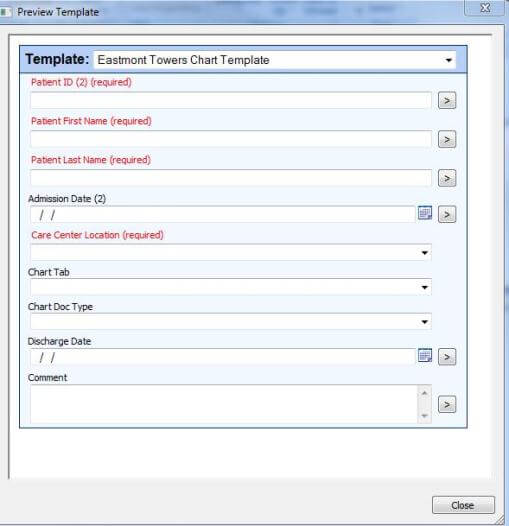 "We needed a way to streamline and simplify everything coming in and have it work with our EMR so staff could find everything in one place."
Beth Nelson, Health Care Administrator at Eastmont Towers, noted that the organization plans to integrate Laserfiche with its Keane EMR.
Dynamics Fields Make It Easy to Add Information to Charts
Eastmont Towers' paper files included chart tab dividers. Prior to Laserfiche, every time a document was added to a tab, the documents were removed from the paper file so new information could be filed in the appropriate spot.
Laserfiche and its dynamic fields, which allow users to link fields together such that selecting a value in one field determines what values are available in another, have made it much easier to add relevant information to a patient file.
An employee selects a 'tab' item from the 'Chart Tab' field drop down menu.
The 'Chart Doc Type' drop down list automatically populates the template with specific documents that fall under that 'Chart Tab' category, instead of having to manually sort through the paper file.
The table used to populate Eastmont Towers's template dynamic fields by chart type is shown below: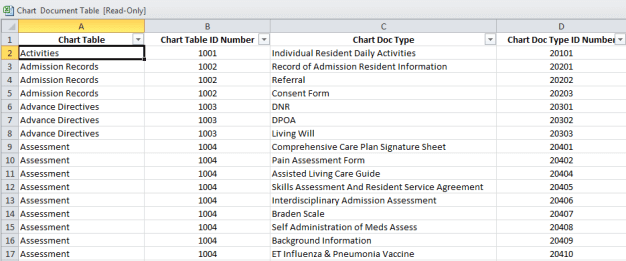 The drop-down menu allows users to select the Chart Doc Type to automatically populate the list with specific documents, instead of having to manually sort through tab dividers to find the paper file: