Eaton County: Evolution of an Enterprise ECM System
Long-time customer Eaton County, MI, implemented Laserfiche in 1995. We interviewed Dr. Robert Sobie, Director of Information Systems, to learn how the county's use of Laserfiche has evolved over the last 20 years, culminating in a 2014 Run Smarter Award.
Why did Eaton County originally implement Laserfiche?
Before Laserfiche, the technology department faced problems with archiving documents such as contracts, system documentation, interoffice memos, invoices and human resources files. Although at the time the IT department was one of the smaller ones in the county, the volume of documents received, filed and retrieved was significant. A thesis I wrote in 1990 for my Bachelor of Arts degree on the absence of paper recycling in the county served as my "aha!" moment. I was determined to find a way to reduce the government's reliance on paper documents and the expense of sharing and routing.
How has the county's Laserfiche implementation grown since then?
Laserfiche was originally implemented as a single-user software application. By 1997, we had acquired additional user licenses and expanded it to serve as a small enterprise document management system. At that time, I was still promoting Laserfiche primarily as an archival tool, hence the cartoon created by Laserfiche that same year. It represents the implementation of the software in the county's permits department.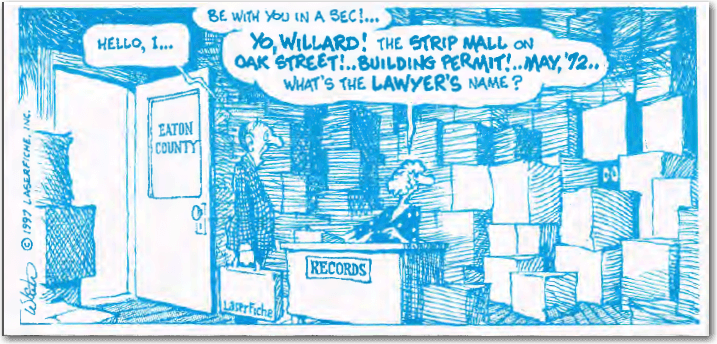 It took a few more years before I successfully recruited an internal champion to implement Laserfiche for something more than establishing an archive. In 2003, Jeff Sauter, Prosecuting Attorney (now a county trial court judge), began using Laserfiche for a "paperless" case management process in his office. This led to a nationally recognized best practice that has since been replicated in other prosecuting/district attorney agencies in the United States.
Fast forward to 2014, and all operating courts and county departments use Laserfiche for various purposes. Some use the software extensively and rely on it as the foundation of their business operations, while others use it for more rudimentary purposes like inquiry and archival. Regardless of the manner and method in which it's used, other than an actual computer network that shares resources, Laserfiche is the most important technology deployed in the county to transform business processes.
Where do you plan on taking your Laserfiche implementation from here?
Working with our Laserfiche VAR, General Code, we are aggressively developing plans to integrate Laserfiche into court operations. This court integration initiative involves all of the county courts, the prosecuting attorney's office and the sheriff's office. The initiative involves integrating Laserfiche with software applications in use at the Michigan Supreme Court's Judicial Information Systems division, Michigan's Child Support Enforcement System and the Michigan Prosecuting Attorney's Coordinating Council/Prosecuting Attorney's Association of Michigan.
Related to the overall administration of Laserfiche in the county is the idea for developing a Laserfiche Administrator's Dashboard that can quickly provide insight into the administrative and operational state of the system, including active user connections, active business processes, event history and changes to security rights.
Finally, the development of many more business processes, workflows and electronic forms will highlight the next several years as we work to reshape the county's mandated and routine public serving requirements.
What have been the greatest benefits of using Laserfiche at Eaton County?
It seems too routine to simply state that increased efficiency has been the greatest benefit, but that is what we've experienced during our 20 years of Laserfiche use. Implementing Laserfiche has transformed county business operations, resulting in:
Reduced use of public resources such as labor and consumables.
Increased document sharing, security, accountability and organization.
Ease-of-use and scalability of the software.
A true content management system storing many different types of files such as photos, audio, video and so on.