Tech Tip: Enabling JPEG Compression on Imported Files in Laserfiche Mobile
Laserfiche Mobile is an application for the iPad and iPhone that enables you to capture, upload, securely access and work with documents inside your Laserfiche repository while on the go. Laserfiche Mobile 8.2.2 has many new features, one of which enables you to compress large color images uploaded to your repository from your iPhone or iPad using JPEG compression.
By default, color images that have gone through image processing are converted to a lossless format. Because these files are large, using JPEG compression will reduce the file size and help save room in your repository.
Note: Because the iPhone 4s takes higher quality pictures, the sizes of the uploaded images are larger. In this case, an administrator may need to enable this option.
To use the Compress as JPEG option when importing color images:
Open the WebAccessMobileConfig.xml file using any text editing program (e.g., Notepad) by navigating to C:Program FilesLaserficheWeb Access 8Web FilesConfigWebAccessMobileConfig.xml.
Note: We recommend backing up this xml file before editing it just in case you need to revert to the original.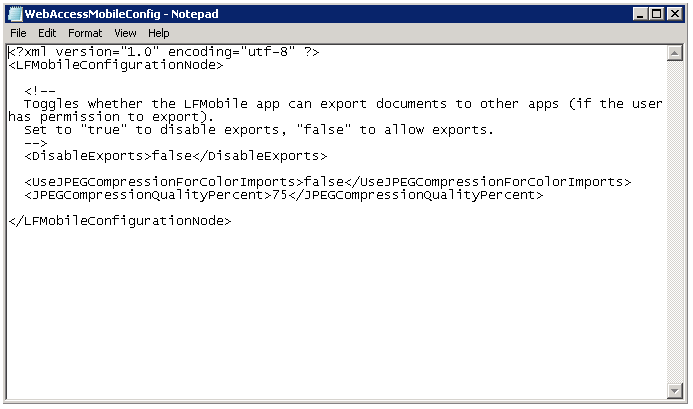 On the line that says <useJPEGCompressionForColorImports>false</UseJPEGCompressionForColorImports>, replace false with true.
Optional: Edit <JPEGCompressionQualityPercent>75<JPEGCompressionQualityPercent> to adjust the quality of the compressed images. Replace the default value, 75, with a number from 50 to 100, with higher numbers meaning higher image quality and larger file sizes.
Reset IIS.