Empower 2021: Keynote Speaker Recap
Empower 2021 welcomed more than 6,000 registrants to an all-new virtual event featuring some of today's eminent thought leaders in business and technology. Here's a quick recap of what some of those influential voices had to say:
Marc Randolph, Entrepreneur, Investor and Netflix Co-Founder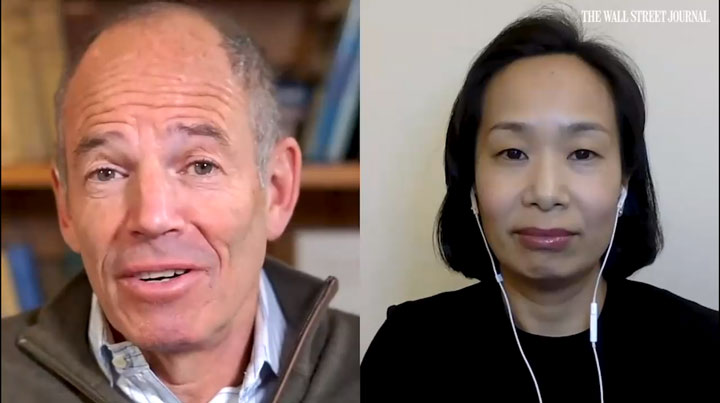 Netflix is now a household name. Founded more than 20 years ago, the streaming service recently passed the milestone of 200 million subscribers and brings in around $20 billion in annual revenue.
When asked by Yun-Hee Kim, Technology Editor for The Wall Street Journal, about whether he expected the level of success Netflix has achieved over the past two decades, Marc was humble: "One of the truths about startups is that ideas don't count for much."
Two pivotal pitch meetings in the early years of the platform – after finally figuring out how to put their lofty ideas into practice – shaped how Marc views entrepreneurship. Marc and his co-founder Reed Hastings turned down Amazon's offer to purchase Netflix in order grow the company, but later got turned down themselves by Blockbuster when the former rental giant's executive team thought the two had asked for too much. In the face of this, and a growing subscriber base incurring large upfront costs, Marc took the advice of his father that, "sometimes, they only way out is through."
Marc and Reed's perseverance paid off. Netflix now is valued at over $260 billion, while Blockbuster clings to its last store. However, the entrepreneurial spirit hasn't left Marc. Since leaving Netflix years ago, Marc now mentors dozens of aspiring entrepreneurs looking to create the next big thing. In this role, he advises that, while ideas can change and pivot, like Netflix, it's strength of character and a drive to innovate that truly gets his attention when it comes to investing in something new. Alongside the inspiring story of Netflix itself, Marc also discussed the future of video streaming, the expansion of the tech industry past Silicon Valley, and how work culture can help define a great company.
Kate O'Neill, Futurist, author and podcast host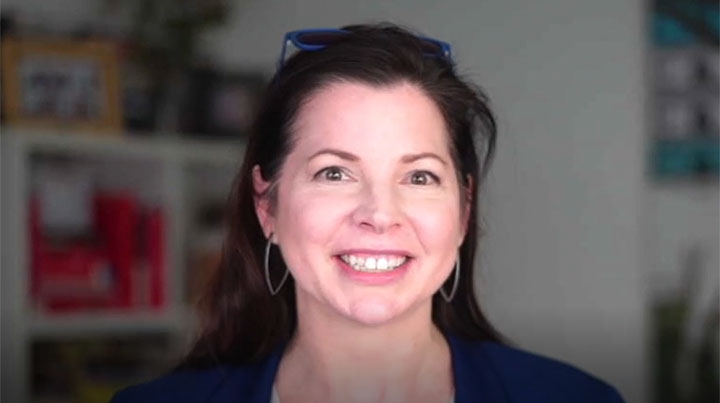 Author of "Tech Humanist: How You Can Make Technology Better for Business and Better for Humans", Kate O'Neill tasked the audience at this year's Empower to answer the question: "How can humanity prepare for an increasingly tech- and data-driven future?"
Kate is quick to point out that while technology usually moves forward to address business needs, those business needs are driven by human behavior. If human behavior is largely driven by a sense of meaning and purpose, it becomes essential to infuse that meaning into the technology we create or choose to implement. While digital grocery shopping is convenient, it can take away some of the key social interactions that helped make that specific experience, and at scale the human experience, more meaningful.
Even if emerging technologies like AI don't look like they're going to completely overtake humanity, it becomes ever more important to view these technologies through the humanistic lens and work to ensure these technologies are created and used ethically.
Kate encourages us not only to challenge our assumptions when it comes to creating technology, but also to inspire ourselves with new goals for technology that help solve human problems at scale – such as climate change, poverty and education disparities. Coming into this mindset can help us all build our best tech, grow our best businesses, and become our best selves.
Dr. Nicol Turner-Lee, Director, Center for Technology Innovation, Brookings Institution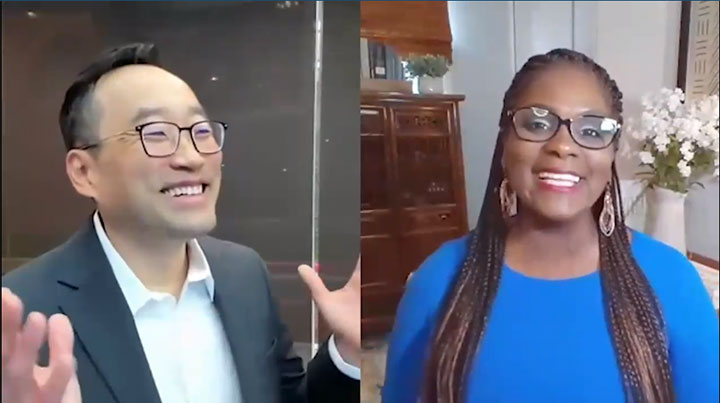 As Director of the Center for Technology Innovation at the Brookings Institution, Dr. Nicol Turner-Lee focuses her research on the intersection of technology and policy, and how both affect our everyday lives. More recently, Dr. Turner-Lee has set her sights on addressing the digital divide in her new book, Digital Invisible: How the Internet Is Creating the New Underclass, and how the pandemic has exacerbated technological inequity, especially when it comes to people of color, senior citizens, and those most vulnerable.
Today, there are 18 million Americans without internet access, which is a startling number given how many emergency and other services are moving online. Nicol remarks that "The internet has changed how we live, learn, earn and love." However, for those off the grid, simple things like getting groceries, staying in touch with loved ones or even getting to work or school can be a challenge – especially during a pandemic. Still, Dr. Turner-Lee is quick to point out that this is only half the battle. People need more than just access, they need quality, fast access to use most services and truly connect with the digital world. Not only that, but the existing digital world isn't perfect. As effective as social media might be for staying in touch with friends and family, it can be a hotbed for misinformation.
Dr. Turner-Lee believes that some of the starkest disparities during this pandemic exist in education, and how distance learning particularly disadvantages communities of color and other vulnerable families. According to the superintendent of Alabama's schools, some students have had to share their school computers with parents who need to log in for remote work. According to her research, Nicol found that low-income students may lose a year or more of schooling from this pandemic, and that the consequences of these disparities will long outlast the pandemic itself. Dr. Turner-Lee wants to say to the secretary of education that "no child should be left offline" and that we should take steps to bring more technology into all classrooms. Examples include a tablet for every student, and more internet access for transitional housing and shelters where some students reside. Still, even with these disparities, Nicol believes technology to be a democratizing force for business, as a "Silicon Alley" develops in communities across the country and around the worlds, where people can learn, grow and have lucrative careers regardless of the neighborhoods they grew up in.
In addition to talking about disparities in education and the digital divide, Nicol discussed topics including the role of STEM education in classrooms, how private and public sectors can work together to provide 5G access and other technologies, as well as how emerging technologies need to be designed ethically to avoid racial bias and challenge assumptions that an algorithm's creators might have overlooked.
Harry D. Moseley, Global Chief Information Officer, Zoom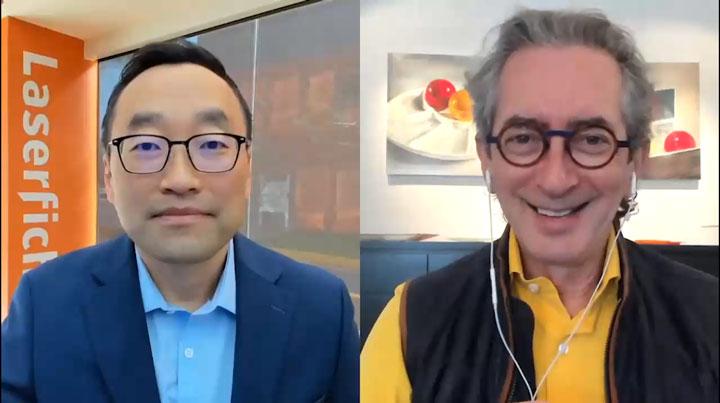 Zoom has become so familiar in today's culture that many use it as a synonym for video chat in general. In December 2019, Zoom already had an impressive 10 million daily meeting participants. However, like the rest of the world, Zoom insiders did not expect the speed and intensity of its eventual success. By March 2020, Zoom had 200 million, and by April, 300 million daily meeting participants.
In Harry's keynote, he discusses the challenges encountered and accomplishments achieved during this time of immense growth for the company. Early into the pandemic, Zoom was caught in the headlines over security concerns. "Zoom was built for the enterprise," Harry explained. Originally, the platform was designed for businesses with dedicated IT staff that would handle system security. In addition, many of the company's early deals were with educational institutions. Parents and educators were caught off guard when they realized students could invite anyone they wanted without the right security configurations and settings in place.
Harry and the team at Zoom did not take these concerns lightly, and immediately stepped up to the plate. They improved, upgraded and expanded their infrastructure. The firm rolled out new privacy controls that made it easier for meetings hosts to secure chat rooms. Zoom held off on other innovations temporarily to allow their engineering team to make security even more of a top priority. More recently, the firm has release end-to-end encrypted meeting services that can host up to 1,000 people simultaneously. In an effort to further assist educators and other meeting hosts, the company launched Zoom Academy, a virtual learning experience designed to give users more knowledge and control over their meetings.
Even when the pandemic is behind us, innovative technologies like Zoom are here to stay. In his keynote, Harry also discussed how distance learning differs from in-person training, and how platforms like Zoom can create a level playing field for introverts and extroverts in the workplace.
Ted Ross, CIO, City of Los Angeles, CA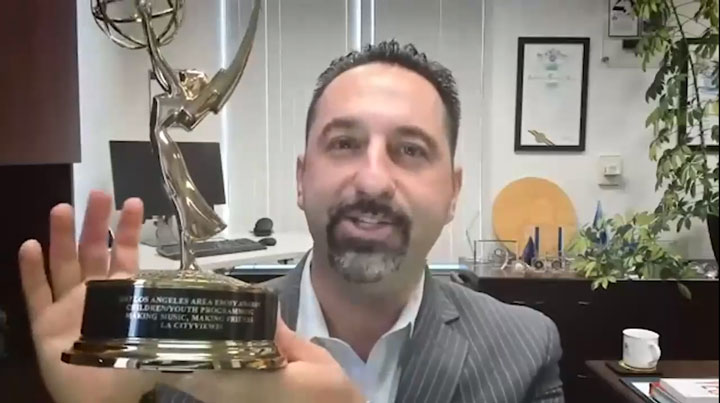 As CIO, Ted Ross has led the charge in making Los Angeles thrice named America's #1 digital city by the Center for Digital Government (CDG). With over 4 million residents, 500,000 businesses, and an average of 48 million visitors per year, Los Angeles has a large community – and it can be a massive undertaking keeping them digitally connected. Still, Ted and his team remained steadfast in their dedication to making LA a "smart city" that uses technology, data and resources to transform the lives of residents, and help businesses and make a better experience for visitors.
A key step to keeping LA connected is investing heavily in new and emerging technologies. One initiative focused on urban mobility is using the city's network of 4,500 connected intersections to count pedestrians – the idea being that measuring foot traffic will help the department of transportation better accommodate pedestrians as well and vehicles. The famous LAX airport is being future-fitted for the upcoming 2028 Olympics with Wi-Fi, fiber optics, and other internet-of–things innovations designed to reduce the lines airports are known for. In addition, LA already has 2,500 5G ultra-high-speed access points, with 3,000 more planned over the next three years.
This new age of internet access isn't just for consumers, it enables public servants, from firefighters to grounds crews, to be more agile in how they operate. For example, the sanitation department is using machine learning to identify bulk pickups, graffiti and other concerns via cameras on trucks instead of relying on residents to report them. This proactive approach to public service in many ways defines what Ted sees as a "smart city."
However, even with all these initiatives, the pandemic still brought challenges. 18,000 city employees had to transition to working from home. Workflows and processes had to be digitized. Some of the services needing special attention were emergency services such as rent support, providing $103 million for Angelenos impacted economically by COVID-19, as well as resources for residents to get COVID-19 testing. Since those fits and starts getting emergency services digitized in the early days of the pandemic, now services can be accessed via the city's virtual city hall, with citizens able to create a unique ID they can use across most of the city's applications and services. However, Ted and his team are also aware that not all citizens have the necessary resources to navigate the digital world. In response, LA launched a website to give no-or-low-cost access to resources for underserved communities. The city distributed over 3,000 computers to families in need, and provides digital training for them as well.
Needless to say, 2020 has been a time of transition for America's second-largest city. Still, Ted is confident in meeting the challenge, and says it's important "to not just survive, but thrive." He encourages others in roles like his to think differently and welcome the future of digitization.
Also, we would be remiss if we didn't congratulate Ted and his team on their Emmy award, for LA's Channel 35 documentary, "Making Music with Friends" that emphasizes the importance of music in the lives of young people.
Jay Chaudhry, CEO, Chairman and Founder Zscaler, Inc.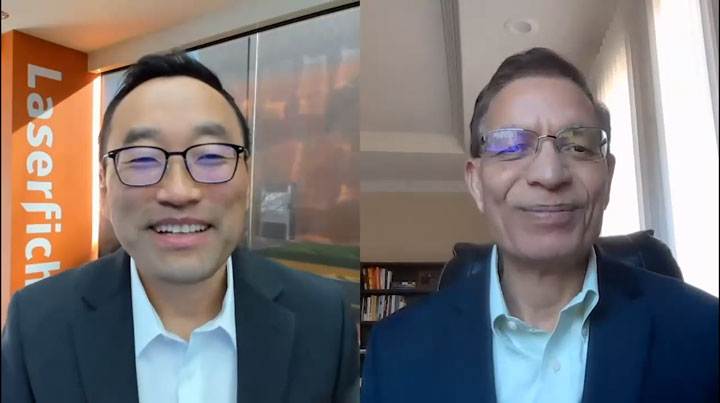 Zscaler, a cloud-based information security company founded in 2007, had a 52% growth in earnings in 2021, and as of today has a market value of $29 billion. At this year's Empower, we asked CEO Jay Chaudry why the market appears so bullish on Zscaler.
His answer was simple: he's not really focused on the market in that way. He emphasizes that his primary focus is on customers, and that happy customers buy more of your product. However, he does note that the industry is changing. Mobile and cloud are becoming the norm for businesses, and traditional security technologies don't work anymore. As companies like Salesforce and Workday became disruptors in their industries, Zscaler disrupted the network security industry.
Jay highlighted a few key ways in which Zscaler's zero-trust architecture is suited to provide a high level of security, even in a world where many people work from home. Instead of having cloud applications published on the internet itself, Zscaler hides your cloud apps from the internet, much like a VPN, minimizing the attack surfaces a malicious actor could approach from. However, unlike VPNs, zero-trust doesn't necessary give authorized users access to everything. Instead, they are only allowed to use apps for their role, limiting risks if any particular user was compromised.
As encryption is standard across the board in almost everything moving across the web, Jay points out that it's not enough to protect the enterprise. Malicious actors now use encryption too, so the team at Zscaler utilizes a large network of over 150 data centers to fully analyze encrypted data across its network, making it easier to identify threats that may pass by traditional firewalls.
Because of these innovations, Jay says customers have been able to thrive, with many having little to no friction moving from the office to work-from-home arrangements. In addition to discussing the advantages of thinking cloud-first when it comes to security, Jay discussed the challenges of finding new talent in the cybersecurity, the opportunities to expand recruiting with remote work, and how to encourage more diversity in STEM fields.
George Kurtz, CEO and co-founder, CrowdStrike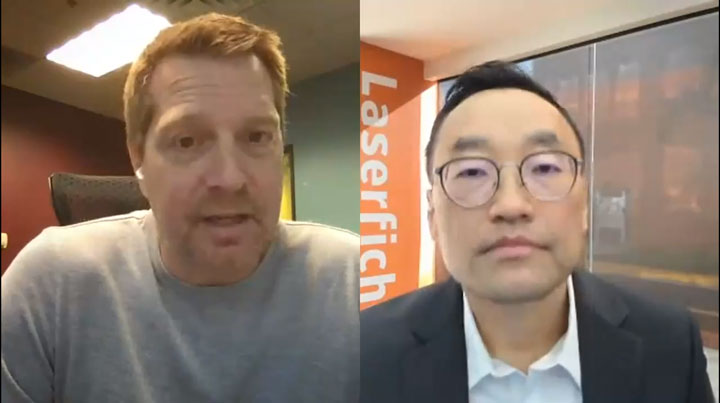 When asked how customers reacted to the pitch for an on-cloud, for-cloud security platform, Crowdstrike CEO George Kurtz admitted it wasn't without its challenges. While many forward-thinking customers embraced the new technology and saw its potential, "some of the older customers were laggards" that initially resisted the cloud. However, George continues to say that the cloud "is bigger than any of us."
The truth is, as George puts it, is that today's firms need to be at the forefront of digital transformation to compete. Cloud is a part of that, and this new world of applications needs a new type of security platform: 'you're not going to do what you've done in the past or jam legacy technologies into the cloud and hope they work."
However, with the pandemic squeezing budgets for governments and many businesses, some are trying to find the balance between finances and security. However, George warns that "a hard to thing to skimp on is security." For governments, it's not one computer that's at risk. In today's environment, a whole school district or a 911 emergency system could go down. Whether the malicious is actor is a nation-state or an e-criminal, the impacts on resiliency and operational effectiveness can be dire. Although budgeting is important for any organization, George emphasizes the importance of taking a risk assessment when it comes to cybersecurity, as the cost of a large breach could far outweigh the cost of any security measures.
In addition to advising on the importance of cybersecurity, George also discussed the future of office work, the ongoing public discussion over the infamous Solar Winds cyberattack, and how emerging technologies such as AI are and are going to affect the cybersecurity landscape.
Karl Chan, President and CTO, Laserfiche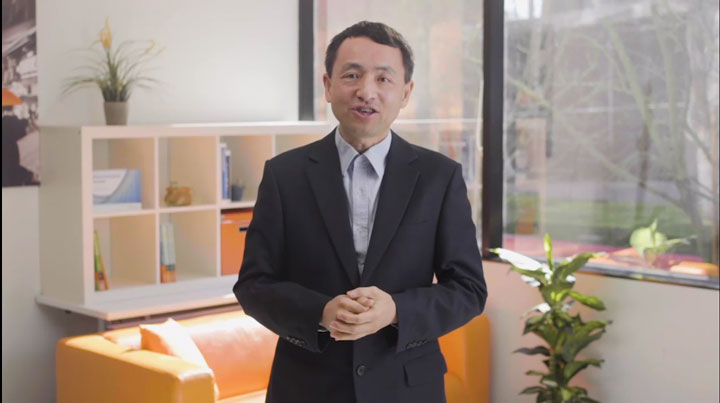 This past year has been a year of change. COVID-19 has accelerated the need and speed of digital transformation for organizations around the world. To thrive in this new world of business, today's organizations need to be future-ready. Laserfiche President and CTO, Karl Chan, along with the Laserfiche development team, presented three pillars of future ready organizations: agility, innovation, and security.
To enable these future-ready organizations to thrive, Karl ad the team announced some key additions to the Laserfiche product roadmap, including the Laserfiche API, a RESTful web API that allows developers to create custom integrations using familiar protocols and programming languages.
Laserfiche 11 is adding some cloud features to on-premises solutions using a new hybrid architecture. Notable cloud features being added to Laserfiche 11 include Direct Share, Smart Invoice Capture, Workflow Bots and Capture Profiles, as well as integration activities for popular platforms including Salesforce, Microsoft Dynamics 365, Redtail, Ellucian and more. These new cloud-based features also bring in some of the inherent value of the cloud, such as automatic updates and proactive performance monitoring to on-premises Laserfiche systems.
Laserfiche Cloud is also receiving a slew of features updates, including SAML support, updates to the Forms designer, file sets, PDF file merges, and enhanced DocuSign integration for process automation.
To watch the full product keynote, click here.
Watch Empower 2021 Keynotes On-Demand
Click here to register for Empower 2021 on-demand to gain access to many of the keynotes covered here, as well as dozens of other sessions designed to help you and your organization thrive, no matter what comes your way.