Empower 2022 Conference Highlights: Reimagining the Future of Work
Empower 2022 was an experience like no other. With inspiring keynotes from the world's most eminent thought leaders to professional development sessions that offer attendees the opportunity to jumpstart their careers, a vision for the future of work was on full display.
Read for some of our favorite highlights from this year's conference:
Welcome keynote and reimagining innovation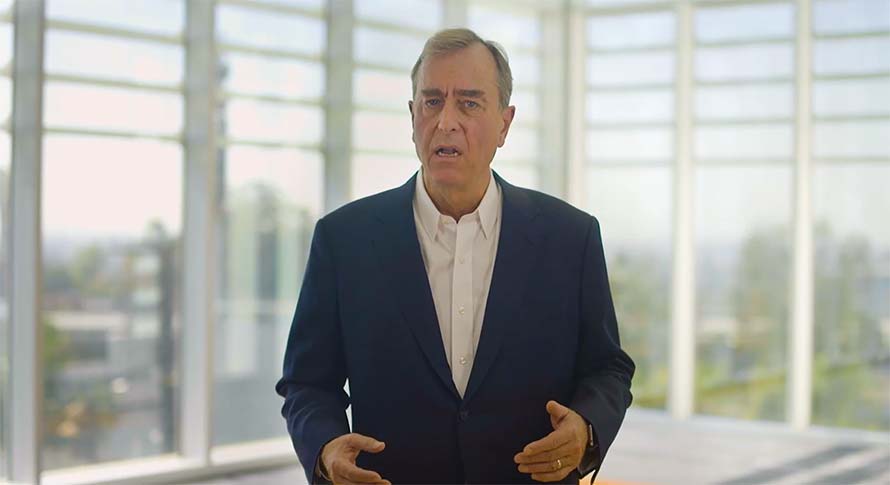 This year's conference began with Laserfiche CEO Chris Wacker sharing his insights on the world of work in 2022. With remote work becoming the norm rather than the exception for many of today's offices, and new technologies empowering scientists around the world, Wacker outlined how empowering digital transformation is more critical today than ever before, as it enables us to "leverage that creative spark within all of us."
Wacker further discussed the unique role process automation can have in our lives, viewing digital transformation as a way to enhance human abilities, not replace them. He explored examples of how organizations are using technology to transform the way they work, including schools that can now create a global, connected classroom and healthcare workers newly empowered to focus on patients instead of repeatable work, such as processing documentation. In Wacker's own words, digital transformation technologies like Laserfiche allow all of us to "unleash our people power" at work and beyond.
Wacker's keynote was followed by Linda Bernardi, a technologist, entrepreneur and innovator that challenges all of us to ask "what if?" With examples of disruptive companies from Airbnb to Tesla to Amazon Web Services (AWS), Bernardi sent a strong message to attendees that many great ideas are initially met with resistance and hardship. Still, this message does not imply that one should give up on trying to innovate, but rather accept rejection of disruptive ideas as a necessary step toward technological advancement.
Preparing for the 100-year career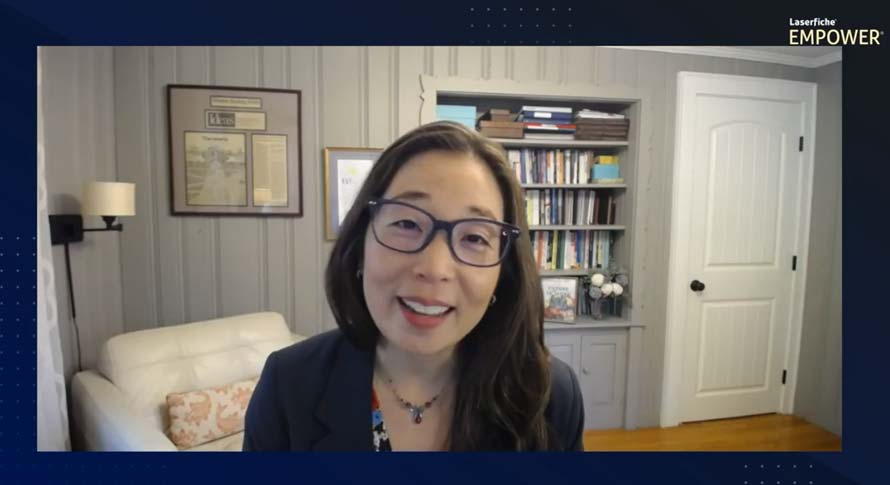 According to the authors of The 100-Year Life, humans have been gaining three months of life expectancy every year since 1840. With this in mind, Vice Chancellor of Strategy and Innovation at National University System, Michelle Weise, explored the challenges and considerations behind a potentially longer work life. A longer work life would means more frequent changes to how we work and what skills we would need to succeed in our careers.
Weise offers ideas such as career navigation assistance, wraparound support services and transparent hiring practices to help all of us prepare for this new age of careers. She also emphasized how a coalition of innovators is necessary to truly make the changes needed to address the challenges of tomorrow.
Fireside Chat with Karamo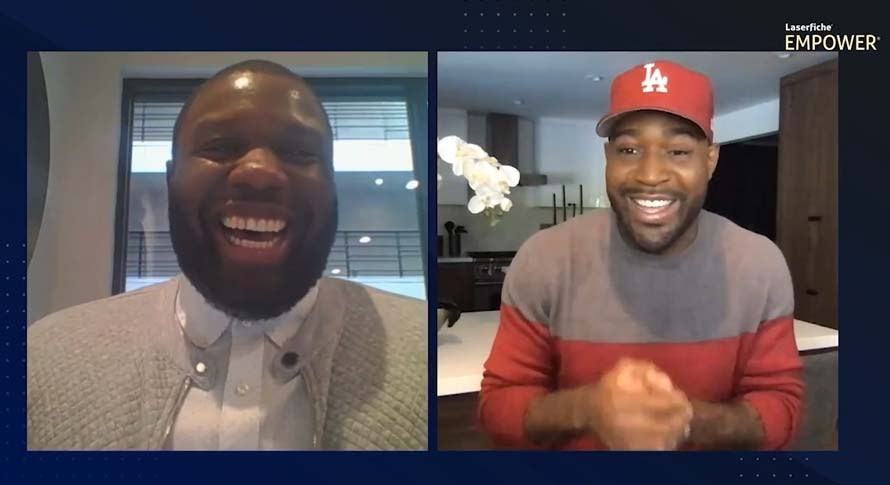 In this session, attendees joined entertainment writer and producer Jonathan Landrum Jr. for a chat with Karamo, Emmy-nominated television host and culture expert of hit Netflix series, Queer Eye. Karamo offered listeners insights and lessons from a storied career, full of ups, downs, challenges and triumphs. He believes our greatest gifts are our vulnerabilities and experiences and talking about them can help others overcome their struggles too.
As the first openly gay Black man cast on The Real World in 2004, Karamo discovered that if we find the courage to be our most authentic selves, we're better for it. This mindset paid off when Karamo took such a unique approach to his interview with Netflix, that he became Queer Eye's culture expert without the traditional background one might expect for the role.
He also encouraged attendees to be patient with themselves and not let society dictate their timelines for life's milestones when it comes to careers, relationships or otherwise. Karamo also pointed out how it's important to thank ourselves and love ourselves, even in what we consider our lowest moments. He reminded attendees to find that light inside of all of us, no matter what, by quoting a line from his grandmother: "broken crayons still color."
Rethinking productivity culture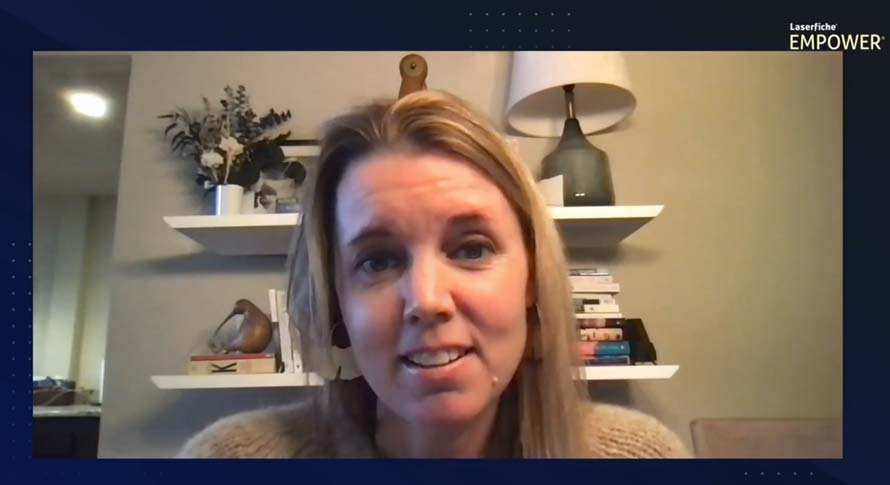 In this session, Out of Office author Anne Helen Petersen invited attendees to rethink work culture in a profound way. Starting out the presentation asking attendees to look away from their screens, and put their feet up if possible, Peterson opened up attendees eyes to a more focused world, without the distractions of the multi-task haven that is the modern workplace. In Petersen's view, our multi-tasking ways may actually make us less productive.
Technology has accelerated work and made it easier, but Petersen questions whether it actually improves work-life balance — wasn't that the point of it? Petersen encouraged attendees to challenge their values when it comes to productivity at work. She emphasized that pushing yourself to the brink doesn't bring respite from the endless work that we crave. Because of our work culture, it's the opposite. Once a box is checked off, a new one appears. In the end, Peterson asked us all to look at productivity not as a way to move on to the next task quickly, but to take back time for ourselves, along with the people and things we love.
Laserfiche product keynote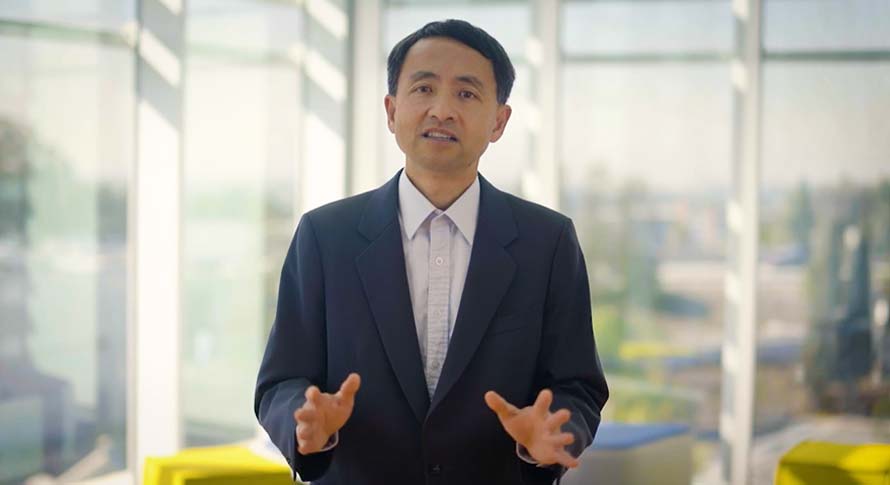 The Laserfiche product keynote featured the latest updates from the product team and a glimpse at the future of Laserfiche. The session opened with remarks from Karl Chan, company president, who outlined how, although many new processes have been built to address the societal changes brought on by the COVID-19 pandemic, the age of digital transformation is far from over with the emergence of digital resilience, the idea that businesses and organizations worldwide always need to be adaptable to changes, even large ones.
Chan was followed by Justin Pava, Director of Product Management at Laserfiche, who dove deeper into the meaning of digital resilience, based on four pillars: customer experience, the digital workplace, the connected enterprise and empowerment of innovation, with the help of customer stories, including one from Joe Cevetello, who helped pivot around 80% of the City of Santa Monica's approximately 1,500 employees to telework in a mere 36 hours. Pava outlined how many Laserfiche technologies, such as Laserfiche Cloud, Direct Share and enhancements to the platform's identity management features, provide the necessary balance of security and accessibility for the modern workplace.
Pava's remarks were followed by a panel featuring three Laserfiche team members: General Counsel Wylie Strout, Technical Program Manager Tesia Au and Software Engineer Alexandria Gomez. Amid sharing their thoughts on how they have adapted to the realities of work-from-home since the start of the COVID-19 pandemic, the team noted how Laserfiche's ability to integrate with a wide variety of applications — including Microsoft Teams, Salesforce, Ellucian, Adobe Sign and many others with the robust Laserfiche API — was central to them being as effective as possible in a work-from-home environment.
The panel discussion was followed by Laserfiche Senior Director of Strategic Marketing, Linda Ding, who offered insights on the new world of work post COVID-19, based on a survey of over 1,000 business professionals, spanning industries including government, education, financial services, manufacturing and healthcare. She also discussed how many organizations made lasting changes in light of the pandemic, from North Carolina's Cabarrus County jumpstarting their digital transformation to track staff covid exposures, to restaurants that now drive significant revenue from digital to-go orders.
One of Laserfiche's most exciting new announcements, the Solution Marketplace, was also on full display during the product keynote. Laserfiche Presales Manager Kathleen Park walked attendees through how to access this marketplace, packed with pre-built templates to kick-start the deployment of automated processes, whether it's an industry-specific process or regulatory process, such as vaccine card requirement verification. The best part of the Solutions Marketplace is it democratizes process automation, enabling employees across organizations, not just process designers, to innovate on key workflows.
The keynote concluded with Karl reiterating the Laserfiche vision to reimagine how technology can transform lives.
Empower Executive Leadership Summit (EELS)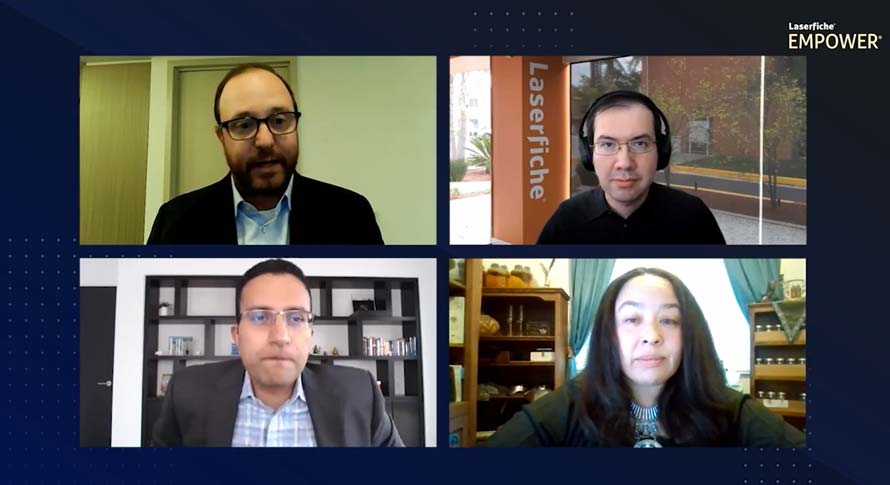 Sessions included in the EELS were designed for VPs, CIOs, COOs and technology leaders to get insights on how to ready their organizations for the years ahead.
In the first session of the summit, Your Future Fit Technology Strategy: Content and Process Services Drive the Adaptive Enterprise, Forrester Principal Analyst Cheryl McKinnon introduced the Empower audience to the idea of the adaptive enterprise, or an organization that can respond to any disruption that comes its way. McKinnon emphasized in the importance of technology in achieving this flexibility, and identified key current trends in content services, including the adoption of AI and machine learning, an increased focus on the cloud and SaaS platforms and an increased importance of project-dependent microprocesses, as collaborations between teams and even companies is prevalent in the modern workplace.
In the session An Executive Guide to Modernization Strategy – Options and Roadmap to Achieving Innovation and Grow, Tim Welsh, CFP and president of Nexus Strategy, discussed the importance of technology for business growth with AWS Enterprise Strategist Phil Le-Brun and City of Santa Monica CIO, Joseph Cevetello. Both shared some interesting anecdotes: Cevetello said the move to digital signatures over wet signatures saved the city's employees a total of 160,000 staff hours over three years, saving the city over $3.5 million. Le-Brun discussed how before Amazon, he worked for McDonald's, where technology enabled the quick-service restaurant giant to get over 21,000 restaurants into the realm of e-commerce, and scale the delivery services of 8,000 restaurants in a matter of four months. Throughout the discussion, a few clear takeaways coalesced — empathize with customers to figure out your roadmap, adopt the best technologies to make your roadmap as flexible as possible and be open to new ideas from employees — Le-Brun pointed out that the job of today's leader is to clear the path for great ideas, wherever they come from.
In the final session of the Executive Leadership Summit, Ryan Neal, technology editor at Financial Planning, joined a panel of security experts, including Mandiant SVP and CTO, Charles Carmakal, Tiro Security Virtual CISO, Jenai Marinkovic and Laserfiche Chief Software Architect, Michael Allen to discuss how organizations can protect themselves from catastrophic events.
The panel opened with discussion on the publicized cybersecurity issues with the Log4j Java-based logging utility. Carmakal commented on how these vulnerabilities are hard to address given how many applications use the library, and how many of today's businesses utilize a number of third-party applications that may rely on this technology, while Marinkovic offered steps one can take to address vulnerabilities like that of Log4j, such as isolating systems that may required further investigation as to whether or not they're compromised. Allen discussed the swift response Laserfiche had to Log4j and how it communicated news of the vulnerability to customers.
The cybersecurity then moved toward the pervasiveness of ransomware attacks in the modern age. Carmakal posited that the negative publicity of ransomware has encouraged better enforcement, with the example of the Colonial Pipeline cyberattack, where over 50% of the paid ransom was recovered by authorities. He also outlined steps organizations can take to help prepare for attacks, such as penetration testing and conducting tabletop exercises with executive to find out how they react to a ransomware event.
Allen then outlined how Laserfiche applies the principle of "defense in depth" to its software, including Laserfiche Cloud. This layered approach to security is designed to frustrate potential attackers, and leave an identifiable trail for monitors if defenses are tripped in succession.
Lastly, Marinkovic outlined how to mitigate insider cybersecurity threats. Although she outlined some technological mitigation measures, such as proper access controls and creating proper risk assessments, one of the most effective measures one can take is having a workplace culture that keeps employees happy.
ISACA CRISC Certification prep course
In this two-day bootcamp, learners were invited to gain new insights on how they can better prepare their organizations for cyberthreats and other disruptions that can have reputational, financial and other impacts on businesses.
From creating risk assessments and risk registers, to discussing business impact analysis and even comparing one's risk tolerance to risk appetite, John Kronick and Thomas Phelps helped attendees discover ways for them and their organizations to whether any storm.
Explore more Laserfiche events
If you missed out on the conference, or simply couldn't get to it all, be sure to check out our events page, where there's always more to learn about Laserfiche, digital transformation and more!