Five COVID-19 Related Processes That Can Be Automated with Forms
Gearing most of the organization up for remote work can be challenging, especially if it is done on short notice. With the COVID-19 pandemic, this is a challenge that many companies are facing. Once everyone is working from home, it's necessary to make sure that employees have all of the resources and tools they need in order to keep their productivity high. Eventually, employees are going to start returning to the office, often in stages. This takes considerable planning. To make sure that all of these processes are completed successfully, it is important to have good data and information on which to base decisions.
You can gain more value from your Laserfiche solution by using Laserfiche Forms to standardize this data entry and provide decision makers with centralized information on which to base decisions.
For example, Cowlitz County, WA created numerous Forms processes to respond to the crisis. Wealth management firm Shufro Rose, and Linn Benton Community College have been able to move to remote work quickly due to Laserfiche.
In order to help your organization respond to challenges resulting from remote work and the COVID-19 crisis, this article includes five Forms and process templates that can be customized to fit your own needs.
Inventory Tracking and Equipment Request
In order to help employees work remotely for an extended time period, they must take home hardware and office equipment to allow them to work comfortably. Some of this equipment may already be assigned to them, but sometimes they may need some additional hardware. For example, if an employee generally works from a desktop computer, he or she may need to get a laptop in order to work from home. With many employees, tracking this equipment can be difficult and time consuming. Laserfiche Forms allows you to keep all of that information in a central location.
Each employee can fill out an electronic form with information about the hardware and equipment he or she is taking home. That same form can also be used to request any additional equipment.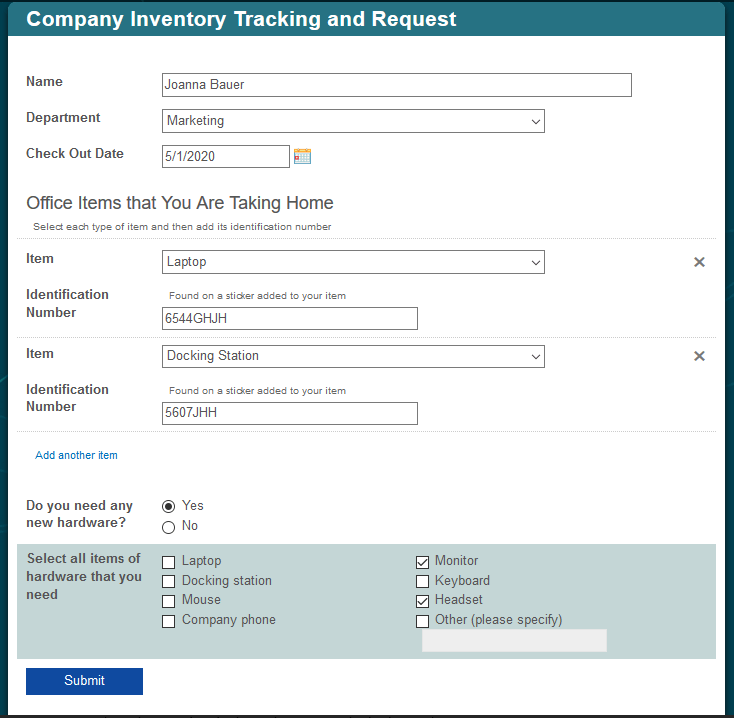 If an employee requested any new equipment, IT can assign it to the employee in the next form, and include the identification numbers.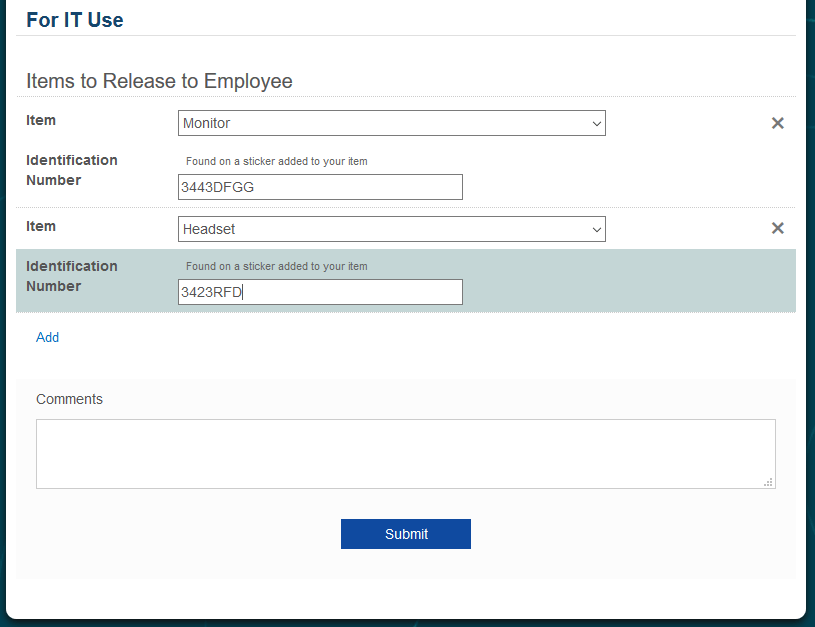 Upon returning to the office, an IT staff member will be able to run a report to make sure that each employee returned the equipment assigned to them.
Request for COVID-19 Related Time Off
During the COVID-19 pandemic, many employers are required to allow an employee up to two weeks paid time off to recover from the disease or to care for a family member who has this disease. Employees can submit such time-off requests by filling out an electronic form. These requests can be reviewed and approved, and the employee notified automatically of the decision. By using Forms to automate this process, all information can be stored in a central and secure location. Laserfiche helps you to manage personal health information according to HIPAA regulations.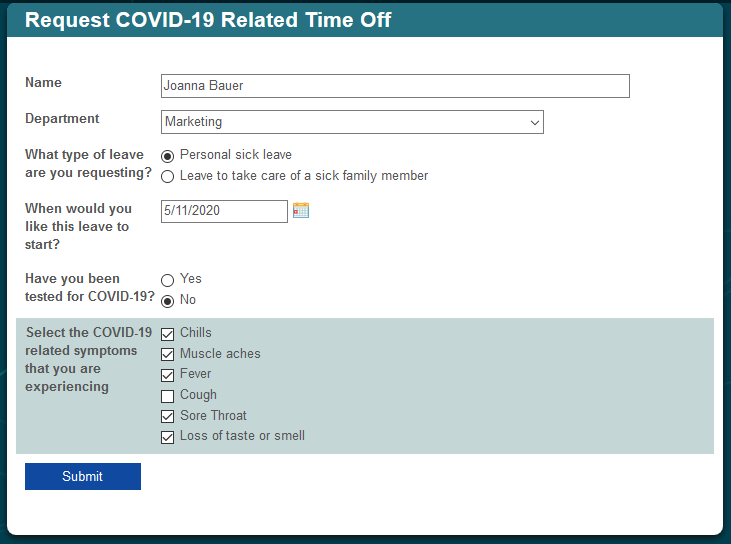 You can download the COVID-19 related time-off request form here.
Work from Home Satisfaction Survey
When most of the organization is working from home, making sure that they have everything they need to do their jobs is no easy task. This is where a survey can come in handy. The Process Automation suite in Laserfiche Cloud has the Surveys tool, which is perfect for creating surveys and associated reports. If your organization is on a self-hosted Laserfiche system, then you can use Laserfiche Forms to create this survey.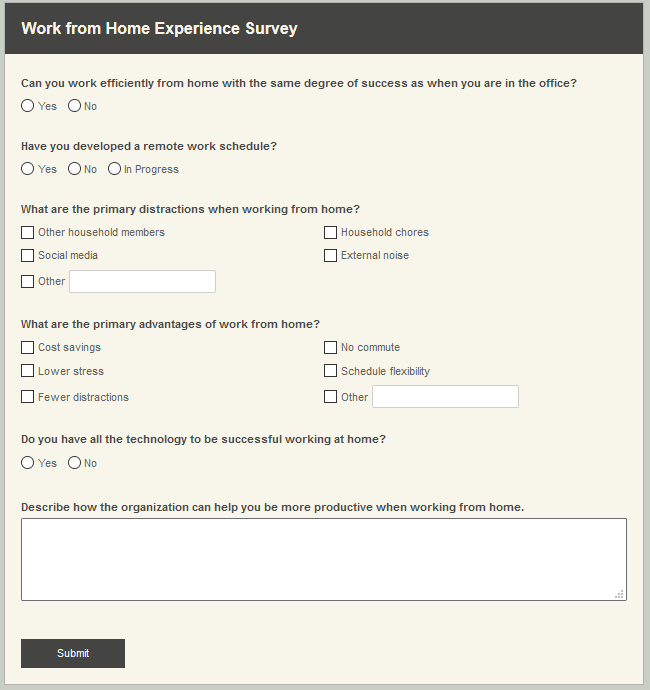 The survey report makes it easy to see all the data from the survey at a glance. This information can help organizational leadership make data-driven decisions in refining the work from home experience.

You can download a template of the survey here. To import the survey template into Process Automation on Cloud, navigate to Surveys from the main Process Automation page, and then click the Import button while in the Manage tab. To use this particular template in self-hosted Forms, you'll have to design it yourself.
Return to Work Employee Questionnaire
Many offices will have employees returning in phases. In order to help assign each employee to a specific phase, the employees can be sent a questionnaire. This questionnaire is also a good way to determine which employees are ready to work by being free of any virus symptoms or contact with symptomatic people.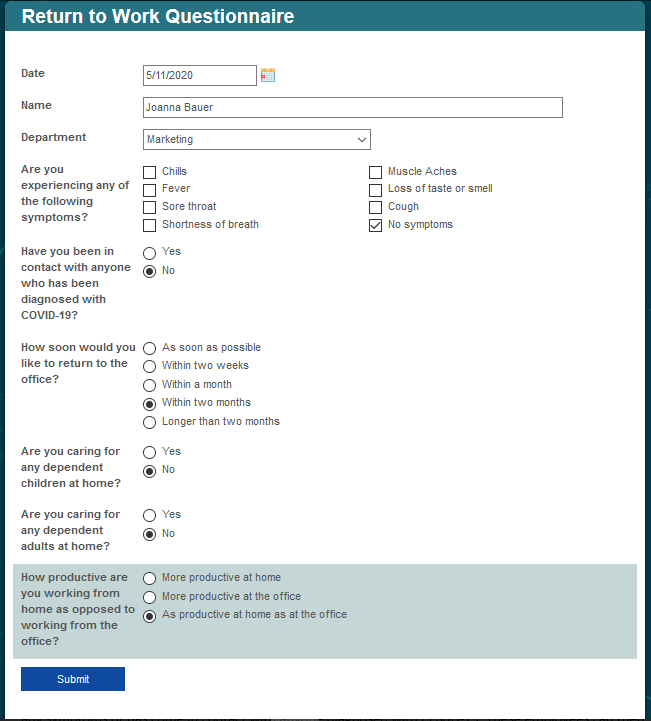 You can download the return to work questionnaire forms here.
Daily Employee Symptom Report
As employees return to work it is important that they don't potentially infect others by bringing the virus with them. One way of making sure of that is by requiring each employee report symptoms daily. HR is notified if an employee has an elevated temperature, reports any symptoms or has come in contact with anyone diagnosed with COVID-19. These employees can then be sent back home or not allowed to come into the office.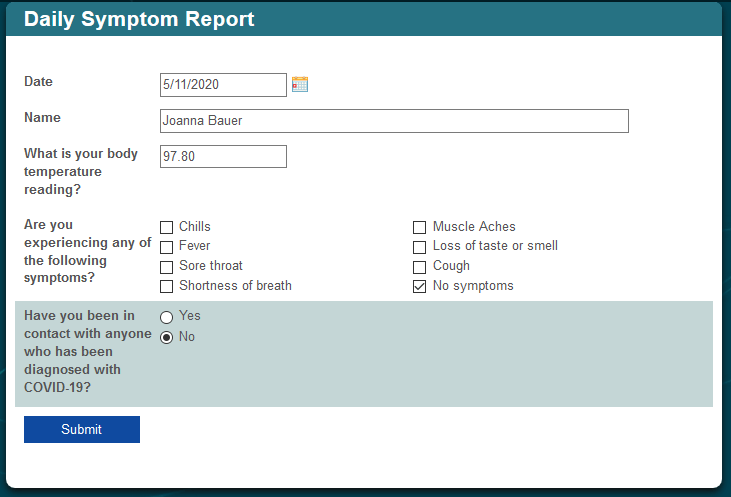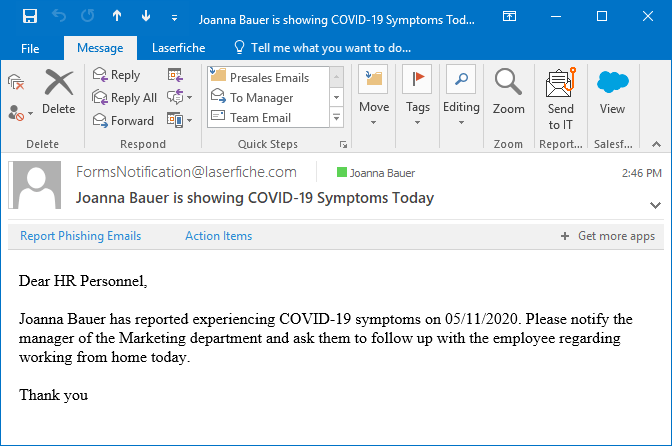 Laserfiche helps you manage personal health information according to HIPAA regulations. You can download the daily symptom report forms here.
Forms Templates
Hopefully you find the templates included in the article useful to get a head start on building out your own forms and survey. Follow these instructions to import the Forms process templates into your system: