Heifer International President and CEO Speaks at Empower Day 2
Empower 2016 is in full swing at the Long Beach Convention & Entertainment Center. Day 2 kicked off with the annual Run Smarter Awards followed by an inspiring keynote speech from Pierre Ferrari, President and CEO of Heifer International.
Thomas Phelps, Laserfiche Vice President of Corporate Strategy and Marketing, introduced Ferrari and said, "Heifer is implementing Laserfiche across the entire enterprise to streamline contract management and help manage its projects around the world."
In addition, the global nonprofit earned the Run Smarter Award for "Most Visionary Use of Laserfiche," and Ferrari's presentation soon made clear what makes Heifer truly unique.
Here are five important takeaways from the day's keynote address.
1. Heifer is not an organization that simply provides aid to developing nations.
It offers sustainable solutions—through gifts of agriculture, training and education—that change families' lives by helping them help themselves.
"By combining the provision of livestock with training in animal husbandry, natural resource management, leadership skills and gender equity, we have created a development model that strengthens the social, economic and ecological fabric of a community."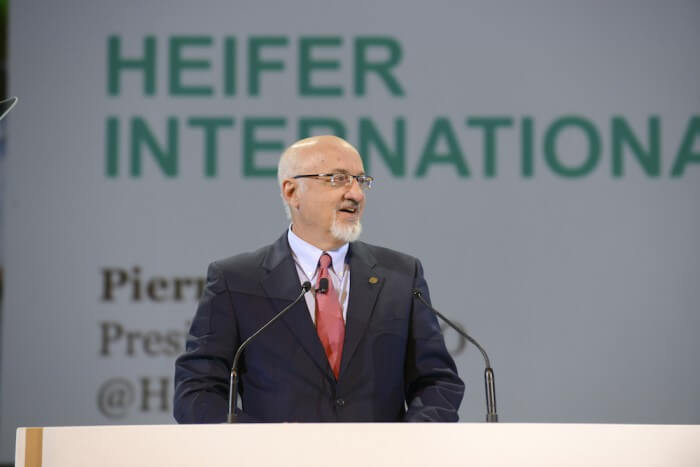 2. In its efforts, Heifer is working to close "the gap."
This gap lies between what a family needs to earn to live a dignified life and what they actually earn from all of their efforts.
"How do we close the gap and help a struggling family go from living in extreme poverty to thriving on a livable income? We do this by helping farmers diversify and optimize every income-generating activity on and off their farms. We do this by changing the conditions and systems within which the farmers operate. . . . We are looking at the entire landscape of a region and helping farmers determine what markets make the most sense, what products they can successfully produce to yield a total livelihood package, and how to maximize the production of each and every one of these crops or activities."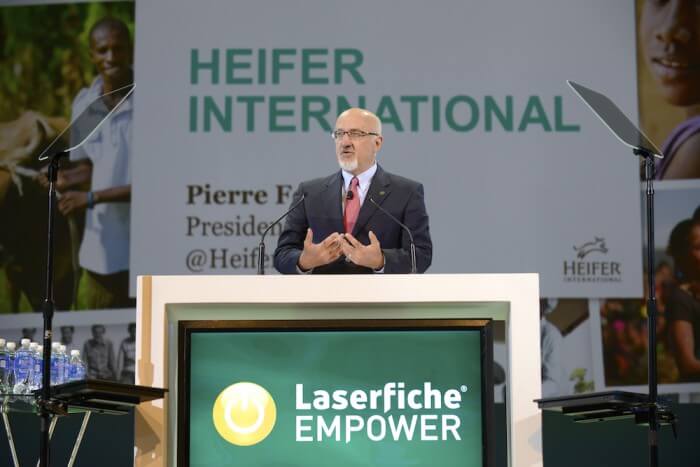 3. Ferrari identified a cornerstone in Heifer's approach: Passing on the Gift®.
This concept requires beneficiaries to pass on the first female offspring to a fellow community member in need. Passing on the Gift has now grown to encompass livestock, time and knowledge, and the organization has recognized the power of the seemingly simple act, which transforms recipients into donors and instills them with accomplishment.
"Tangible gifts come with intangible benefits of opportunity, dignity and acceptance. This practice, at minimum, doubles the impact of the original gift, transforming a once impoverished family into full participants who improve and strengthen the bonds within their communities."
4. The organization has a new, ambitious global goal.
The goal is to lift four million families out of poverty and to a living income—which would enable them to educate their children, feed themselves and obtain proper housing, water and hygiene—by the year 2020.
"The impact of the commitment to move four million families out of hunger and poverty by 2020 is that the analytical rigor, the speed and scale at which we work our programs, and the integration and generosity of the resources required to do that—whether coming from institutions, foundations, corporations or individual donors—will rely on the systems and approach we have been shaping over the past four years."
5. That goal is requiring Heifer to scale up and increase its efforts with the help of Laserfiche.
Heifer has automated the approval of legal contracts across the organization, as well as the assignment of legal counsel to pending cases. These two processes are just a piece of Heifer's enterprise transformation that will help to bring resources and training to those who need it, faster.
"Laserfiche is becoming a core component of our work at our headquarters in Little Rock, Arkansas. But we also plan to use it to access information and facilitate processes from anywhere in the world, which is particularly important to us as an international organization. We want all of our field staff, regardless of what country they are in, to be able to interact with documents, find records and submit forms—all from their mobile devices."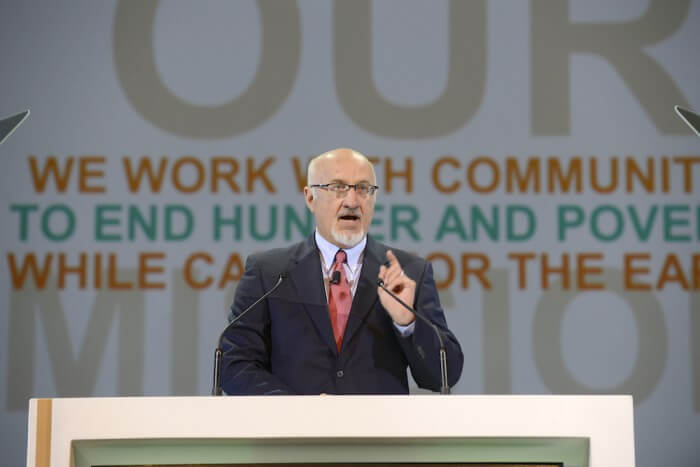 For more insights from the Day 2 General Session, watch the full video of the presentation below: