Higher Ed CIOs Explain How IT Helps Students Succeed
Expectations for online and electronic service delivery are rising throughout all sectors of the higher education landscape. Students are looking for improvements in operational practices that make it easier and faster to find information, support their mobile-centric lifestyles and provide insight into their academic performance.
At the same time, institutions (and IT departments in particular) continue to work with tight budgets. A 2014 survey from The Leadership Board for CIOs found that 63% of CIOs report their IT budgets remained flat or decreased in 2014. 74% of CIOs responded to this challenge by increasing efficiencies and establishing greater centralization of support and services. CIOs are focusing on efficiency in student-facing services to help improve the student experience and support core institutional goals of higher enrollment, retention and graduation rates.
Leaders from institutions across the higher education spectrum have weighed in on how IT helps students succeed by increasing operational efficiency and reducing organizational spending.
1. Tech services add direct value to the student experience
Raechelle Clemmons, CIO at St. Norbert College in De Pere, Wisconsin, approaches IT strategy with students top of mind. "At many institutions, most of the IT dollars are spent supporting IT infrastructure that is important, but completely irrelevant to our core mission of educating students. As IT leaders, we need to do what we can to minimize the resources needed to support these technologies so that we can focus our time, energy, and budgets on things that have a more direct and positive impact on our students."
At Oklahoma Christian University (OC), the financial aid office has put this concept into action. After struggling for years to process financial aid applications in a timely manner, the university integrated enterprise content management (ECM) with its enterprise resource planning (ERP) system and electronic forms platform.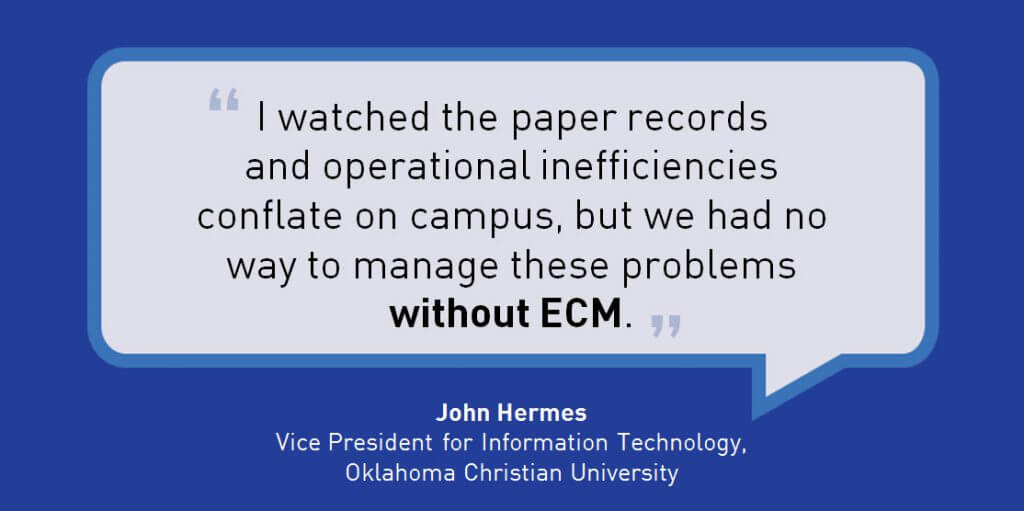 Students now access online applications through a student portal and manage their financial aid forms electronically. Applications are processed quickly and the new process saves $31,000 in paper, mailing and storage costs a year.
2. Mobile is about more than tablets in classrooms
One of the ways universities can improve educational quality is by more actively engaging with students as they progress through their degrees. At the University of Oklahoma (OU) College of Arts & Sciences, a digital student records system is the backbone of a mobile-first approach to student advising. Dr. Rhonda Kyncl led the Academic Services Office through an ECM implementation with the goals of improving student-advisor communication, cutting administrative costs and reengineering processes such as the review and signing of academic contracts between counselors and students.
Automatic e-mails, document routing and electronic signatures help counselors provide faster and more complete service to students. In return, high-risk students are more aware of contract stipulations and can easily refer to those stipulations throughout the school year. Through these efforts, OU stretches the capabilities of ECM to not only reduce paper and time waste but also positively affect the student experience.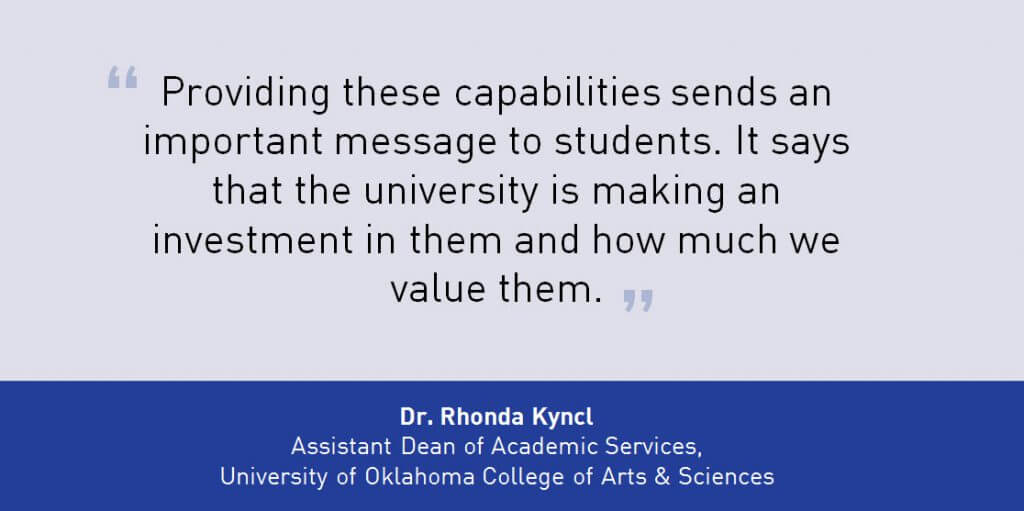 3. The right tech tools can save students from falling behind
Higher education has no shortage of data:
Administrators monitor admissions, retention rates and graduation rates.
Faculty members track test performance, graded assignments and course attendance.
Institutional evaluators are concerned with accreditation evaluations and reporting of mandated information to state, regional and federal organizations.
IT professionals look at storage, permissions, and process automation, among other data issues.
Advancements in analytics tools make it easier for institutions to use this data for academic advising, retention and institutional assessment purposes. These tools, when connected with academic support services, can significantly improve student outcomes and, ultimately, graduation rates.
According to Amir Dabirian, CSU Fullerton's Vice President for Information Technology, student performance at the university is measured at the most granular levels. Its automated learning management system (LMS) tracks class attendance, financial aid package changes and even whether or not students have purchased their course materials. With this information, the administration knows how students are performing and what factors are contributing to student success. When necessary, counselors can provide just-in-time intervention for high-risk students and hopefully help them avoid academic probation or course failure.
Higher education IT can further support student success by implementing ECM as a shared service, which reduces overall maintenance costs and improves collaboration across campuses, departments and individuals.
Learn more by downloading the free white paper, Implementing ECM as a Shared Service in Higher Education.
Want to learn what higher education leaders think of the future of tech on campus? Read the industry brief: "Flexible Work Arrangements, Increased Efficiency, and Stronger Enrollment Strategies: College Officials Assess the Benefits of Campus Technology".