How Accounting Departments Can Simplify Contract Management
Accounting departments have their fair share of data, spreadsheets and reports to manage on a daily basis. But many of them must also maintain hundreds of lengthy contracts containing information about taxes, employee wages, vendor agreements and more.
Here are three contract types accounting departments can easily manage with an enterprise content management (ECM) system.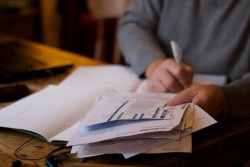 1. Statements of Work
The Problem:
Statements of work (SOW)—contracts outlining the terms, timeline and deliverables of a project—are a positive sign of revenue and growth for businesses, but they can also be a nuisance for accounting departments.
SOWs incorporate a wide variety of client payment terms (e.g., payment upfront, in phases, upon completion, based on vendor performance, etc.) that can be difficult for accounting staff to track.
Monitoring these terms might seem simple when executing only a few SOWs, but when organizations process hundreds of them—each with different payment terms—the process can quickly become a nightmare.
The Solution:
ECM systems can help accounting departments plan for these moving targets by ensuring the entire organization is on the same page regarding billing terms and deadlines. It does this by:
Sending automatic emails to confirm whether a project phase is complete, delayed or ahead of schedule
Requiring staff to update the estimated delivery date of the phase if it is not complete when they receive the reminder
Generating an automatic email notification for Accounting to bill for the phase once it is complete
2. Group Insurance Policy Contracts
The Problem:
Contracts associated with group insurance policies can be an accounting burden. When a staff member enrolls for employer-provided health insurance, Accounting needs to:
Process a signed copy of the employee's insurance enrollment contract
Get authorization to deduct a policy contribution from the employee's paycheck
Deduct the appropriate contribution each pay period
Repeat the above steps whenever an employee's salary or health policy changes
The Solution:
By automating tasks that occur when a health policy begins or changes, Accounting can quickly respond to employee policy requests while protecting sensitive health and financial information. For example, with an ECM system, organizations are able to:
Use electronic forms and digital signatures to collect employee benefit information and authorization for policy contributions
Archive the benefit enrollment and policy authorization with appropriate security and retention settings
3. Lost Contracts
The Problem:
While SOWs and insurance policy contracts can create accounting headaches, lost contracts are painful enough to prompt a migraine. Natural disasters, staff errors and disorganized filing cabinets are just a few ways organizations can lose important contracts.
The Solution:
With some ECM systems, organizations can gain enterprise-wide access to contracts by using:
Automatic filing tools that store contracts in their appropriate folders
Records management software that automatically stores contracts for the period required by law
Security settings that allow staff to access only the contracts that are critical to their jobs
These storage, security and automation features allow accounting departments to easily find and protect the information they need to operate efficiently.
For more tips on simplifying contract management in your accounting department, get your free copy of The Ultimate Guide to Contract Management.

Photo credits: