How Arrowhead Economic Opportunity Agency Improved Case Management with Laserfiche Mobile
Contributed by:Lori Trenholm, Information Systems Manager, Arrowhead Economic Opportunity Agency
The Head Start department at Arrowhead Economic Opportunity Agency (AEOA) serves 400 children and families across three counties in Minnesota, covering 12,000 square miles. Employees are located in 15 different primary locations throughout the area. Here is how Laserfiche Mobile simplified case management for employees dispersed over this large geographic area.
The challenge
Before Laserfiche, AEOA faced three challenges:
Due to the geographical size of the service area, routing paperwork between the various office and classroom locations was difficult and time consuming.
A single form, once received, had to be routed to and reviewed by up to five administrative staff. If anyone held on to the form for review, it delayed the entire process.
It was time-consuming to retrieve the historical program documents that were requested by school districts, attorneys, government entities, health care providers and program participants.
Records management
Every child enrolled in the Head Start program must complete at least 50 individual forms (development screenings, emergency contacts, income verification, family needs assessments, etc.) as well as weekly and monthly educational forms. One program year of child and family paperwork could consist of approximately 32,000 pieces of paper, all of which were routed between the administrative office and 15 different field offices, as well as internally among eight content area managers.
Children and families are eligible to receive services for up to five years, and federal regulations mandate that the agency retain documents for a child from entry into the program until three years after his or her exit from the program. All of these documents took up a great deal of storage space.
Laserfiche has streamlined records management. The majority of the forms are now PDF forms that are filled out by the parent and emailed to Head Start's information and data systems coordinator for processing. The forms are then imported directly into Laserfiche or scanned through Laserfiche Quick Fields.
Paper AEOA forms have a barcode generated using the Filemaker Pro database. They are scanned into Laserfiche with Laserfiche Quick Fields.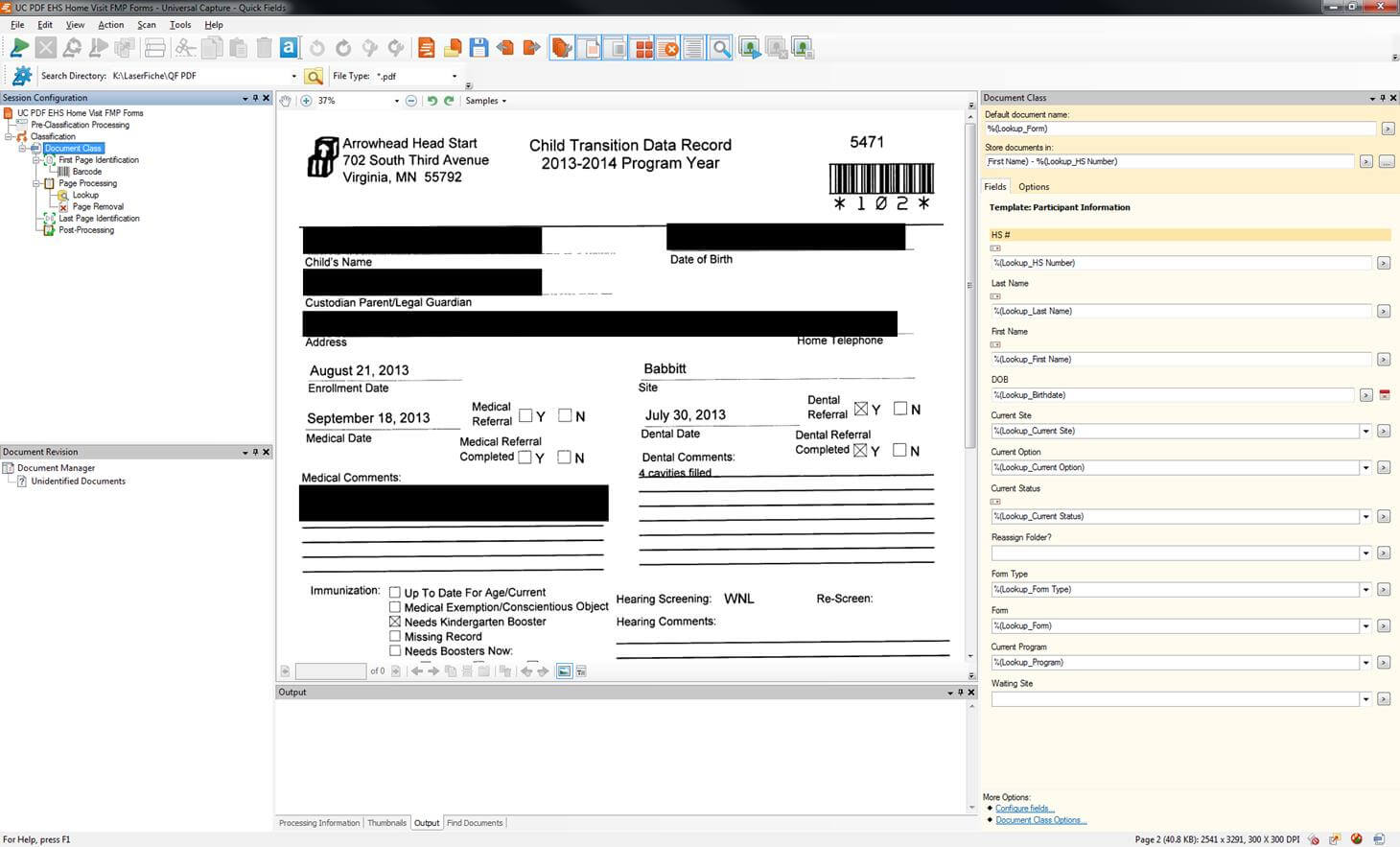 Any "non-AEOA" forms received, such as medical records or mental health records, are scanned into Laserfiche with ScanConnect.
Laserfiche Mobile
Once the forms are in Laserfiche, they are accessible to all Head Start employees with Laserfiche Mobile.
Laserfiche Mobile is used during Individual Education Plan (IEP) meetings for Head Start children with disabilities. Through a secure VPN connection on her iPad, the disabilities manager accesses child records during all IEP meetings with school districts and special education personnel.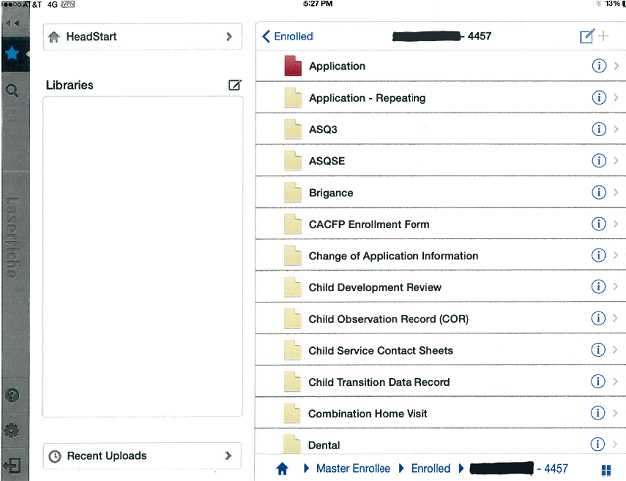 Head Start children can enter the program as early as birth and stay in the program until they are eligible for kindergarten. During that time they may transfer between different Head Start programs and classroom sites. With Laserfiche Mobile, teachers have immediate access to the complete child file prior to a transfer taking place. Once they become aware of a potential transfer to their classroom, they can begin reviewing the child and family information.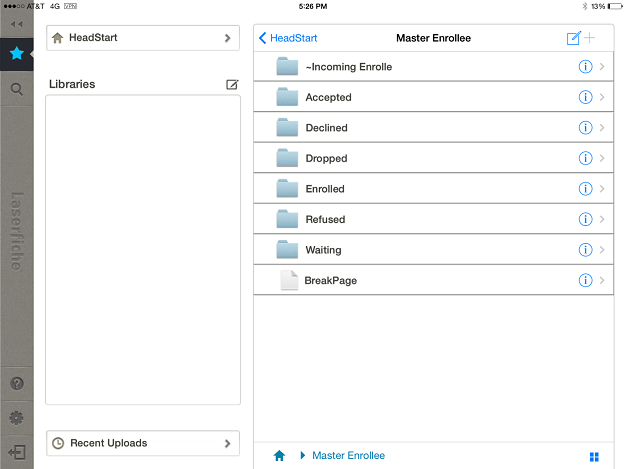 Laserfiche Mobile gives direct service field staff access to complete child and family files during parent meetings and conferences. Parent meetings, home visits and conferences often take place outside the classroom or site setting. With a secure connection on the staff iPad, a teacher has immediate and complete access to all child and family information in Laserfiche. With access to the appropriate documentation, teachers are also better equipped to explain or demonstrate to a parent the source of any possible behavior or developmental concerns.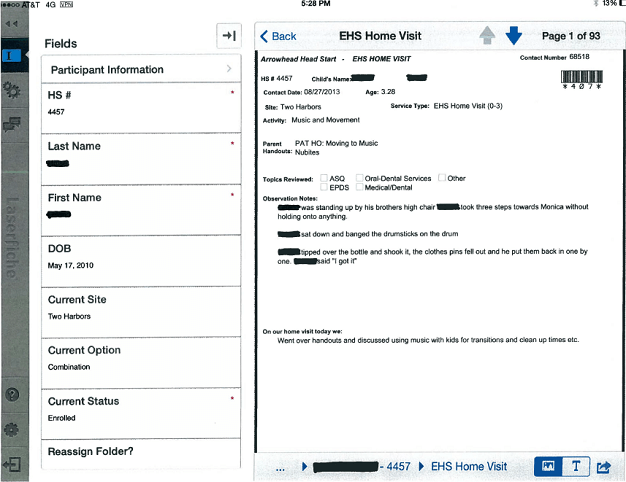 Benefits of Laserfiche
Automating records management with Laserfiche has resulted in the following benefits for the AEOA Head Start department:
The disabilities manager can always refer to the most up-to-date and complete child file during IEP meetings. There is no interruption of work in the office because the file is checked out, and there is no risk of lost, missing or forgotten paperwork after an IEP meeting.
When a child transfers to another site, Laserfiche Mobile gives the new teachers immediate access to the complete child file. Knowing the progress, strengths and needs of a child prior to starting in a classroom is a huge benefit.
Laserfiche Mobile grants the teacher immediate and complete access to all child and family information during all parent meetings and conferences so that the parents' questions can be answered right away.
With Laserfiche, forms are available to all staff, both administrative and remote, immediately upon scanning. This way, staff can perform their tasks without delaying the entire process.
Do you want to see how Laserfiche can help you automate your business processes? Schedule a free demo.