How Budros, Ruhlin & Roe Improved Customer Service with Laserfiche
Laserfiche Solution Contributed by: Brian Jack, Director of Operations, Budros, Ruhlin & Roe
In wealth management, quality customer service is a priority. For advisory firm Budros, Ruhlin & Roe, an independently-owned, fee-only wealth management and investment advisory firm based in Columbus, OH, it's critical.
With $2.2 billion in assets under management, Budros, Ruhlin & Roe is consistently recognized as one of the top independent fee-only wealth management firms in the U.S. Here is how the firm integrated Laserfiche with Junxure customer relationship management (CRM) software to help financial advisors work with customer documents more efficiently.
Documents are imported into Laserfiche in different ways:
Drag and drop
Any document can be dragged and dropped into a folder on the network drive. Laserfiche Import Agent imports this file into Laserfiche and pushes it to the Client Portal, which can be accessed by customers on a browser.
In order to be imported in this way, each document must follow a specific naming convention: Junxure Code – Date – Document Type. Once the document is in Laserfiche, Laserfiche Workflow parses the document's name and populates the metadata. This is what the workflow looks like: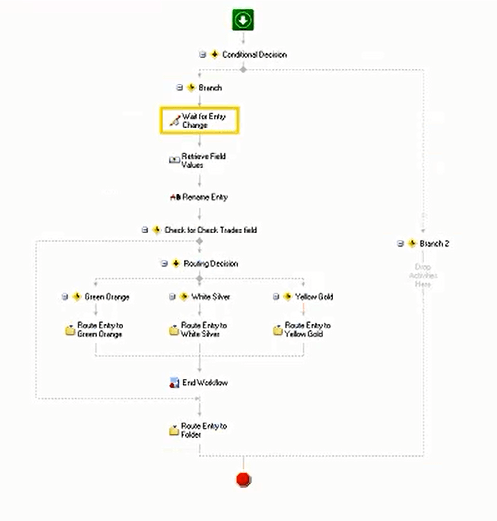 Scanning
Documents can also be scanned into Laserfiche. The user name of the person scanning the document is automatically appended to the document's file name, allowing Laserfiche Workflow to route it to the appropriate team's holding folder in Laserfiche.

Members of the team monitor their folder regularly for any documents needing to be processed.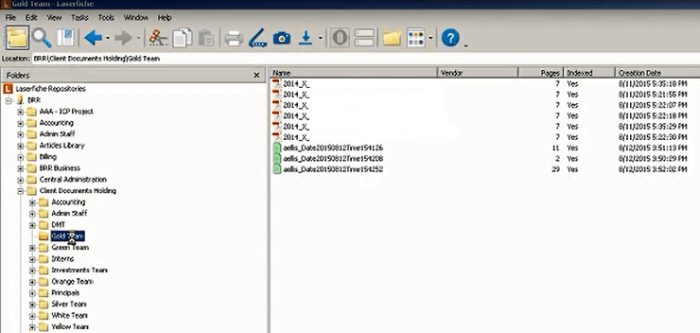 The Laserfiche–Junxure Integration
Users can import documents into Laserfiche directly from Junxure.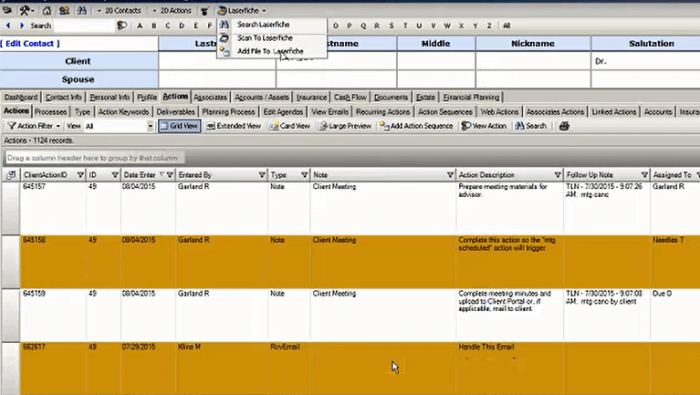 Clicking on Search Laserfiche brings up the Unfetterfiche tool with the selected client's folders.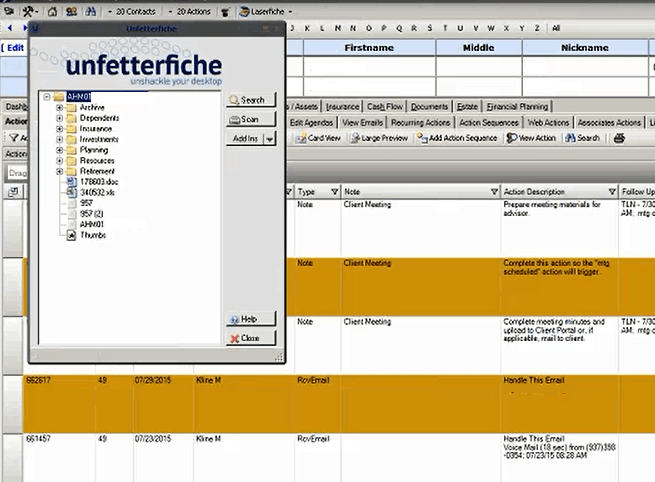 It is possible to drag and drop files directly into any of those folders or scan them in. Appropriate metadata is automatically applied based on the client information in Junxure.
Example: New Client Welcome Letter
Anything that is done for a client, such opening or transferring accounts, must be done through Junxure. The Laserfiche–Junxure integration plays a key part in many of those actions.
For example, all new clients receive a custom welcome letter when they open an account.
The administrative assistant generates the blank letter, adds it to Laserfiche and attaches it to the action in Junxure.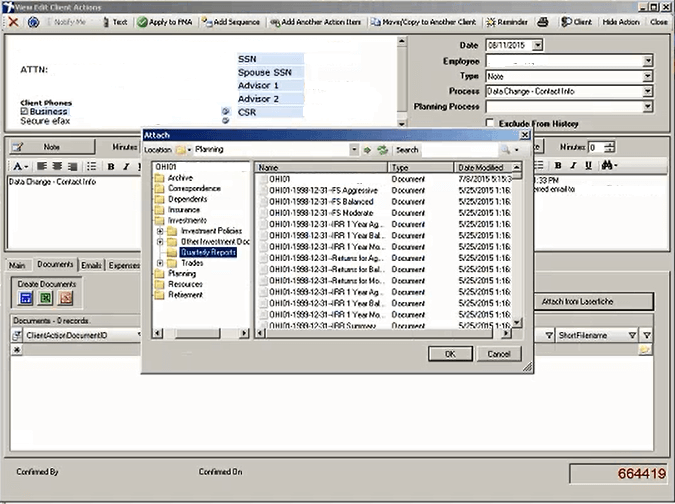 The business development specialist opens the letter and adds the names of the advisor team assigned to the client.
The head of the advisor team assigned to the client opens the letter and adds a custom welcome message.
The letter is then routed to the CEO, who also adds a section.
Finally, the letter is returned to the administrative assistant, who mails it to the customer.
The letter is saved as a new version of the same document in Laserfiche each time. Reviewing the version history,makes it easy to see what actions were performed on this letter and by whom.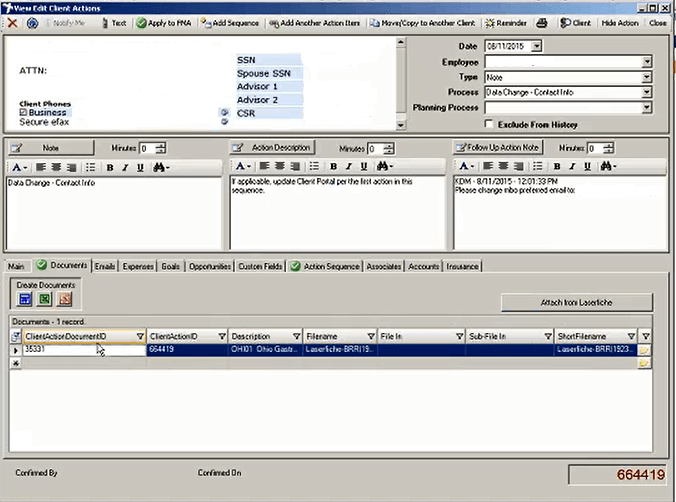 Benefits of Laserfiche
Implementing Laserfiche at Budros, Ruhlin & Roe has resulted in the following benefits:
The Laserfiche–Junxure integration allows everyone to consolidate all document-related work in Junxure, while Laserfiche works behind the scenes to keep documents properly named, sorted and stored.
In order to have documents appear in the Client Portal, an employee simply has to drag and drop it into a network drive. This is much easier than having to scan it into a separate FTP site as was done previously.
Audits are quick and easy since all documents are available in Laserfiche with a thorough version history of all actions performed on them throughout their lifecycle.
Would you like to see how Laserfiche integrates with your CRM? Get a free demo today.