How Collin County Secured ECM Buy-in from All Its Elected Officials
Contributed by: Caren Skipworth, IT Director, Collin County
"I don't have one boss," says Caren Skipworth, IT Director for Collin County, TX, "I have 37."
She's referring to the county's elected officials, all of whom have their own agendas, budgets and ideas about the way things should work. Because they have their own budgets, elected officials can make their own technology decisions, even if the IT Department recommends otherwise.
Skipworth explains, "Getting the elected officials to work together to buy and implement an enterprise product was very significant to the success of our Laserfiche project."
After getting buy-in on the front-end from the project's steering committee (which included representatives from the District Clerk, County Clerk, Auditor, Sheriff, Tax, Juvenile Probation, Adult Probation, Purchasing, IT and Records offices), Skipworth authored a memo of understanding that was distributed to all elected officials.
The memo outlined the county's intention to standardize on Laserfiche, including the benefits of taking an enterprise approach to ECM. It ensured that all elected officials understood that they would be held accountable for using the Laserfiche system rather than spending additional taxpayer money on a departmental imaging or document management system.
Memo of Understanding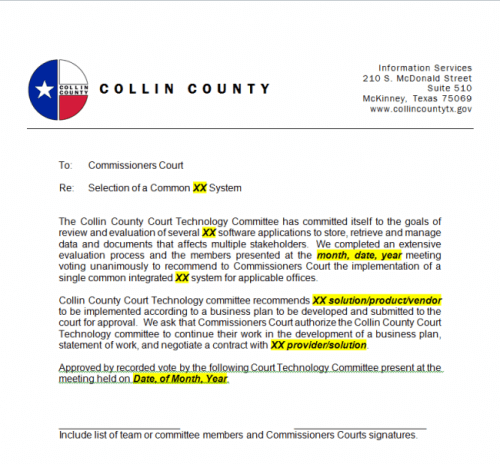 Skipworth then wrote a county resolution document that confirmed the decision to purchase and implement Laserfiche enterprise-wide as a decision approved by all elected officials. The resolution document was certified in court.
County Resolution Document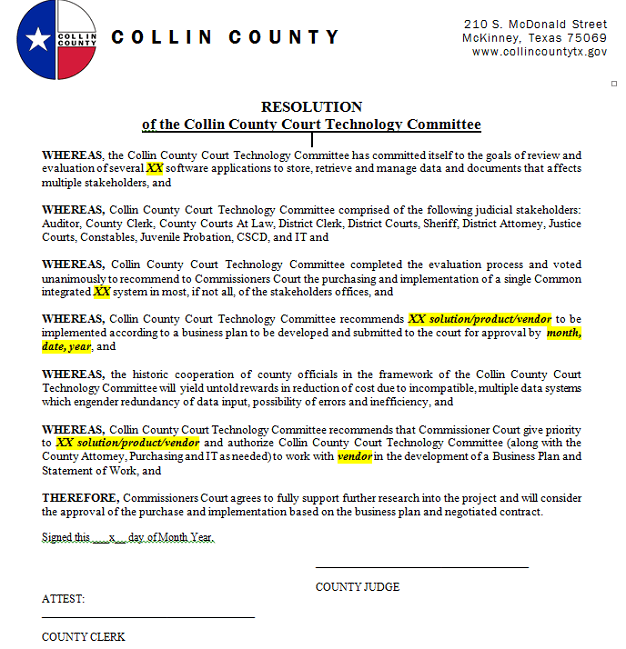 "We took a very formal approach to ensuring that all elected officials and county stakeholders were on board with the decision to standardize on Laserfiche because it can be quite difficult to gain consensus across a large government organization like Collin County," Skipworth explains. "Taking a formal approach and getting that buy-in prior to the purchase has allowed this project to succeed."