How ECM and Gemba Increase Visibility at CIRCOR Pibiviesse
How do you solve a problem you can't see?
That was the question that CIRCOR Pibiviesse, a custom valve manufacturer in Milan, Italy, had to address. The company wanted to reduce errors in its production cycle but its paper-based documentation system made this goal virtually impossible to achieve.
Pibiviesse implemented enterprise content management (ECM) software to transform its paper-based system into a digital one. Combined with a Gemba methodology, ECM allows the company to identify and correct 100% of its errors and impediments every day.
Here's how ECM and the Gemba approach work together to make Pibiviesse's manufacturing cycle easier to observe and improve.
Pibiviesse's Paper Problem
Pibiviesse manufactures highly engineered ball valves (1/2" to 64") for Oil & Gas, Power Generation facilities and corporations across the globe.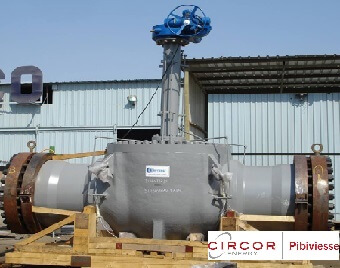 This industry is highly regulated industry and Pibiviesse must adhere to more than 400 different standards. If the company delivers a valve without all the required documentation, the valve cannot be used and months of work go to waste.
Before implementing ECM, Pibiviesse had a 30-40% success rate for delivering this documentation to its customers. Because information was stored on paper, the company lacked visibility into the many stages of its production cycle. This led to several problems:
Employees filed paper documents incorrectly, making them harder to retrieve later.
No one could track when a third party supplier failed to provide certificates with delivered parts.
Documentation was delivered to a customer weeks after the valve was ready, hurting Pibiviesse's reputation and customer service.
With so many steps and documents involved, Pibiviesse needed to regain control over its production processes. By incorporating ECM and the Gemba methodology into its practices, the company eliminated the need for paper documents and enabled its employees to find production errors in a timely manner.
What is Gemba?
Gemba is a Japanese word that means "the real place" or "the place where things happen." It is a method for achieving continuous improvement, enhancing productivity and reducing waste by taking the management to the places where things are made visible while they happen.
In manufacturing companies, Gemba refers to the factory floor and to critical offices responsible for preparing deliverables to project milestones. Managers go on "Gemba walks" to observe production processes, identify bottlenecks and gather feedback from employees.
Pibiviesse applies Gemba to its entire value stream by posting reports to "Gemba boards" across its manufacturing facilities. Every day, department managers meet at their assigned Gemba board to see what impediments, or "noncomformities" as Pibiviesse says, occurred on the previous day. By identifying these noncomformities on a daily basis, the company can take swift corrective action and keep the entire production process moving.
How does Pibiviesse use Gemba and ECM together?
Pibiviesse's ECM system is the backbone of its enhanced production line. The system:
Stores all the documentation related to valves in a centralized repository
Automatically generates the daily reports posted to the Gemba boards
Emails to-do lists to the appropriate employees when a task or document needs attention
The reports generated by ECM show what tasks need to be addressed, while posting these reports on the Gemba boards keeps managers aware of where the tasks are occurring. In other words, ECM helps Pibiviesse see nonconformities while Gemba helps the company swiftly address these nonconformities.
Together, these two approaches have improved Pibiviesse's standing in its industry and given it an advantage over its competitors.
If you'd like to learn more about CIRCOR Pibiviesse's ECM system, download a free video of the organization explaining its streamlined production process.