How Infinity Financial Processes Customer Documents with Laserfiche
Laserfiche Solution Contributed by: James Simos, Managing Principal, Infinity Financial Services
Infinity Financial Services offers personalized wealth management and retirement plan services. Opening and managing accounts requires filling out many different forms and documents, with employees reviewing about 15 different documents a day. Laserfiche has made processing these documents much easier.
Document Capture
All documents or forms are imported into the Document Services folder in Laserfiche as soon as Infinity receives them:
Emailed or faxed documents are imported automatically
Mailed are scanned
Customer service representatives monitor the Document Services folder and check each new document for completion.
The customer service rep can route the document to a branch manager or supervisor, by selecting the employee's name from the "Forward to" drop-down field in the template. The customer service rep can also set a reminder interval using the "Set Reminder" field. Once the selections are made, the routing and notifying is done by Laserfiche Workflow.

Branch managers or supervisors approve a document by completing the "Approve Date" field and using a custom stamp as an electronic signature. Laserfiche Workflow routes the document to the appropriate folder in Laserfiche for storage based on document type.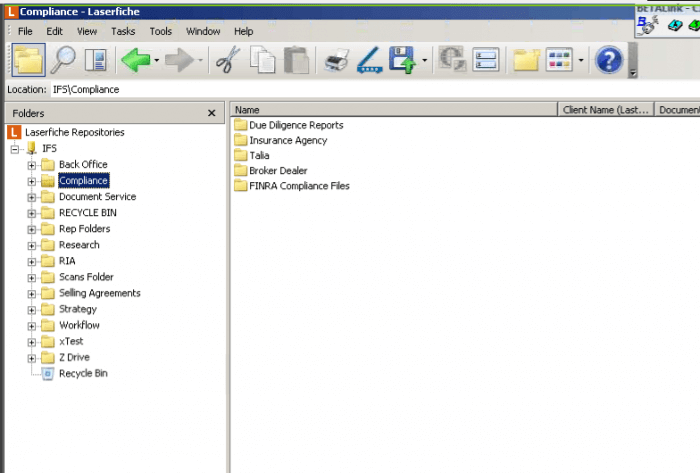 Search
If a customer service rep, branch manager or supervisor wants to find all documents related to a particular client, he performs a template search using the customer's name or account number in Laserfiche.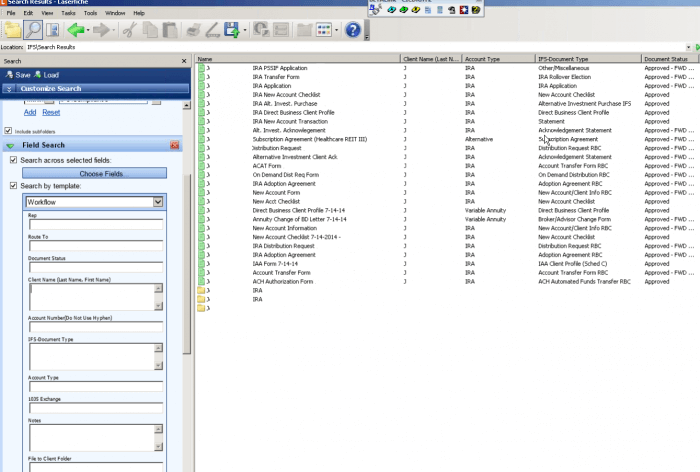 Benefits of Laserfiche
Implementing Laserfiche at Infinity Financial resulted in the following benefits:
Storing all customer documents in Laserfiche enables Infinity to be compliant with FINRA regulations by providing timestamped reviews for FINRA audits.
For internal audit purposes, it is easy to see exactly when a document was submitted and who reviewed or approved it over its lifecycle.
All incoming documents are reviewed and approved in a much timelier manner. If a document is in good order, it can be processed within 24 hours, as opposed to a few days previously.
Learn more about how Laserfiche can help broker-dealers streamline operations by getting the white paper, ROI for RIAs: The Bottom-Line Impact of Enterprise Content Management Software for Financial Advisors.