How Laserfiche Helps Semper Augustus Investments Ensure Regulatory Compliance
Laserfiche Solution Contributed By: Chad Christensen, Partner and Chief Compliance Officer, Semper Augustus Investments
With 120 clients and $200 million in assets under management, Semper Augustus Investments must comply with several financial services regulations. Here is how the RIA uses Laserfiche Forms and Laserfiche Workflow to maintain compliance.
Ensure a fair representation of investment results
Semper Augustus uses CompositeBuilder, which is integrated with the PortfolioCenter portfolio accounting system, to manage investment portfolios. The firm developed a 25-step process with Laserfiche Forms that was modeled after the CompositeBuilder user manual to ensure fair representation of calculations and provide full disclosure of investment results. The Laserfiche Forms-powered process serves as a detailed checklist and instruction manual for Semper Augustus employees.
One form corresponds to each step and contains the following information:
The purpose of the step.
Instructions on how to perform the work.
Screenshots of any settings the user may need to configure in CompositeBuilder to run the report.
A comment box.
Here is an example: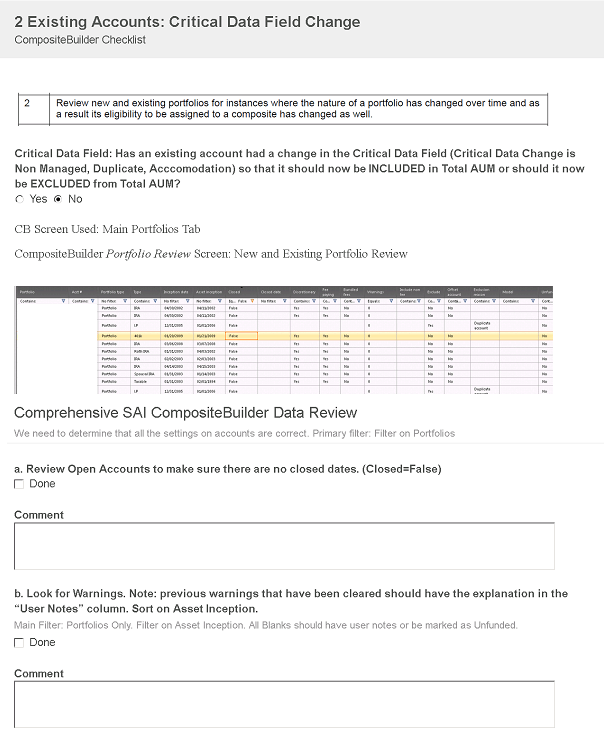 In each step, there is at least one supporting report generated from the portfolio accounting system that is reviewed by the user and uploaded to the form.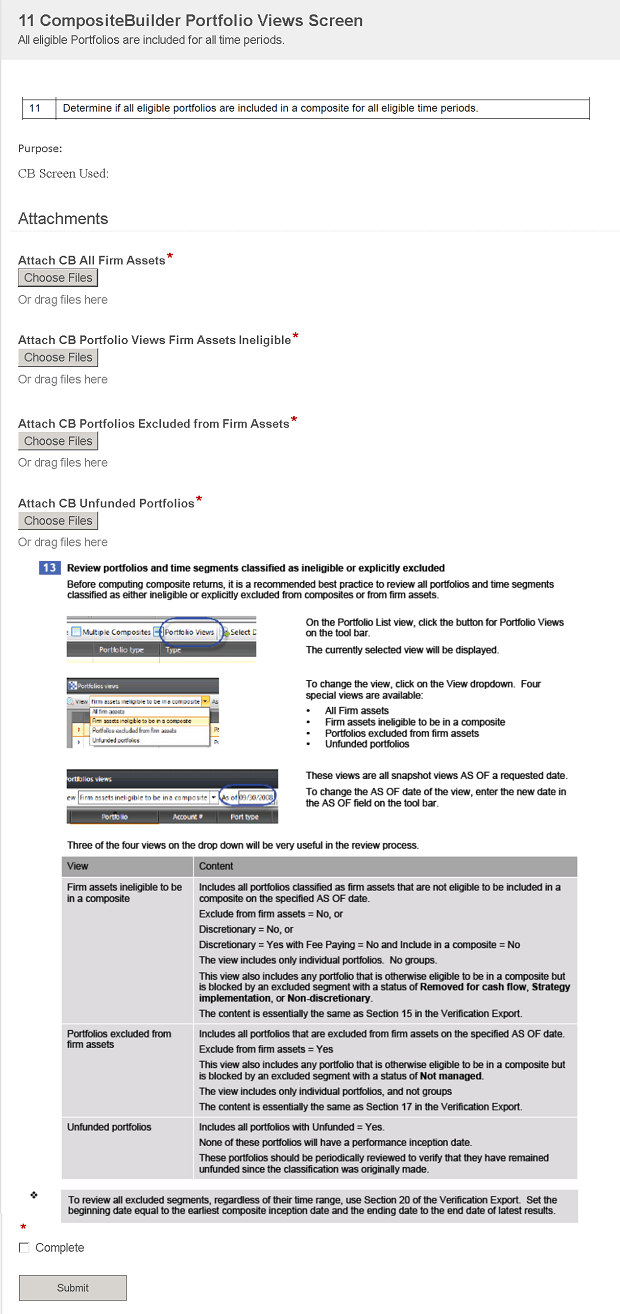 Once the form is submitted, the user is prompted to move to the next step in the process by filling out the next form.
Throughout the process, other members within the firm receive status updates through automated email notifications, so that everyone is in the loop on work status. Here is what the whole Laserfiche Forms business process looks like: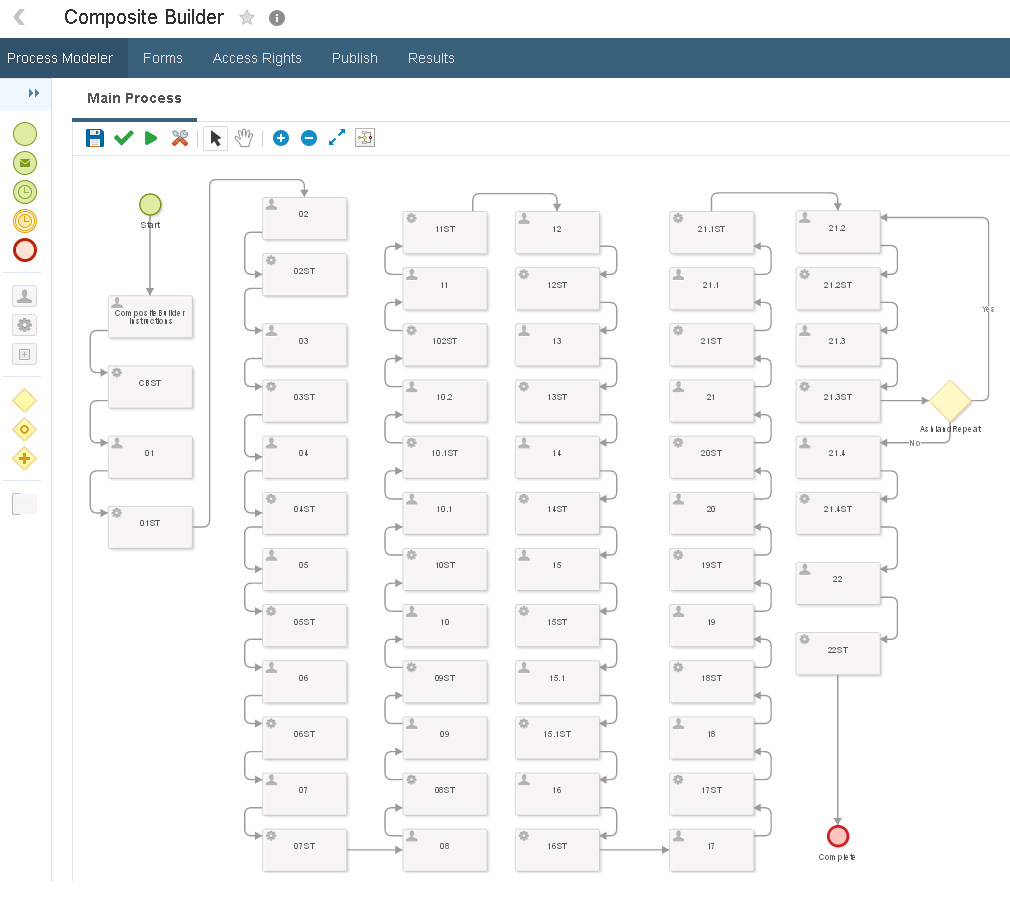 As the steps are completed, each form is saved in its own folder in Laserfiche with the appropriate template applied. This process ensures that documentation is retained at each step in the process.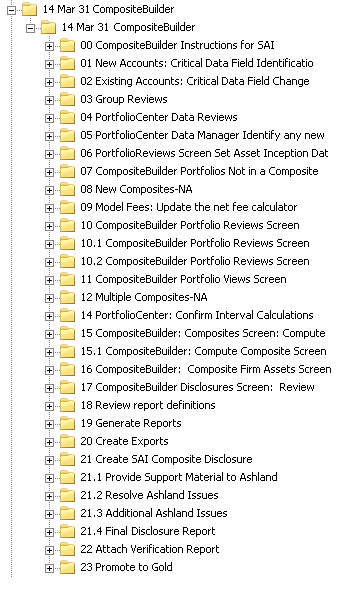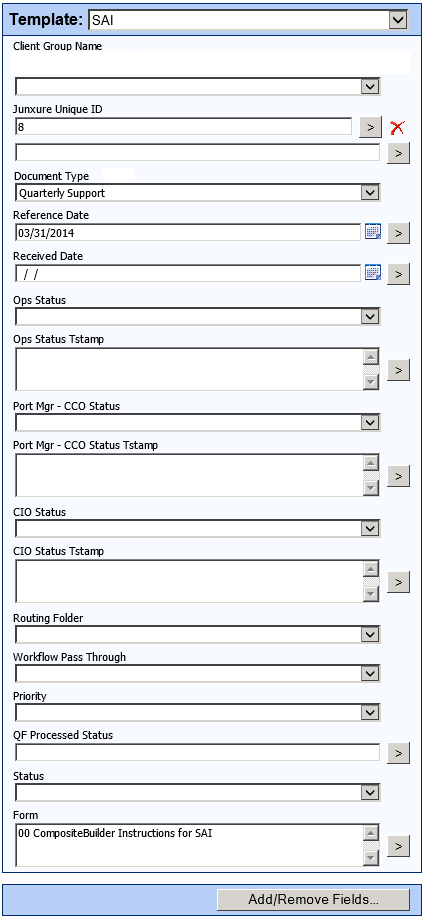 The last several forms in the process are used to capture all documents provided to the verifier (an auditor), such as a new client's custodial statement or investment application. Those documents are also uploaded using Laserfiche Forms in order to maintain a record of audited items.
Once the last form is submitted, Laserfiche Workflow strips the screenshots and compiles all of the forms and uploaded reports into one complete voucher package. A single voucher package can have as many as 4,000 pages.
Import and distribute financial statements
Semper Augustus Investments uses Laserfiche Workflow to categorize and distribute financial reports. Every month, a third-party accountant sends ten financial reports for the firm's pooled investment vehicle with one report containing 70 individual investor statements. Before Laserfiche, these reports had to be printed, sorted, collated and distributed by hand.
Now, emailed reports are saved into a network folder and imported into Laserfiche with Laserfiche Import Agent. The accountant prints the client's account number in a white font in the upper right corner of on each statement. The white color of the font makes the number invisible to clients but visible to Laserfiche Workflow through an OCR text string. Laserfiche Workflow:
Uses the Pattern Matching activity to extract the account number from the statement.
Splits the large document into 70 individual client statements.
Looks up the client's information in the firm's Junxure CRM system with the Query Data activity to populate metadata.
Routes each statement into the appropriate client folder.
Here is what a section of this workflow looks like: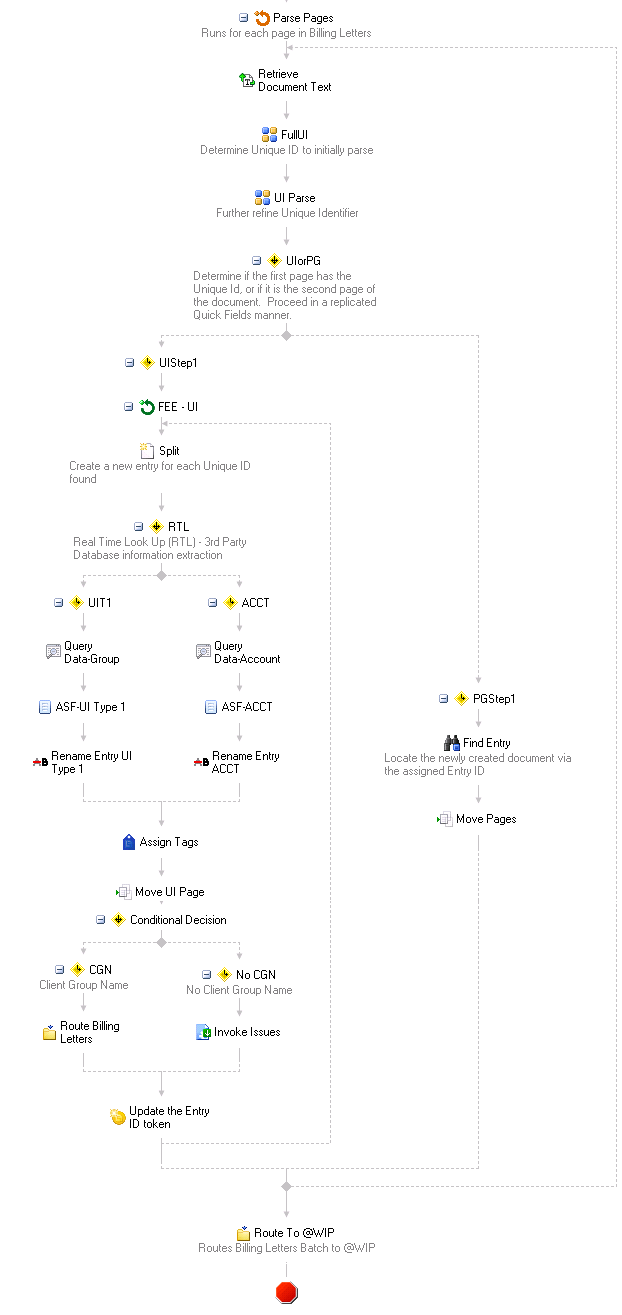 Deliver appropriate information to employees
Laserfiche Workflow is used to email employees documents they need to act on at the appropriate time. Four examples of such workflows include:
Once a week, remote employees receive a reminder email that has a detailed listing of all documents waiting for their approval.
The first day of every month, employees receive a standard email reminding them to submit their expense reports. This email includes the details of the firm expense policy.
Every quarter, Laserfiche Workflow emails employees the firm's strategic plan for review. Emailing this report with Laserfiche Workflow ensures everyone sees it.
Laserfiche Workflow monitors work-in-process folders where documents are missing metadata which is preventing Workflow from routing documents. Each morning, it sends an email to the processors with a list of applicable documents.
Benefits of Laserfiche
Implementing Laserfiche at Semper Augustus Investments has produced the following benefits:
Laserfiche Forms allows rules to be enforced during the composite performance compliance process. This means that, for the whole process to be finished, every step has to be performed correctly, giving Semper Augustus peace of mind.
Employees can focus their time on customer service and revenue-generating activities since many administrative tasks have been automated with Laserfiche Workflow.
Customer service has improved greatly since any document requested by a customer, no matter how long ago it was created, can be found in Laserfiche at the click of a button.
Employees can perform their job functions from anywhere, even if they are traveling to see a client.
Laserfiche has allowed the firm's business to be more scalable. With Laserfiche Workflow, automating new processes is quick and easy.
The firm stays in compliance with SEC regulations and reduces risk.
Want to learn more about maintaining regulatory compliance? Click here to get your free copy of The Dos and Don'ts of Social Media Archiving.