How Learning ARTS Simplified Case Management with Laserfiche
Learning ARTS provides in-home learning programs to over 400 children living with autism and other cognitive disabilities, teaching them skills from shoe-tying to resume writing. With eight geographically disparate locations, collecting paper forms had become a challenge.
Here is how the organization implemented an efficient paperless solution with Laserfiche.
Legacy Process
Previously at Learning ARTS, onboarding new clients required several paper forms which needed to be stored onsite at the Learning ARTS facility. Technicians kept Verification of Services (VOS) forms stored in a binder in the client's home. VOS forms track payroll information as well as details about the child's progress.  Employees can then use the VOS form to determine whether or not the child's program should be altered based on the child's progress. Because information from the VOS forms was not immediately available, changes to a child's program took up to two weeks to take effect.
For the payroll process, employees at Learning ARTS would print reports, which showed the client name and the check-in/check-out times. Reports were not time-stamped, making it difficult to determine which entries were new. The entire report needed to be printed and compared to the report from the day before and new entries highlighted. Human error often caused entries to be missed. The daily process took four hours and resulted in up to 200 pages printed.
New Client Onboarding
Aside from a small number of clients without internet access, all new client onboarding forms are now processed electronically:
Parents submit applications through Laserfiche Forms
As part of the application process, parents upload images of insurance cards, doctors' notes and referrals with the application form
The application and all supplemental documents are stored together in the Laserfiche repository
Learning ARTS employees review and approve the submitted application and assign a technician to the child
Behavioral analysts create individualized programs for the children based on the assessment and previously submitted documents
When a new form is submitted and a technician is assigned, Laserfiche Workflow determines the technician's team and sends them email or text message notifications regarding their new case.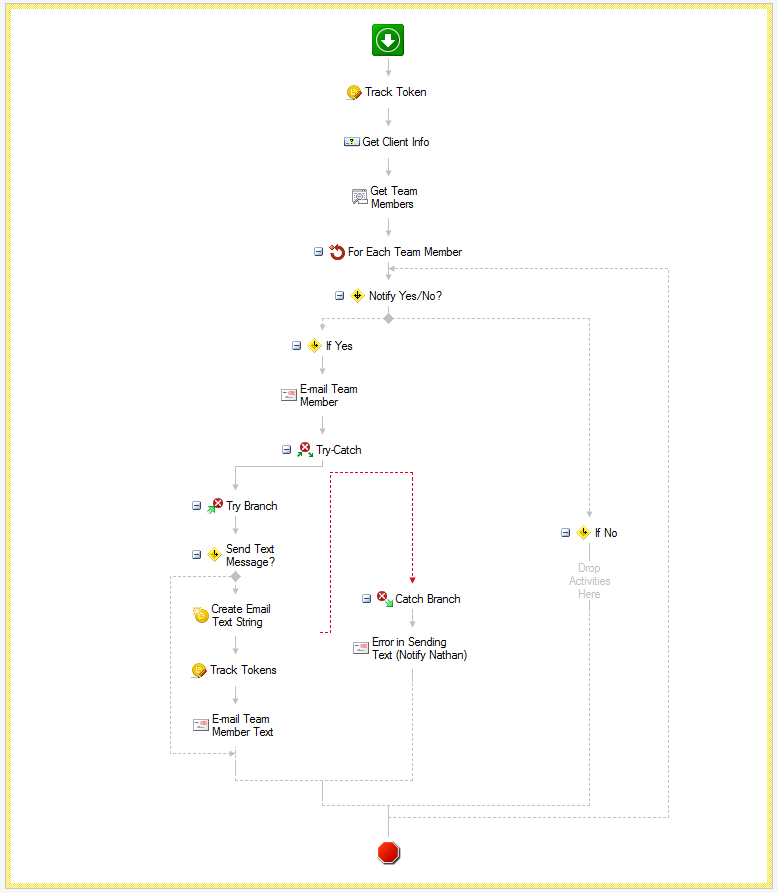 Billing
Each client has a tablet issued by Learning ARTS at home, replacing the binders of forms that previously resided with the clients. The tablets allow clients to quickly submit required documentation and allows technicians to easily fill out a VOS form at the end of the day's session using Laserfiche Forms.
A workflow extracts the user ID, client ID and clock-in/clock-out time from the form and updates the time card portal. This automatically and instantaneously updates the time cards, removing manual processes entirely.
Every night, another workflow checks for new entries using a SDK custom script and then creates a CSV file to email to the billing team. The CSV file contains the client billing information, including the length of the session, so that the client can be billed within 24 hours of receiving the service.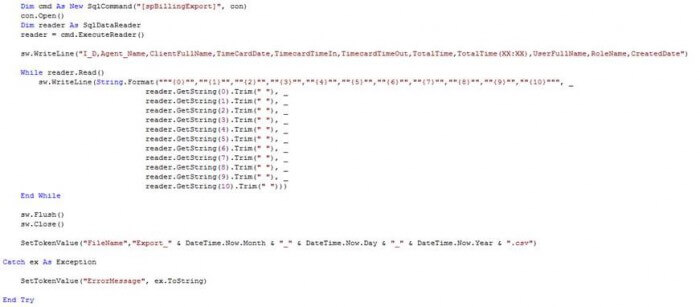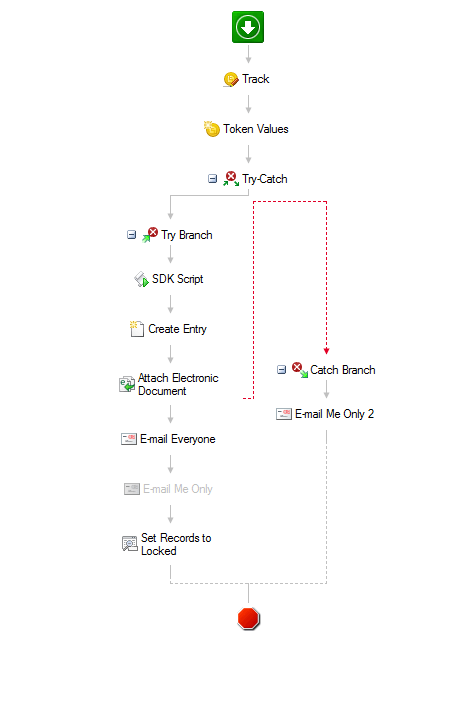 All employee and client data is held alongside time card and payroll information in a custom-built web portal integrated with Laserfiche. A simple SQL query allows for an automatic calculation of payroll from the database.
Laserfiche Repository
Learning ARTS keeps files organized in the repository, separating client files from human resources files and further separating documents by client/employee name and document type.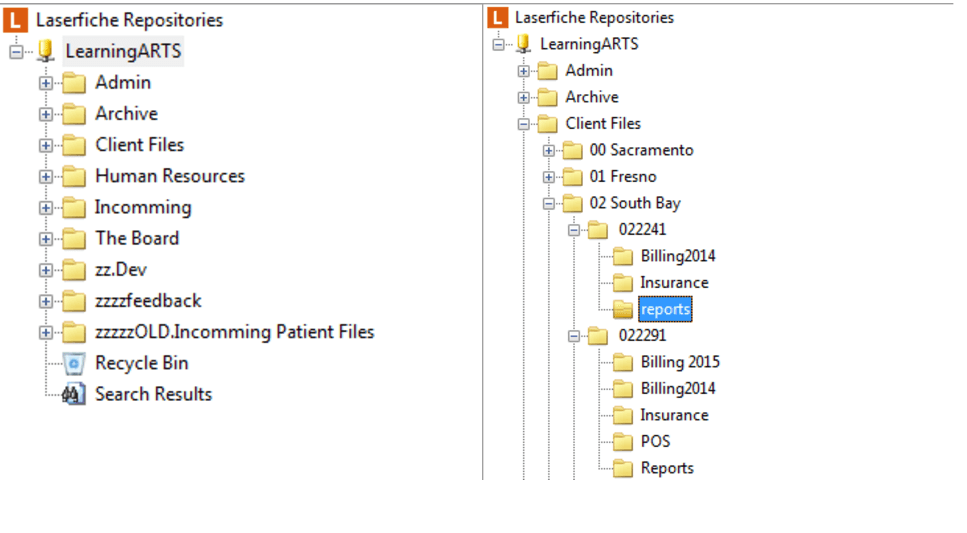 Rather than utilizing a traditional records management solution, Learning ARTS creates cumulative client reports so that documents can be archived after they have been processed. The reports summarize client files from the initial assessment to the most recent documents in the web portal. After the report has been created, records are stored on an external hard drive rather than staying in the repository. Employees no longer access the records once they are stored as the reports contain all relevant information.
Benefits of Laserfiche
Implementing Laserfiche has resulted in the following benefits for Learning ARTS:
The payroll process has been made completely paperless, cutting the cost of printing 200 pages per day and effectively storing records
Manual data entry has been eliminated, saving 20 hours per week and ensuring accuracy of all information
Information about each child and their programs is available instantly, enabling employees to adjust programs daily and improve the quality of service
Learn more about case management automation by downloading your complimentary copy of Quicker, Better, Safer!