How Oklahoma Christian University Saved $31,000 in One Year by Streamlining Student Records
Contributed by: Clint LaRue, Director of Student Financial Services, Oklahoma Christian University
Before implementing Laserfiche, our financial aid office struggled to output financial aid offers quickly with a paper-intensive application process, ultimately frustrating students and parents. Here is how we improved student financial services and obtained $31,000 of hard savings in under two years by integrating Laserfiche with our existing Ellucian Colleague student information system and LincDoc eForms Creator.
The complete process
Every Oklahoma Christian University (OC) student is assigned a personal network account that they can use to log into the MyOC portal, which provides students with campus news, e-mail, news about upcoming events and more. This portal is integrated with our Ellucian Colleague student information system and is built on Microsoft SharePoint. Here's the screen a student sees when logged into the portal: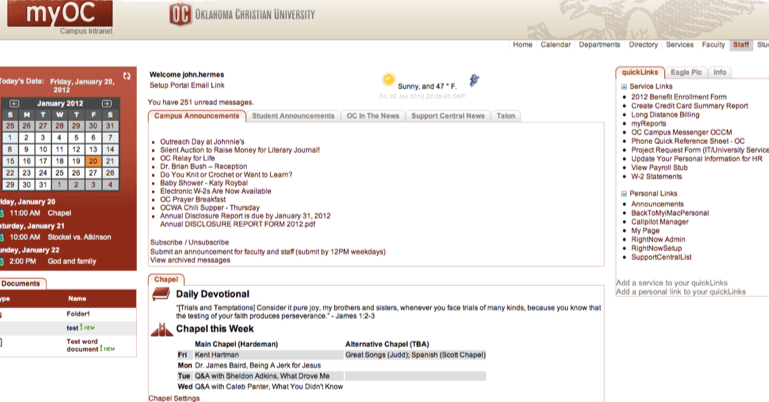 This portal also allows students to manage their financial aid forms. Under the Services section and My Financial Aid, there is a Missing Documents link. Clicking on this link brings the student to a new screen which lists and describes all of the missing documents he must submit.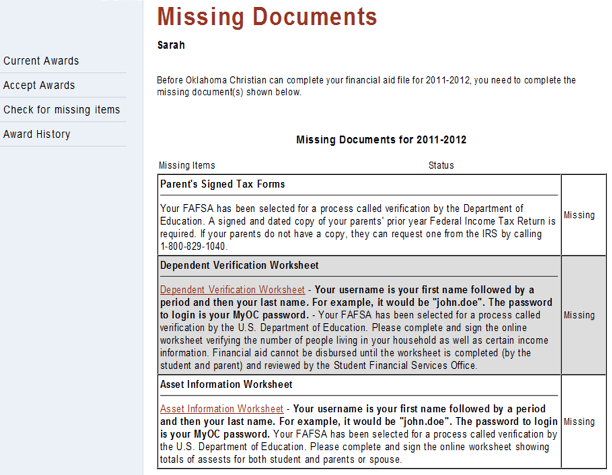 Our staff creates these documents through the LincDoc eForms Creator and then manually embeds the links to the forms in the student portal. For example, if a student clicks on the Asset Information Worksheet link in her Missing Documents section, she can open the following form after using her personal network ID and password to log into the LincDoc environment.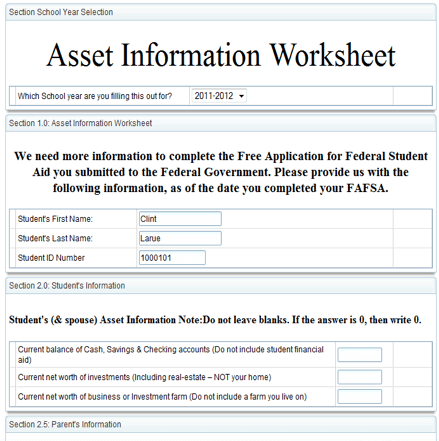 The Student ID Number, Student's First Name and Student's Last Name fields are automatically populated based on the information supplied during the login process.
Once the student and parent sign the form and click Submit, Laserfiche Workflow automatically routes the form to one of the subfolders inside the _TO BE FILED folder in Laserfiche.
Depending on whether—and what—information is still missing, this form can be initially classified as either Award, probation and suspension, Need Counselor Number or Need Student Name and File.

We run Laserfiche Quick Fields sessions multiple times daily to further process and OCR the documents that arrive in those folders, with a different Quick Fields session for documents stored in each folder.
The session below processes the documents in the Need Counselor Number folder.
Quick Fields identifies the Student ID and looks up the name of the appropriate Financial Aid Counselor, who is automatically assigned student files based on students' last names, in the Ellucian Colleague database.
Workflow then routes the document to the Financial Aid Counselor responsible for this student. Each counselor has his or her own 01_Enter in Datatel folder in Laserfiche where these documents are then stored.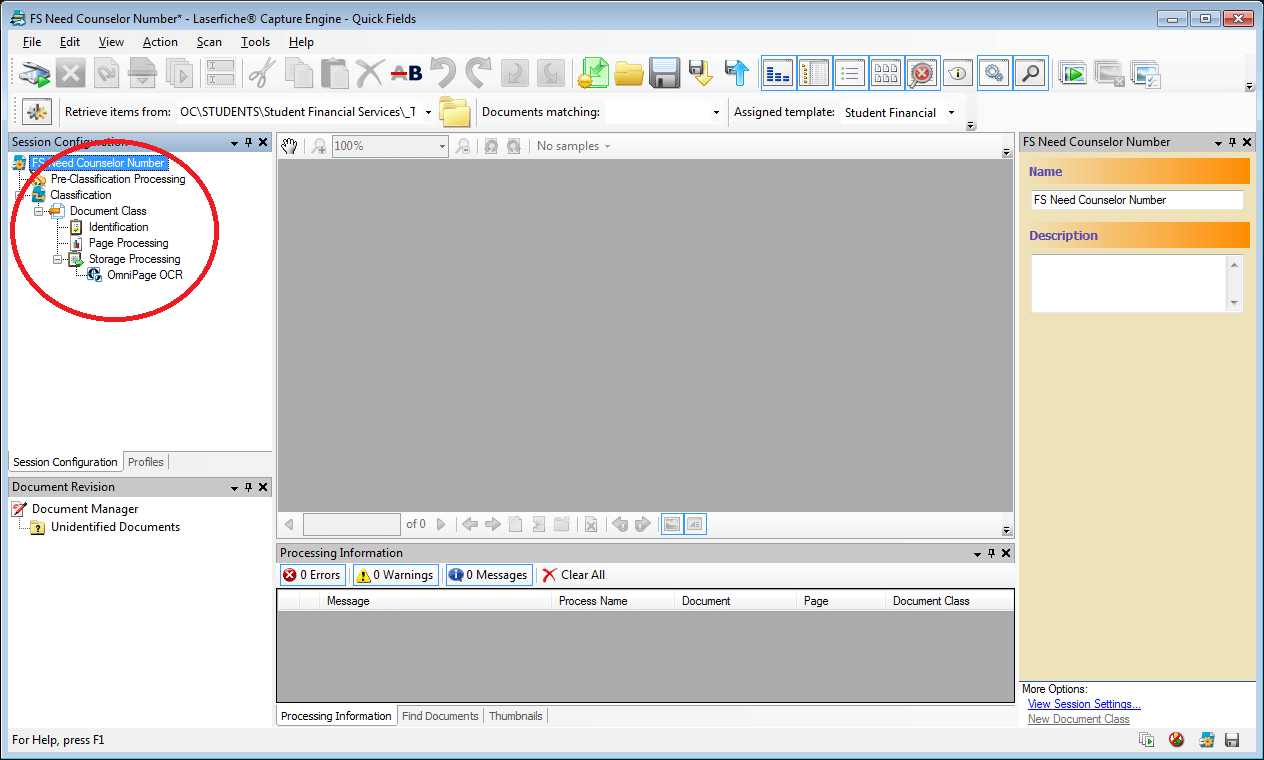 Here's how the folder of newly assigned student records appears to a Financial Aid Counselor in Laserfiche: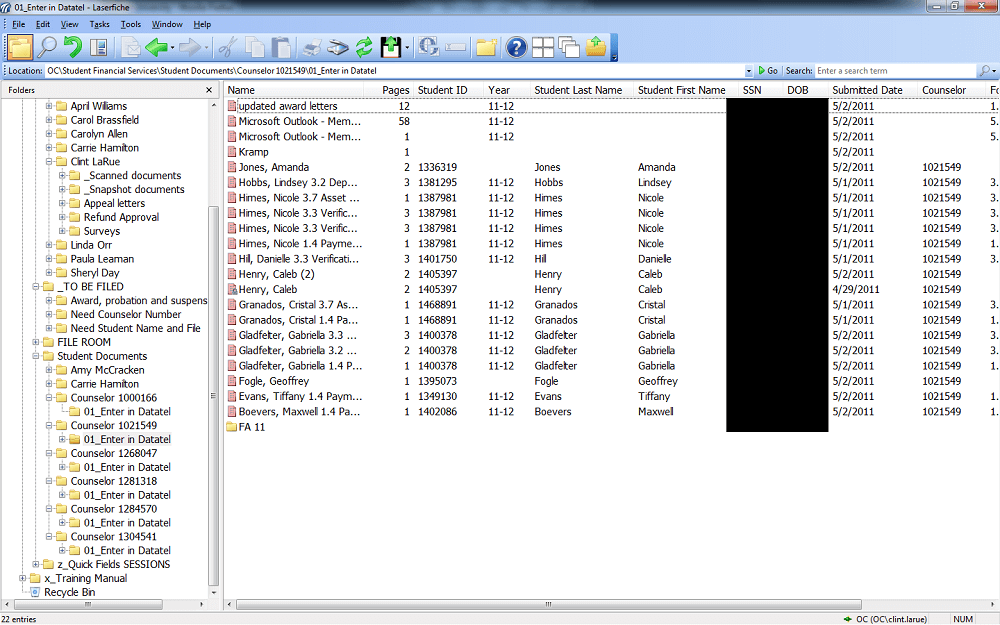 Every Financial Aid Counselor has access to his or her folder in Laserfiche from the Ellucian Colleague environment, which provides easy access to documents. Through our Laserfiche integration with Ellucian Colleague, an Affinity button is available in the toolbar of Ellucian Colleague. A Financial Aid Counselor can simply click on the binoculars icon to pull up the relevant student documents in Laserfiche:

The Financial Aid Counselor then opens the submitted form in Laserfiche and reviews it to make sure everything has been filled out correctly. S/he then selects Received from the PFC Reviewed list field in the assigned template.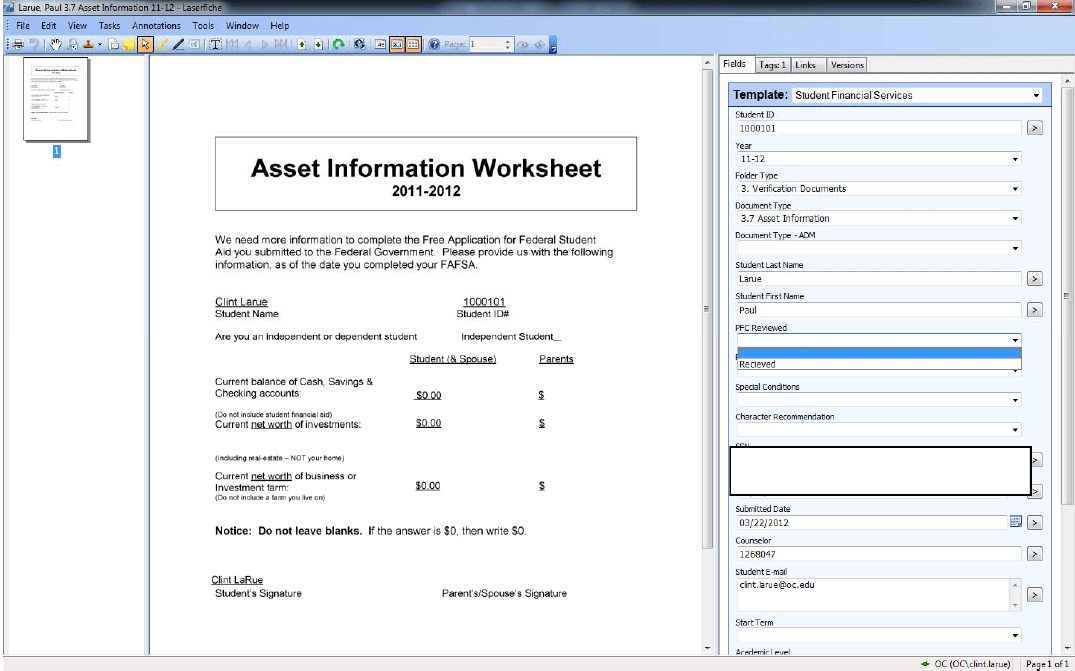 Once the metadata is finalized, Workflow moves the document from the Financial Aid Counselor's folder into the relevant subfolder within the overall FILE_ROOM folder in the financial aid department's Laserfiche repository.

The Financial Aid Counselor then logs into Datatel Colleague and changes the status of the document to Received in CRI. This updates the document section of the student's MyOC Portal so that this document is no longer labeled as missing.
Benefits of Laserfiche
By integrating Laserfiche with existing systems, the financial aid office has streamlined the entire financial aid award process. Today:
Financial Aid Counselors can respond immediately to students who inquire about their financial aid status by pulling up their entire files right from their desktops.
It is easy to track employee efficiency by simply looking at how many documents are in their folders, which have been processed and which still need to be processed. This allows management to delegate workloads more efficiently to staff and address underperformance.
Students may easily submit information electronically, reducing incoming mail from all over the world and saving OC $31,000 in paper, mailing and storage costs a year.