How the City of Elgin Made Benefits Open Enrollment Completely Paperless with Laserfiche
Laserfiche Solution Contributed by: Jeff Massey, Chief Technology Officer, City of Elgin, IL
Located 35 miles northwest of Chicago and home to over 108,000 residents, the City of Elgin, IL, employs 850 people. The City recently implemented a Laserfiche system to take benefits open enrollment for its employees completely paperless.
Prior to implementing Laserfiche, employees were required to select their medical insurance benefits by filling out a five-page paper packet, which had to be completed even if no changes were being made. Once forms were received, they had to be manually reviewed. Changes were then manually entered into the SunGard Naviline payroll system as well as the insurance provider's system. This paper-based process took 400 hours of human resources staff time to complete.
Using Laserfiche, the City automated both forms processing and data entry into Naviline, cutting 350 hours of labor.
"Laserfiche provides real value to the city that results in hard dollar savings for the entire organization," said Jeff Massey, Chief Technology Officer at the City of Elgin. "Within the first year of deployment, Laserfiche provided a positive ROI. The workflow improvements provided staff time benefits almost immediately."
Here is how Laserfiche Forms and Laserfiche Workflow automated the City of Elgin's benefits open enrollment process.
New Process
Once a year, all qualified City of Elgin employees receive an email with open enrollment instructions and a link to the form in Laserfiche Forms. The employee then clicks the link to open the form.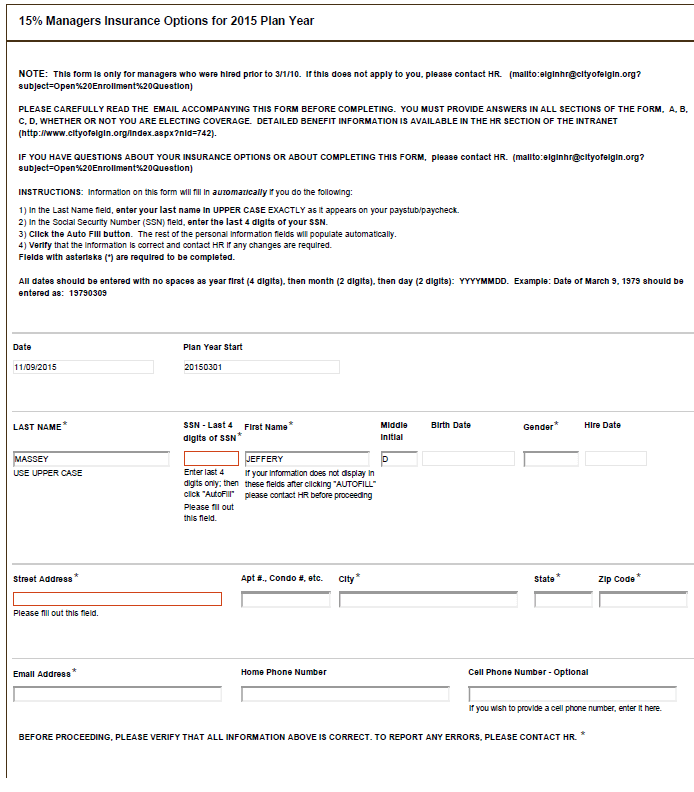 Once the employee enters his last name and last four digits of his social security number, Laserfiche Forms auto populates the remaining demographic fields by performing a lookup into Naviline.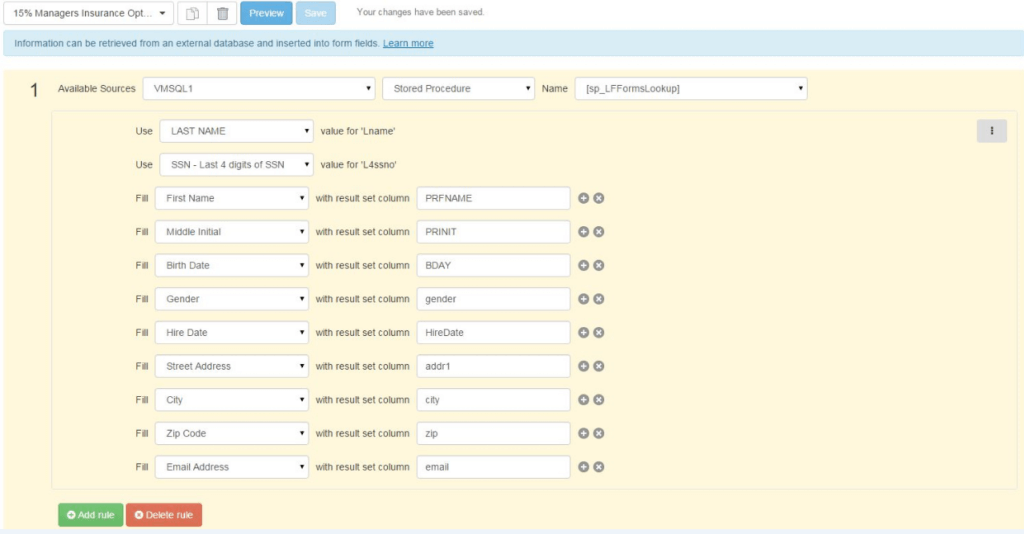 The employee selects the appropriate dental, health and vision coverage. He can also select "No Change" in any of those sections. Once the form is completed and submitted, Laserfiche Workflow takes over.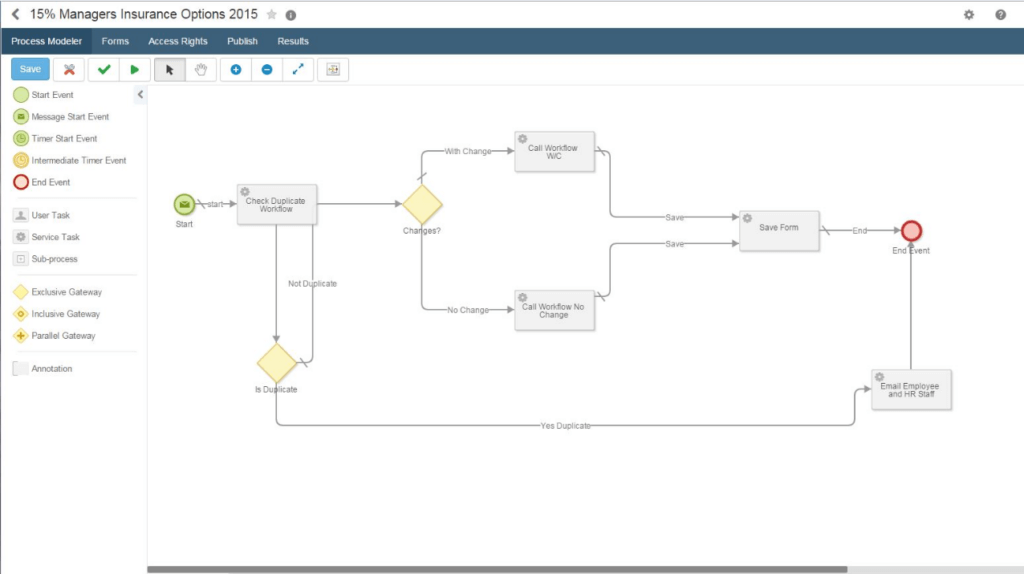 Laserfiche Workflow:
Extracts all data from the form
Inserts this data into a SQL database
Updates the SQL database with the appropriate codes in order to simplify uploading to Naviline
Once the workflow finishes running, Laserfiche Forms saves the form in the employee's folder in Laserfiche. If "No Change" is selected for all sections, there is no further review necessary and the form is immediately saved in the employee's Laserfiche folder.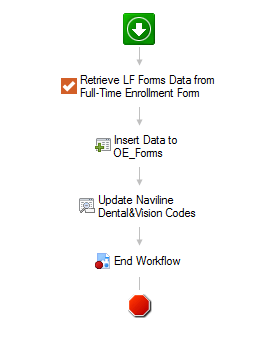 A SQL reporting service runs daily on the SQL database and generates a CSV summary of all submitted information. This report is emailed to the HR department who can track the submissions as they come in and quickly contact the necessary employees if changes or corrections are needed.
At the end of the month, Naviline imports the CSV file and updates employee records with the new benefits enrollment information so that the employees' pay can be adjusted accordingly.
Another SQL stored procedure runs monthly to produce a data file with all benefits enrollment information. This report is automatically saved to the benefit provider's FTP site so that it can update its records.
Benefits
Implementing Laserfiche at the City of Elgin has resulted in the following savings:
HR staff saves 350 hours of labor by automating both forms processing and data entry into Naviline. This equates to about $15,000 in savings.
The City of Elgin saves an additional $15,000 in legacy support costs from the previous document management software that is no longer in use.
Other departments save $30,000 in storage and retrieval costs.
Get started on going paperless in your HR department by downloading your free copy of the Ultimate Guide to HR Automation.