How the City of Ithaca Transformed the Permitting Process
Laserfiche Solution Contributed by: Julie Holcomb, City Clerk and Alan Karasin, Senior Network Administrator, City of Ithaca, N.Y.
Laserfiche Solution Provider: ICC Community Development Solutions
Located in central New York, the city of Ithaca is the county seat of Tompkins County and home to 30,000 residents. Each fall, nearly 30,000 students make their way to Ithaca's Cornell University, Ithaca College and Tompkins-Cortland Community College.
After years of piling documents in cramped crawl spaces and damp garages, the City of Ithaca decided to put an end to costly and haphazard storage. Not only was the City running out of room for its records, the retrieval process was time-consuming and labor intensive. Records were difficult to find and even worse, files occasionally went missing. Spreadsheets and data bases were used to track information but only pointed to hard copies that then needed to be retrieved by hand.
The City needed a way to protect the integrity of records, ensure that record retention periods were met, improve record retrieval efficiency, and broaden access to public records. "Although documents such as minutes, plans, budgets, reports were posted to our website, you had to know what you were looking for in order to find it," said Ithaca City Clerk Julie Holcomb. "Forms and permit applications were also available to the public on our website, however, applicants had to print out the forms, complete them, and mail or bring in the application to City Hall and then wait to be contacted by staff."
Using Laserfiche, the City was not only able to store all documents but make them text searchable for speedy retrieval. Documents can now be checked out and used without any fear of loss. "These two initiatives enable the citizens of Ithaca to conduct their own research on their own time, instead of depending on City staff to do it for them," said Holcomb. "They can also complete forms, submit permit applications and receive responses without ever having to visit City Hall." According to Holcomb, Laserfiche has empowered City employees and citizens alike. "The City is able to process more requests in less time, thereby serving more citizens," she added.
Here is how the City of Ithaca improved citizen service—and employees' workdays—by enabling public access to records and permitting forms.
Making Records Available to the Public
Prior to implementing Laserfiche, the City's time-consuming document retrieval process depended on institutional knowledge. Gaps in historical knowledge created confusion and resulted in requests taking weeks to fulfill. The system was difficult for citizens to navigate, as they had to request many documents to find the required information. The City of Ithaca solved both its storage and retrieval problems by scanning records and storing them in the Laserfiche repository. With Laserfiche, the City is saving money in storage costs, and its staff and citizens can access documents instantaneously by performing simple text searches.

A Laserfiche WebLink public portal allows the City of Ithaca to host documents from the Laserfiche repository online where they are available to citizens at any time, without the danger of accidental alteration or deletion. Citizens can only access approved documents, enabling the City to comply with document security policies. Using Laserfiche WebLink, the City of Ithaca is able to execute two important objectives: allow citizens to view relevant documents online and to access documents pertinent to permitting. Both activities previously took time away from city employees as they had to manually search for documents. This time can now be spent on critical operations such as enacting city legislation and fostering community development.
Online Permitting Requests and Automation
Previously, all permits required a slow and tedious paper process. Permit requesters were required to travel to City Hall to submit paper forms, which had to be manually moved between departments for processing. Permitting staff work with approximately 50 event organizers each year to accommodate the many events in the City, some of which attract upwards of 30,000 attendees. In the past, organizers had to meet in person with the Special events committee (including members from the Fire Department, Police Department, Department of Public Works, Planning Department, Parks and Recreational facilities staff, and the City Clerk), taking time away from employees and applicants alike. With Laserfiche Forms, event organizers can now access and submit permit request forms online, making the process easier for both requesters and city employees. Special Events permitting now has a three-phase application process: Phase 1 is the most basic application, allowing requesters to provide very general information about location and date.

Phase 1:
All requesters fill out the online Phase 1 application form available on the city's website.
Options for basic information such as location and date are available via a dropdown menu so that the information can be easily routed in the next step.
Laserfiche Workflow routes the Phase 1 application to an administrator who reviews the document.

If the administrator approves the application and changes the metadata, Workflow automatically emails the requester a link to the Phase 2 form. The administrator will also select the relevant departments that should be notified upon the receipt of the Phase 2 application.
If she changes the document's metadata to reflect a rejection, Workflow notifies the requester that the request was rejected via email and the permit process does not move on to Phase 2.
The Phase 2 form allows requesters to provide more specific information than is on the Phase 1 application, including plans, maps and insurance certificates.
Phase 2:
Once the requester submits the Phase 2 form

,

employees from the relevant city departments will receive an e-mail with attachments that include the Phase 1 and Phase 2 applications and any other uploaded documents like maps, plans, etc.
They will also receive a user specific link to another Laserfiche form that allows them to either add their own comments about the event or to simply acknowledge that they have reviewed the application and approves it without any conditions.
When each department has reviewed the form, Workflow routes it back to the administrator who can reject it, accept it as-is (for simple or recurring events) or invite the event organizer to Phase 3 of the process which is a face-to-face meeting with the Special Events Team.
Once the permit administrator confirms that all permit requirements have been met and has either approved or denied the application, the Laserfiche Workflow then emails the requester to inform them of their denied or accepted permit, ending the process. The new Laserfiche-driven process is much faster and more efficient than the traditional paper-based process. Time/cost savings are realized by utilizing standard automated e-mails instead of inter-office mail which could take days, and the departmental review/comments form instead of multiple phone calls or e-mails in an attempt to gather departmental comments. In addition, the need for meetings with event organizers has been dramatically reduced and the time the Special Events Team spends discussing events is much more productive.
Automatic Permitting Updates
The City has been able to automate various aspects of the permitting process in addition to the application process. The City uses Laserfiche Workflow to incrementally update the year for Noise, Commons Use, and Special Events permits. When a recurring application is submitted, Laserfiche Workflow checks to see if the year has changed and increments the form accordingly. This ensures that forms are always kept up to date, reducing human error.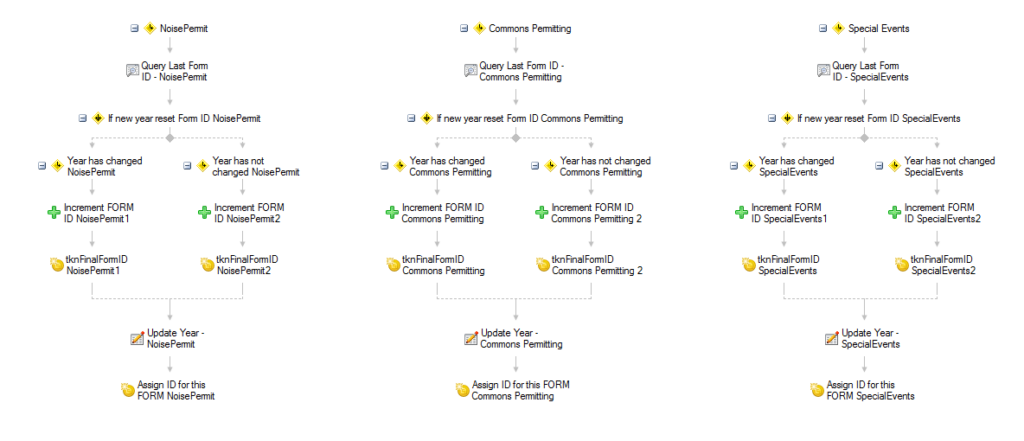 Benefits of Using Laserfiche
Since implementing Laserfiche, the City of Ithaca has experienced the following benefits:
Citizens can search for information on the city website via the public portal, eliminating the need for employee involvement
Event permits can be requested online 24 hours a day, 7 days a week, saving time for citizens and employees alike.
Submitted permitting forms are more accurate and complete since the electronic forms can only be submitted if required fields are completed
Laserfiche Workflow minimizes confusion and miscommunication with automatic email notifications
Printing and storage costs are reduced with paperless processing and electronic documents
Meeting time is more productive as the routine approvals and conditions can now be handled in advance electronically, and only new or more complex events need to be discussed
Want to learn how Laserfiche Forms and Laserfiche Workflow can help your organization automate processes like permit requests? Get a free demo today.