How the Corporation of the Municipality of Bayham Automated Contract Management
Laserfiche Solution Contributed By: Paul Shipway, CAO, Municipality of Bayham, ON, Canada
The Municipality of Bayham, ON was losing thousands of dollars every year in unrecovered fees from miscellaneous agreements. With an 8,000 person population, Bayham has a small tax base and minimal avenues for revenue generation. With only 20 people on staff, the Municipality needs to operate efficiently to serve citizens to minimize tax increases.
By implementing Laserfiche, Bayham is leading the way for rural municipalities in Ontario, adapting to change and serving the public more quickly and effectively. "Laserfiche has become one of the most valuable employees with the Municipality of Bayham," said Paul Shipway, Chief Administrative Officer.
Here is how Bayham automated its contract management process and collected over $50,000 annually in unrecovered fees.
Legacy Process
Rather than managing electronic records, Bayham's previous records management system indexed the location of paper files. Documents were archived off-site, resulting in extended delay to fulfill document requests made by the public. The operating system, which had expired and was unsupported by Microsoft, was difficult to navigate and relied on the knowledge of senior staff members, limiting the upward mobility of newer employees.
The Municipality routinely has 100-250 active agreement contracts, each having from one to ten actionable requirements, such as collecting:
Fees and insurance certificates
Building permits
Letters of intent
Reports from the health department
In the past, agreements were drafted and signed, and the associated documentation was put into a box and largely forgotten. This resulted in tens of thousands of dollars in uncollected fees and liability exposure due to the absence of necessary insurance certificates.
Document Request and Management
All records are now stored in the Laserfiche repository. Currently, citizens can submit a cover letter and a check to request a building compliance or tax certificate. Eventually, Bayham will integrate Laserfiche Forms into a portal on the Municipal website, making requests entirely electronic.
Additionally, the public can access many of the Municipality's documents through a public portal, enabling access to minutes from as far back as the 1800s. The public can browse through agendas sorted by month and year. Councilors can log into the portal to access confidential information that is not available to the public.
Records at Bayham are organized according to The Ontario Municipality Records Management System (TOMRMS). The 19 parent folder and 260 subfolders are identical across almost all Ontario Municipalities. TOMRMS provides consistency across various municipalities and Laserfiche enables Bayham to easily follow the already defined structure.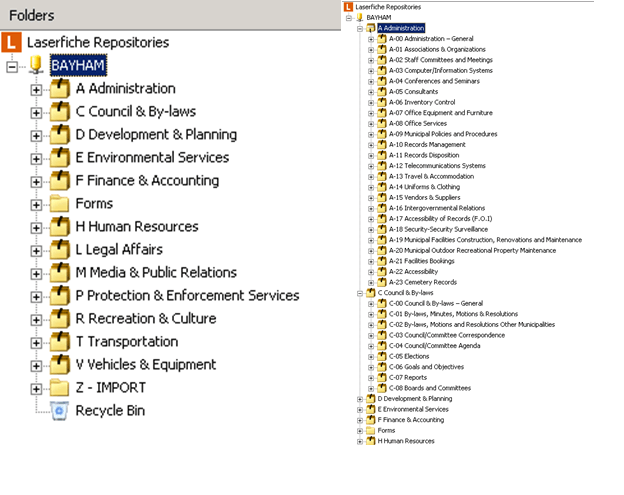 Using the records' metadata, Laserfiche Workflow monitors the retention schedules of records and notifies employees when records should be deleted.
Contract Management
Using Laserfiche, the Municipality automated their agreement process:
The legal team first drafts the agreements and determines the duration of the contract.
Employees scan in the agreements and manually set metadata including the start date and renewal date. Bayham has made certain fields required, ensuring that necessary information is always included.
Laserfiche Workflow extracts metadata from the contracts and uses the information to automate notifications and fee collection.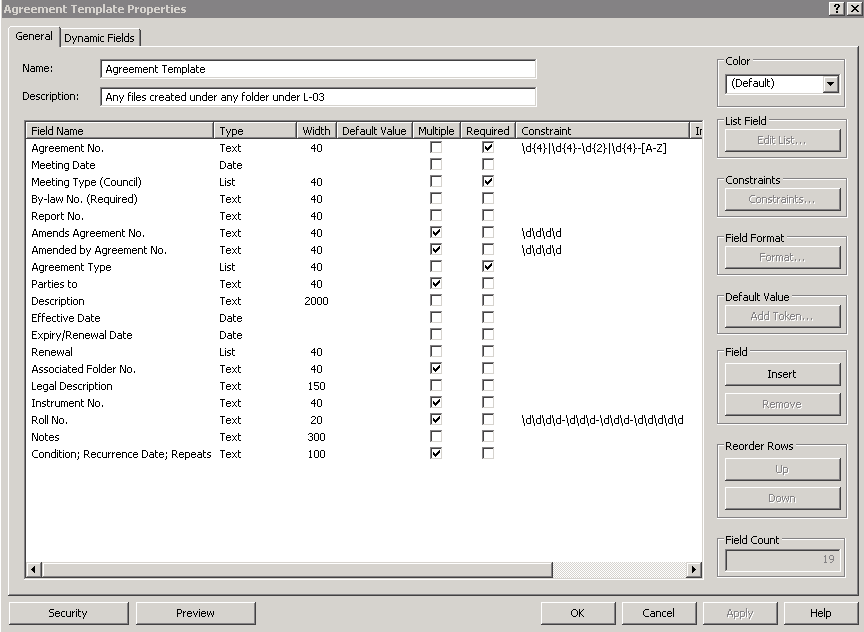 Laserfiche Workflow automatically extracts the expiry date from the agreement's metadata and renames agreements according to their status by adding the word "ACTIVE" to the name of any agreement with an expiry date greater than today's date.
One of the most important aspects of the agreement process is the collection of insurance certificates. The certificates are necessary to mitigate liability risks, and are required to comply with municipal, provincial and federal regulations.
Laserfiche Workflow checks agreement metadata daily, monitoring agreement conditions and their recurrence. Workflow automatically emails clerks on the appropriate day so that they can easily collect fees or insurance certificates.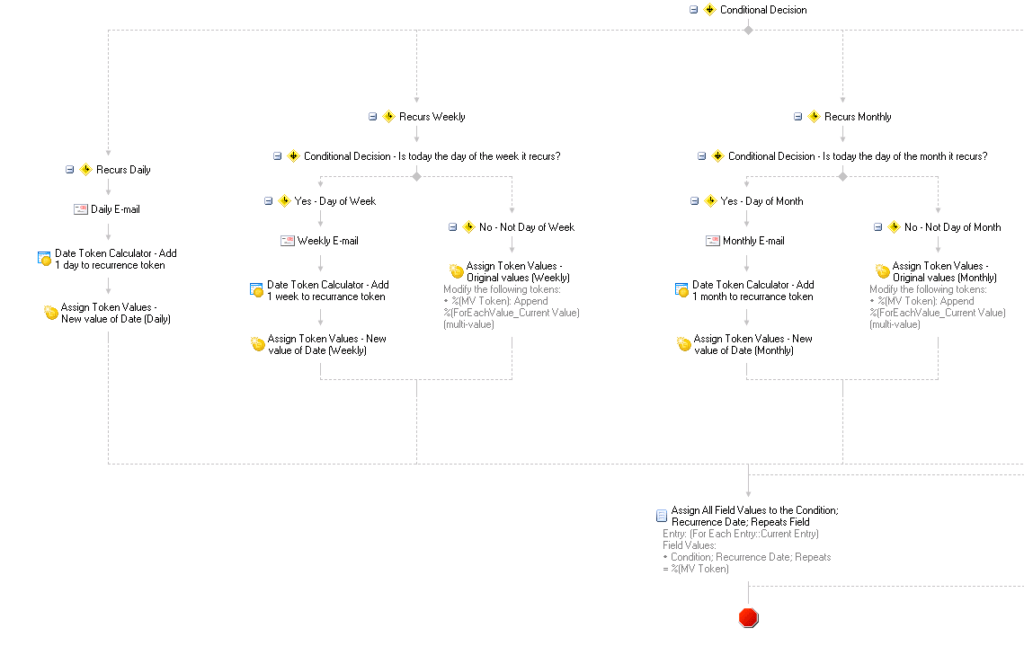 In order to ensure that agreements are up to date, Laserfiche Workflow sends an email to the clerk and deputy clerk 180, 90 and 30 days prior to the expiration of the contract so that a renewal contract can be drafted and the agreement provision status can be monitored.
Benefits of Laserfiche
Implementing Laserfiche at Bayham has resulted in:
The collection of $50,000 in unrecovered funds as well an elimination of $25,000 storage costs annually.
A quicker response time. Previously, requests took up to seven days to process and now clerks can process them in half of a day.
Intuitively organized folders, allowing clerks to quickly search through documents stored in the repository without any prior knowledge of the system.
Improved risk management and compliance with legislation through the automation of insurance certificate collection.
Want to learn more about how to digitize and automate contract management? Download your complimentary copy of The Guide to Automating Contract Review and Approvals today!