How the DCD Group Manages Project Documentation with Laserfiche
Contributed by: Dawie Marais, General Manager Support Services, DCD Group
DCD Group comprises four different divisions: rail, mining and energy, marine, and defense. The manufacturing process in the mining and rail sectors needs to be documented thoroughly in order to be certified. The compilation of this documentation is called a data pack. Here is how Laserfiche Workflow makes compiling data packs—which can have hundreds of pages—simple and efficient.
The challenge
Data packs contain documents that need to be kept up to date to be referenced during the whole manufacturing process. These documents cannot be duplicated and everything in them must be completed in a particular order. There were times that documents, such as drawings, were being revised, which made it very difficult to ensure that the latest versions were being used by the engineers. Documents are submitted by various departments and keeping them together was a challenge. At the end of the project, these data packs need to be delivered to the customers. There can be anywhere from five boxes of files to 50. It is also necessary to keep a copy of everything at DCD. The whole process was an administrative nightmare.
The current process
The current process starts with Laserfiche Workflow. As soon as an order is received, the document is scanned into Laserfiche and the DCD Projects template is assigned with certain metadata filled out. From there, a series of workflows does the following:
Assigns a project engineer.
Assigns a project number.
Creates all of the folders and sub-folders required to store the various project documentation.
Assigns a QA representative.
Assigns a buyer.
Keeps track of the whole process with a series of history fields.
Here is a screenshot of the workflow that creates all of the sub-folders to store the project documentation:

Here is what the final folder structure looks like: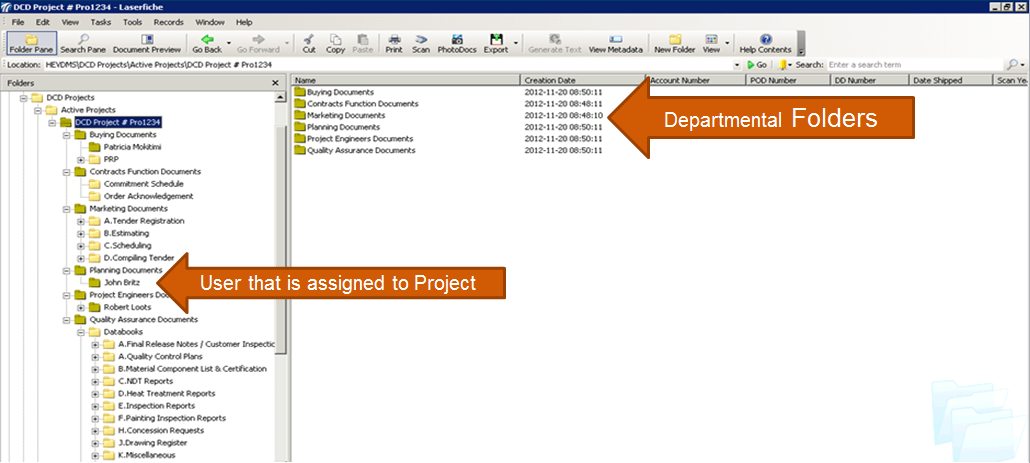 A different workflow manages all of the documentation that each department submits as part of the data pack. Here is what this workflow looks like: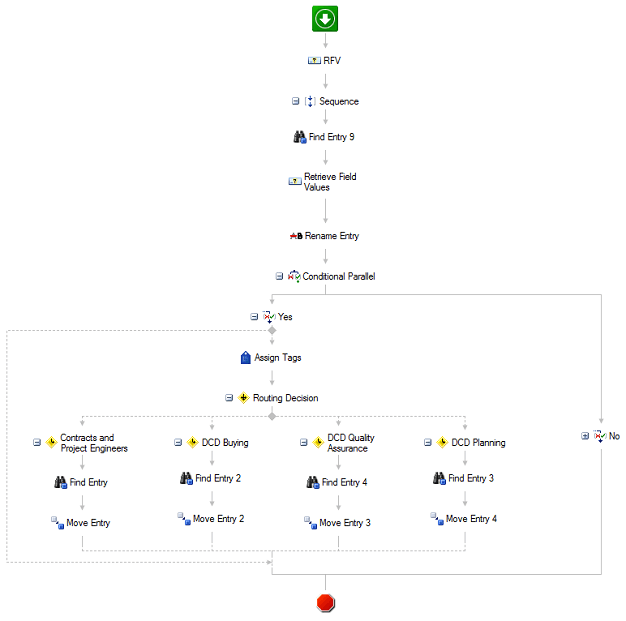 Version control was implemented on all of the folders and the Check InOut process is used to make sure that no more than one person is updating a document at the same time.
Each document that is part of a data pack also has a specific "Data Pack" tag assigned. A custom search has been set up to retrieve all of the documents with the assigned tag.
Benefits of Laserfiche
Using Laserfiche to create and compile data packs has led to the following benefits at DCD Group.
Administrative work has been significantly reduced.
All documents are easily retrievable by anyone who needs to see them at any time.
Only one copy of everything is stored and version control ensures that employees are always working with the most up-to-date document version.
Data packs can now be electronically submitted to clients, resulting in significant savings of paper and copier costs.