How the North County Transit District Simplified Records Management
Laserfiche Solution Contributed by: Sonya Finley, Document Control Coordinator, North County Transit District
North County Transit District (NCTD) provides public transportation for over 12 million passengers annually in north San Diego County, CA. Before implementing Laserfiche, all of NCTD's documents were stored on a network drive. Here is how Laserfiche Rio simplified records management and improved collaboration.
Ten Different Repositories
NCTD has ten different repositories. Access to repositories by departments and/or staff is granted based upon operational need.
The shared repository is used for working files and reference material. Every department has a folder in this repository and can use it for day-to-day work.
The records repository is used to store official records. Only the Document Control Clerk can make changes to the documents stored in this repository while everyone else has read-only access, as finalized documents are stored here.
Laserfiche for Document Collaboration
Employees are able to work off one document and keep track of all changes using versioning. When reviewing documents, collaborators email a link to the document in Laserfiche instead of creating a separate copy. One example of an important document that involves significant collaboration is the staff report.
Example: Staff Reports
Preparing a staff report requires long-range planning, advance scheduling, collaboration, and coordination with several departments. Laserfiche Workflow makes this process much more efficient.
NCTD's Staff Report workflow has eight stages of approval:
Division Chief
CFO
Procurement and Contracts
CAO
Intergovernmental Affairs
Legal
Administration
Executive Director
Clerk of the Board
At each step of the process, Laserfiche Workflow sends an email notification to the appropriate approver and his backup approver. He can then approve the report by updating a template field. If the report has not been approved within two days, Laserfiche Workflow automatically sends a reminder email to the approver.
Laserfiche Workflow also keeps a history log in a template field, clearly displaying who has approved what and when.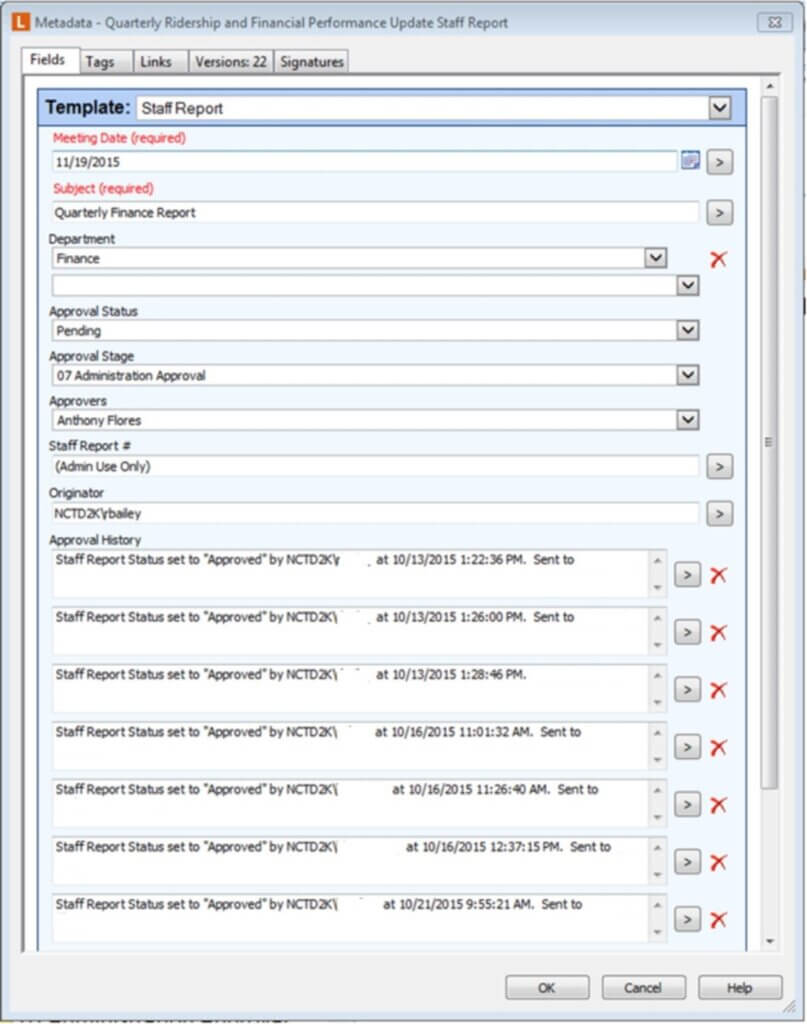 At the end of the process, Laserfiche Workflow migrates the document into the read-only records repository for archival storage.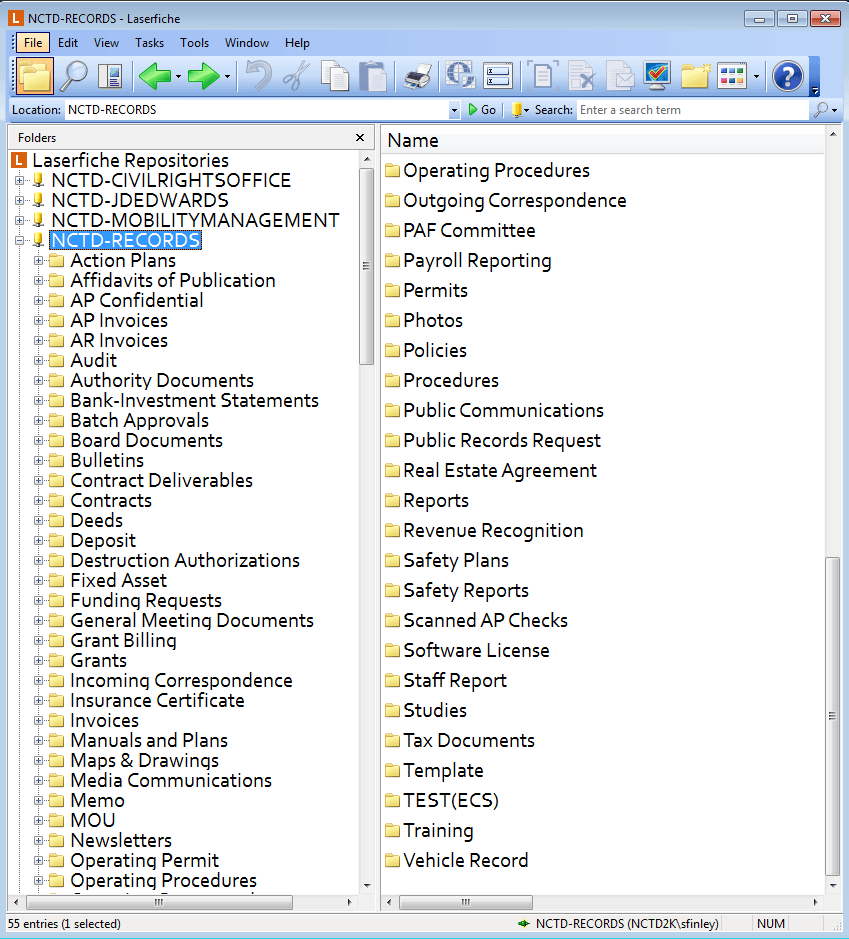 Repository Maintenance
Both public repositories are maintained using Laserfiche Workflow. NCTD has workflows that:
Move finalized documents from the shared repository to the records management repository
Rename documents to comply with a standardized naming conventions
Auto-generate full- text indexing of optical character recognition (OCR)-generated text
In addition, NCTD ensures that Laserfiche is the only way to manage documents by implementing:
Executive staff support. Support for Laserfiche came from the top down – from the CEO, Division Chiefs and Managers. Once management was on board with Laserfiche, everyone else was more likely to use the software.
Required use policy. NCTD has a company-wide policy that mandates the use of Laserfiche in every department. A copy of the policy is distributed to each new hire and is viewable at any time in Laserfiche.
Comprehensive training. New hire orientation, extensive training material—including a comprehensive Laserfiche training manual—and regular supplemental sessions are just some of the Laserfiche training opportunities available at NCTD. Trained employees are more likely to use Laserfiche regularly.
Easy-to-use setup. A simplified folder structure and intuitive naming conventions make Laserfiche easy to use, meaning users know exactly how and where to find what they need.
Process improvement. NCTD consistently seeks user feedback in order to determine what processes can be improved throughout the organization. As users become more involved in the future application of Laserfiche at NCTD, they become more enthusiastic about using the software.
Benefits of Laserfiche
Implementing Laserfiche at NCTD has resulted in the following benefits:
Content is now organized and stored in one central location eliminating the need to store files on multiple network drives.
Versioning allows NCTD to store one copy of each document, while keeping an audit trail of all changes quickly accessible.
Comprehensive security settings on the records repository prevent alteration of archived documents.
Get started with automating records management at your organization. Download a free copy of the Ultimate Guide to Electronic Records Management.