How to Capture Documents into Your Repository: Part 1
Capture—the process of getting data into an enterprise content management (ECM) system like Laserfiche—is an integral part of many business processes. The sooner documents are saved in the system, the sooner they can be used, filed to retention standards and audited.
Here are a number of capture strategies to improve enterprise-wide compliance and information transparency.
If You're Dealing with Paper Documents
Most organizations, even those that have an ECM system, still receive and process a lot of paper documents. Laserfiche has five quick ways to get these physical documents into the repository:
Laserfiche Scanning is ideal for capturing single documents or mixed batches of documents that don't require much metadata entry. This capture method is perfect for scanning incoming correspondence (i.e., pieces of mail).
Laserfiche PhotoDocs allows you to convert photographs into electronic documents. It is ideal for use with books, unusually sized documents such as receipts or business cards, and fragile documents such as ancient papyrus scrolls.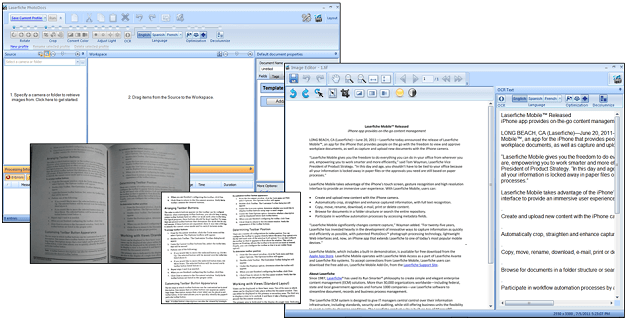 Laserfiche Quick Fields is used to process a large number of documents and automate the associated data entry and classification. For example, it can be used by an accounts payable department for scanning batches of incoming invoices or checks and automatically populating the metadata.
Laserfiche Import Agent moves documents from specified network folders into the Laserfiche repository—either continuously or on a set schedule. For example, a teacher can scan student documents onto a network drive from a scanner in her classroom and Import Agent will import these documents into the appropriate Laserfiche folders every night.
Laserfiche Connector can automatically launch Laserfiche Scanning from a third-party application so that the appropriate document can be scanned. For example, a financial advisor can use this tool to scan a new customer's document from the customer relationship management (CRM) system directly into Laserfiche. The document's metadata is automatically populated with customer information from the CRM reducing potential errors associated with manual data entry.
Are you preparing to take your organization paperless with a scanning project? Get your copy of the Ultimate Guide to Document Scanning to get started.