How to Make Sure Your Employees Maintain an Organized Repository
Contributed by: Tony Persson, IT Coordinator and Jennett Mays, EA/Communications Coordinator, Township of Springwater, ON, Canada
In order to help familiarize our employees with Laserfiche, and to keep them abreast of company policy, we've developed a Quick Reference Guide for Records and Information Management.
Printed on card stock and kept together with a ring, employees can easily open it to the page they use most often and hang it at their desk for easy reference. The ring also makes this guide expandable and allows for appending additional pages if needed.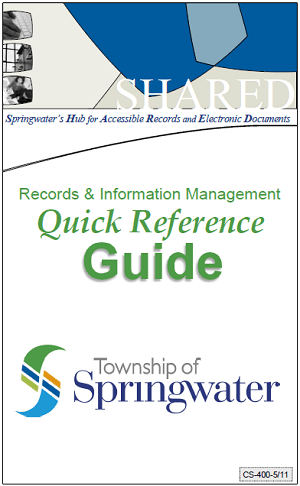 Here are some of the features included in the guide:
File and folder naming conventions.
Instructions on how to deal with e-mail.
The difference between a record and a document.
Common classifications used by department.
Scanning instructions.
Record retention by-laws.
There is also an additional page for notes where employees can add other things relevant to their daily job functions. For example, some employees may want to include classification codes that they reference daily. They may also include notes on where common departmental items have been filed.
You can download a copy of our guide here and modify it to your company's needs.