How Two Agencies Keep Up with FOIA Requests
Unfortunately, it's not uncommon for government agencies to experience lag time in responding to Freedom of Information Act (FOIA) requests. Without an efficient records management strategy in place, responding to a request can involve a trip to the records room to find the appropriate storage box, locate and photocopy the requested documents, and mail the photocopies to citizens.
In fact, there are enough agencies with subpar information requesting services that the Electronic Frontier Foundation (EFF) recently announced the "Foiles" awards for "the most outrageous responses to Freedom of Information Act and state open records act requests."
Categories include (but are not limited to):
Absurdly Over-Redacted Documents
Egregious Copying Fees
Extraordinarily Long Wait for Records
Silly Legal Arguments in Public Records Lawsuits
Wrongest-Headed Anti-transparency Legislation
Fortunately, many local governments are proactively working to keep their names off the Foiles ballot.
City of Fontana, CA
When Walmart applied to build two stores in Fontana, the city knew the retailer's opponents would inundate the clerk's office with information requests. This prompted Fontana to rethink how it handles processing these requests.
Using enterprise content management (ECM) technology, the city created a public portal where residents can easily access public records from URLs provided by the City Clerk when a request is made.
For this project, the public records portal included:
Webpages for the two separate Walmart projects
Frequently asked questions
A calendar of public hearings
News about public meetings and other milestones
Fontana also used Facebook and Twitter to increase transparency by announcing updates to the project.
"This gave us an opportunity to be proactive and to show the public that we are trying to be responsive and not trying to hide anything," says Dennis Vlasich, the City of Fontana's IT Director. "If it's anything the public is allowed to see, it's on the portal."
Walmart has since suspended its plan to build stores in Fontana, so there are no scheduled meetings or calendars on the site at this time. However, the city's proactive approach was so successful in streamlining information requests that it plans to post the public records associated with future high-visibility projects on the public portal.
Kentucky Sanitation District #1
The State of Kentucky's House Bill 26 mandates that every public agency must provide public access to records relating to its expenditures and maintain these records on its website for three years.
All of Kentucky Sanitation District #1's (KSD1) documents are saved to a special record series in its ECM repository. Each record series has its own retention schedule applied. Once this is done, Laserfiche Workflow automatically creates at least two shortcuts to the original file:
One shortcut allows employees to work directly with the original document.
Another shortcut is saved to KSD1's public portal so the public can search for and view the document.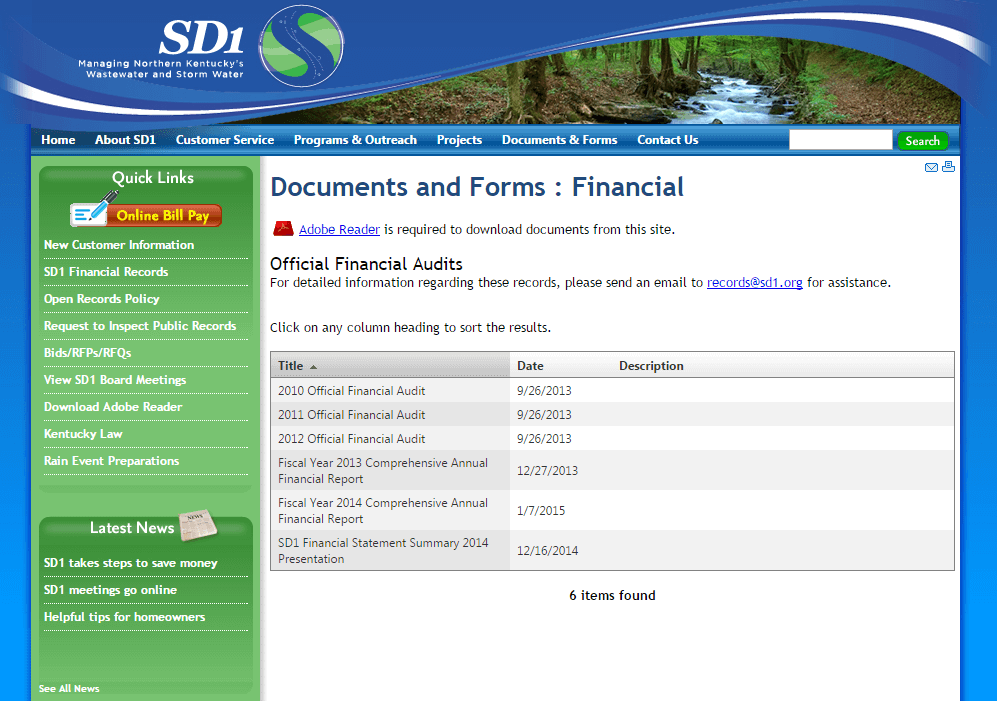 An Award No One Wants
With technology making information more immediately accessible, these two agencies recognized that making people wait weeks or even days for a response is no longer acceptable. But instead of hiring more staff to process information requests and comply with FOIA mandates, they've enabled their residents to find public records themselves. Their proactive attitudes in making information easily available will surely keep their names off the Foilies.
To avoid being a Foilie nominee, get the Ultimate Guide to Records Management and learn how take on any volume of public requests for information.