IT Professionals: Get Started with the Laserfiche App
The Laserfiche App is available for the iPhone, iPad and Android devices and enables users to securely access and work with documents inside their Laserfiche repository from a mobile device. The following advice will allow administrators to take advantage of Laserfiche App features throughout their organization.
Implementation
Some things to keep in mind before implementation include:
If many users will be uploading documents through Laserfiche Mobile, it is necessary to make sure that the Laserfiche Web Access Server can handle the load. Two cores in addition to what is necessary for the Laserfiche Web Access server are recommended to handle the processing and uploading of entries. This will be a total of four to six cores, depending on the number of users.
It is important to double check the Laserfiche Mobile installation guide to make sure that the IIS settings are configured correctly.
Once the Laserfiche Web Access add-on is installed, it is time to configure Laserfiche Mobile. This is possible from the Laserfiche Mobile Configuration page.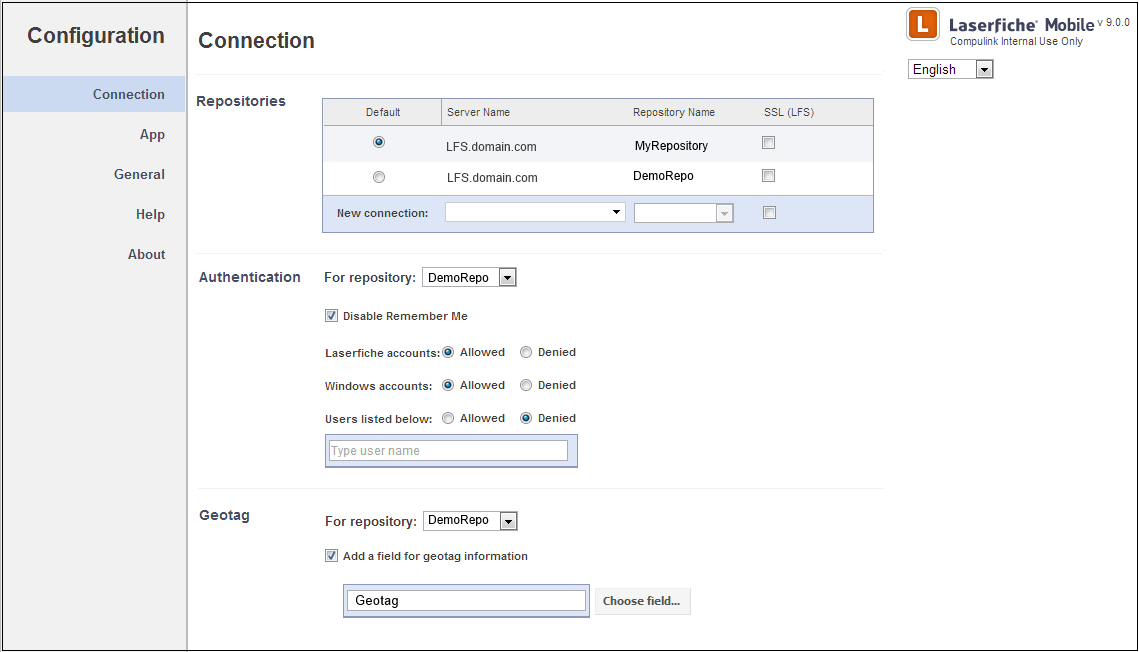 Settings that can be configured on this page include:
Setting which repositories will be available to Laserfiche App. If the organization has multiple repositories, the administrator may not want all of them to be accessible from a mobile device.
JPEG compression. If space is a limiting factor, JPEG compression can be used on import to reduce the size of images stored in Laserfiche while still preserving color. Users can also enable compression on the app side (during capture) in order to improve upload times, especially when using the cell network rather than Wi-Fi.
Geotags. Enabling geotags allows geographical location information obtained from the photo during capture to be stored in an associated field. More information about this feature can be found in the "Use Laserfiche Mobile to Combat Graffiti" article.
Security. The Laserfiche Mobile Configuration page allows the administrator to enable automatic log-out and disable automatic log-in and export. More information about security can be found in the "Best Practices in Laserfiche Security" article.
Logging in for the first time
To help users log in to Laserfiche Mobile for the first time, an administrator can send them a Laserfiche App link in an email. When a user clicks on the link, Laserfiche App automatically adds the user's current server and specified repository to its list of remembered servers and repositories. This prevents errors by saving the user from having to look up and manually enter the server address when logging in. The Laserfiche App URL is configured as follows: LFMobile://MyWebAccessServer/laserfiche/index.aspx?db=MyRepository MyWebAccessServer corresponds to the name of the Laserfiche WebAccess server and MyRepository corresponds to the name of the repository.
Setting ground rules
Before allowing users full access to the repository with the Laserfiche App, the organization should have clear security and capture policies in place.
It is important to educate users about the security settings that are in place.
Users should be aware of the organization's capture policy. This policy should address these questions:

Is client-side compression going to be implemented or do the photos have to be submitted to Laserfiche in their original size?
Are the photos of documents going to be cropped automatically or will they be cropped manually later with Laserfiche PhotoDocs?
Are geotags going to be implemented or is storing location information not relevant to the organization's business?
If users will access the Laserifche App outside of the office, they should also be instructed on how to set up VPN on their iPhone or iPad. Encourage users to take advantage of Laserfiche Mobile's features, including libraries. Like the "Favorites" found in Microsoft Internet Explorer, libraries are useful for storing lists of entries that are accessed frequently by users , or as a way to easily mark an entry as part of a "to-do" list.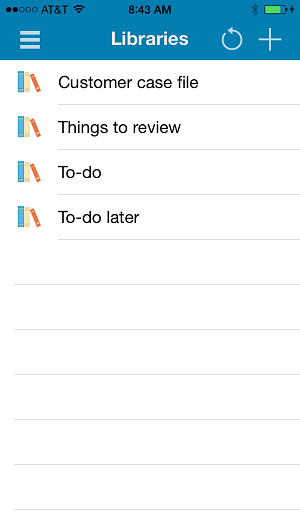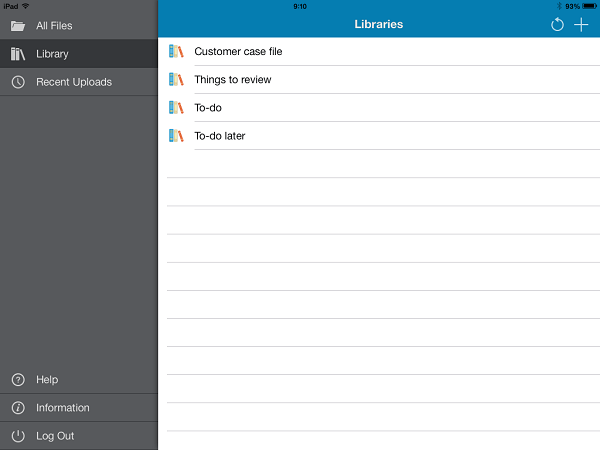 Benefits of the Laserfiche App
Implementing the Laserfiche App within the organization can result in the following benefits:
Employees can play an integral role in business processes even while outside the office.
With optimum security features configured, employees can review and work with Laserfiche documents without worry of data being stolen or compromised.
Photos can be easily captured with the iPad and iPhone and sent to Laserfiche efficiently and quickly.