Laserfiche Continues Partnership with Habitat for Humanity Los Angeles
In 2018, Laserfiche sponsored the first build day with Habitat for Humanity Los Angeles. Habitat LA was formally established in 1990 with the goal to make decent, sustainable and affordable housing a reality throughout greater Los Angeles. They strive to eliminate substandard housing by constructing new homes or renovating existing ones.
They offer a hand up, not a hand-out and work with communities and businesses to make homeownership possible for low-income, hardworking families and individuals. Through Habitat's affordable homeownership program, partner homebuyers make a small down payment and monthly mortgage payments, no more than 35% of their monthly income, and invest 200-500 hours of sweat equity building their future home and the homes of other Habitat homebuyers. The homes are sold at no profit.
Laserfiche is a proud quarter-house sponsor of the Long Beach Millennium Homes build, which got its name because it's the site of Habitat LA's 1,001st home. The new build site consists of two duplexes and one six-plex in Long Beach's Washington neighborhood, just two blocks from where Habitat LA started. There are two memorial homes in this build: one for Randy Farwell, board member at Habitat LA, and Greg Raasch, a longtime crew leader.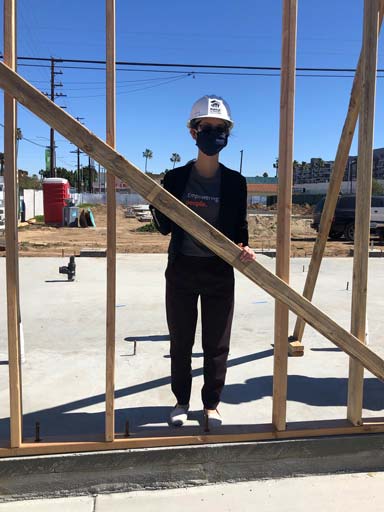 As a quarter-house sponsor, Laserfiche is humbled to have a hand in these new Long Beach homes. The Washington neighborhood, bordered by Magnolia Avenue, Long Beach Boulevard, 20th Street and Anaheim Street, is one of Long Beach's most impoverished areas. The unemployment rate is more than double the city's overall unemployment rate and the average household income is a mere $36,000. Over 93% of the home's residents are renting.
We join Habitat LA's commitment to the Washington Neighborhood Revitalization project by also sponsoring Small Sparks' Summer Quarter. Small Sparks provides small grants to neighborhood residents who "dream up the idea and recruit their neighbors" to lead revitalization, improvement and community building in the neighborhood they call home. The vision is to transform the Washington Neighborhood "into a vibrant, safe, and inviting place for current and future residents over the next few years." We're looking forward to seeing what the residents of the Washington Neighborhood will do with the Small Sparks' grants to help their neighborhood flourish!