Laserfiche Mobile for Android Now Available
Laserfiche is pleased to announce the release of Laserfiche Mobile 9.1 App and Add-On for Laserfiche Web Access in English. Laserfiche Mobile 9.1 includes a new app for Android devices. The Android app has many of the same features as the iOS apps as well as a widget that allows for quick upload of new documents.
This package includes the Laserfiche Mobile 9.1 add-on. This item will download a self-extracting executable containing the release package. The add-on and iOS app retain support for English, Arabic, Chinese (Simplified), Chinese (Traditional), French, Italian, Portuguese (Brazilian) and Spanish.The Android app currently only supports English. More languages will be supported in a later version.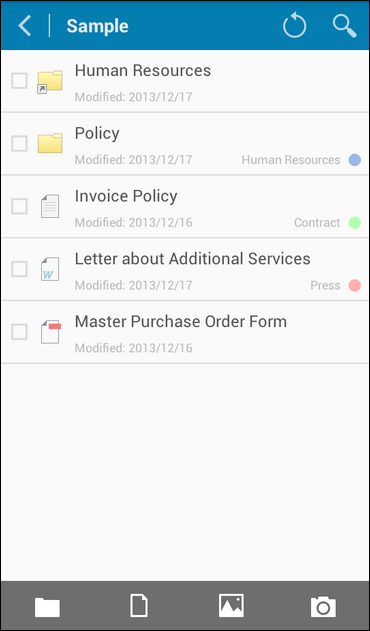 Features for Android app:
Search across all documents in a repository.
Pan, zoom, rotate, and easily access metadata while working with a document in the Document Viewer.
Quickly create and upload new documents from your device's camera, images in your device's gallery and files stored on your device.
Full support for Laserfiche 9.0 Business Processes, including starting business processes and viewing their details.
Use personal libraries to create task lists or group related entries to make working with them faster and easier.
Add, edit and view entry metadata.
Process, clean up and compress captured documents for easier viewing.
Capture the geographic coordinates of an image to allow linking documents to their mapped location.
View and export PDFs and other electronic documents.
E-mail document or folder links to colleagues.
Manage documents using copy, move, rename and delete.
A variety of security options keep documents secure in Laserfiche and on your device.
Widget lets you quickly upload new documents and images.
Demo Mode for new users:
Users can register for a demo account using an existing e-mail address or Laserfiche Support Site account.
Users have their own repository to explore but cannot see or access documents from other users.
Next steps: