How Laserfiche Can Help Organizations Adhere to Social Distancing Requirements
With the current COVID-19 crisis underway, the whole country is learning to live in a "new normal." Social distancing, or keeping a distance of at least six feet from members not of your own household, is an important way of reducing the chance of infection. Organizations may be struggling with trying to keep up the same level of customer service while maintaining social distancing among both employees and customers. Laserfiche Forms can help with this.
In this article, we'll review two different Laserfiche Forms process examples that can help your organization maintain social distancing while serving the public. The first example is a mobile check-in process. The second is a volunteer sign up process.
First Example: Mobile Check-In
This process involves checking-in for an appointment at a doctor's office without having to sign the clipboard. The patient can fill out the check-in form on their own phone when arriving for an appointment. The front desk staff gets an automatic notification on their computer when the patient checks in.
Benefits of this process include:
Patients can fill out a form to check-in at a doctor's office without having to touch the communal check-in clipboard and pen.
Front desk staff gets an automatic notification when patient checks-in.
This process allows the medical office to increase social distancing and prevent chances of contamination.
You don't have to be in the healthcare industry to take advantage of the mobile check-in process. Any time you schedule appointments, such as for a financial consultation at a bank, with a student advisor at a university or at a public institution like a housing authority, this type of check-in process can be used.
This process works as follows:
When a new patient arrives, he navigates to the appointment check-in form on his phone. He fills out all of the required information and submits the form.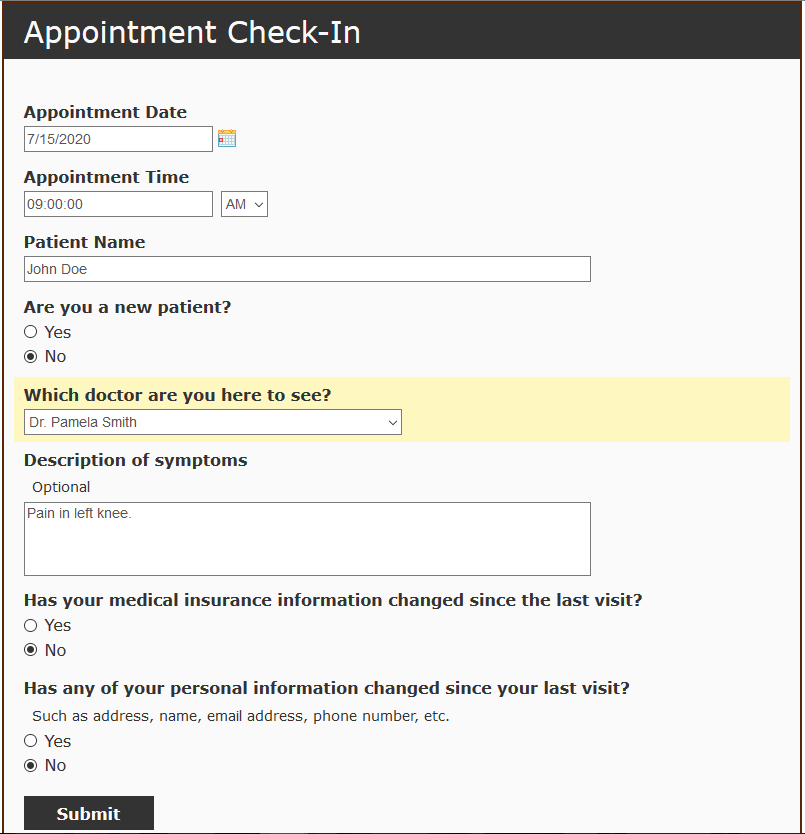 The front desk staff have the Forms Inbox open on their computer. As soon as the new patient signs in, a new task shows up in the Inbox. This task has all the pertinent information in the Instance name, and the Summary Details on the right pane provide more information.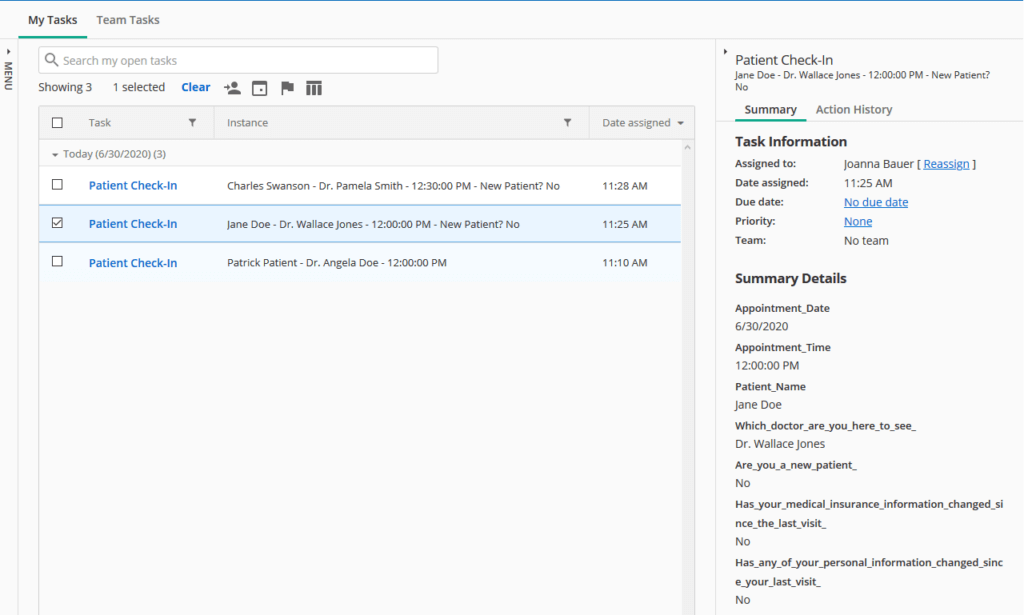 Below is the process diagram of this process.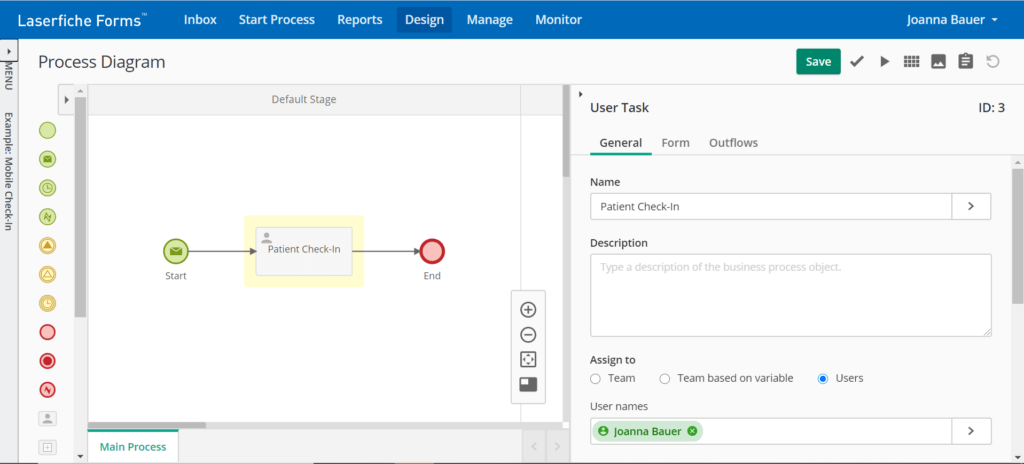 This process can be extended further. To limit the number of people inside of a waiting room, a patient can fill out the form from the car or from an area outside of the building. When the patient is ready to be seen, an automated text message can be sent to the patient to come inside. This can be done by initiating a workflow that sends an email to the email address associated with the specific phone number and phone carrier.
If a patient specifies in the form that they have updated medical insurance or personal information, such as a new home address, the patient database can be automatically populated with the new information instead of having to type it in manually. This can also be done by initiating a workflow that can then upload this information into the external database.
Example: Volunteer Sign Up Form
This process involves signing up volunteers for various shifts. Many organizations rely on volunteers, especially during a time when giving back to the community is very important. In order to adhere to social distancing requirements, only a certain number of volunteers can work during a shift, especially if this work is performed in an enclosed space. To prevent too many volunteers from showing up at the same time, you can create an electronic form where volunteers register and then get assigned to a specific shift.
Benefits of this process include:
Limits the number of people working during the same shift, in order to adhere to social distancing requirements.
Allows all shifts to have an adequate number of volunteers.
Prevents cross contamination of volunteers working too close together.
This type of form can be used for any process that requires people to sign up to attend an event which requires physical attendance, such as signing up for a day to work from the office, registering for a slot at the public pool or setting up a shopping appointment.
The volunteer sign up process works as follows:
The volunteer fills out the form and selects days of the week and times of day that they are available.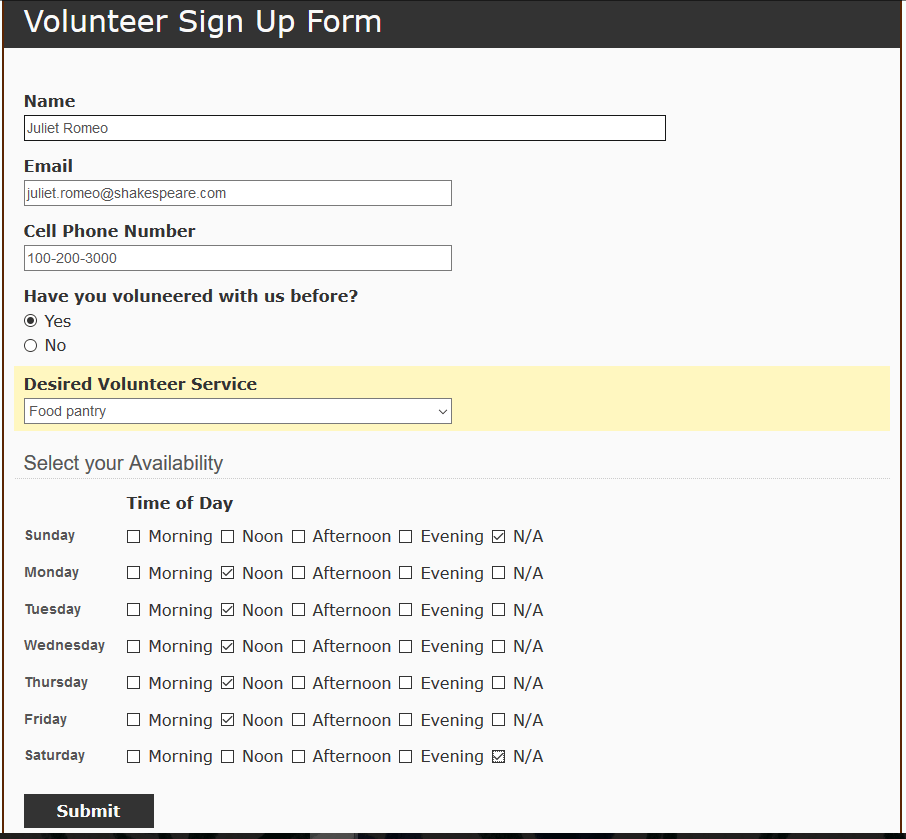 Submitted forms are sent to a volunteer coordinator who can assign the volunteer to specific shifts. The coordinator can assign the volunteer to as many shifts as they like.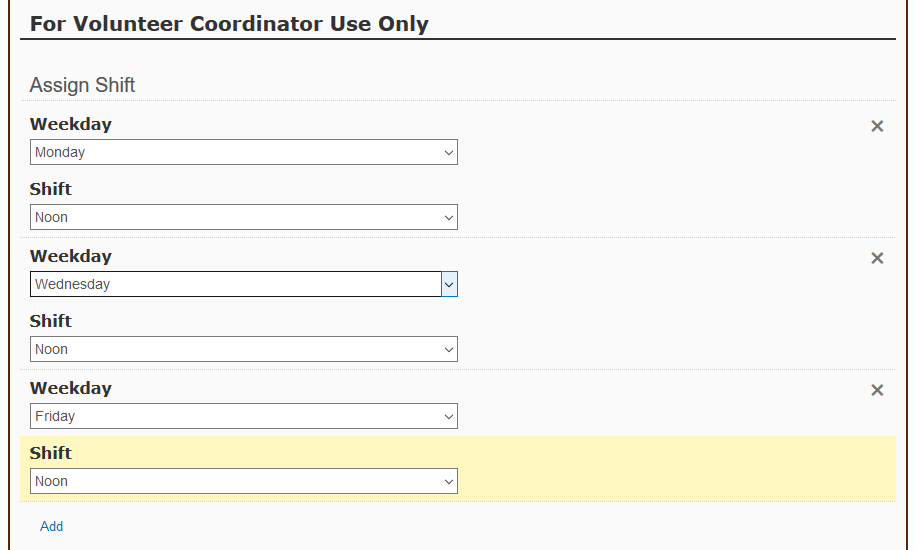 The volunteer will then receive an email with information about the assigned shifts.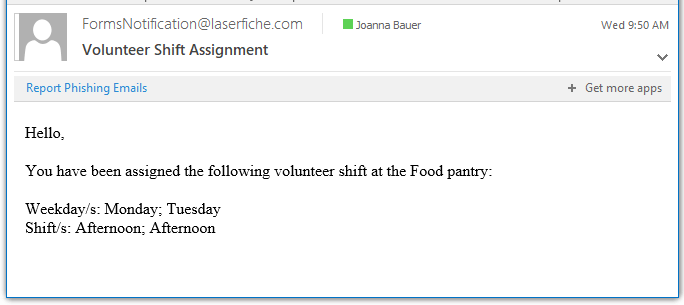 Below is a process diagram of this process.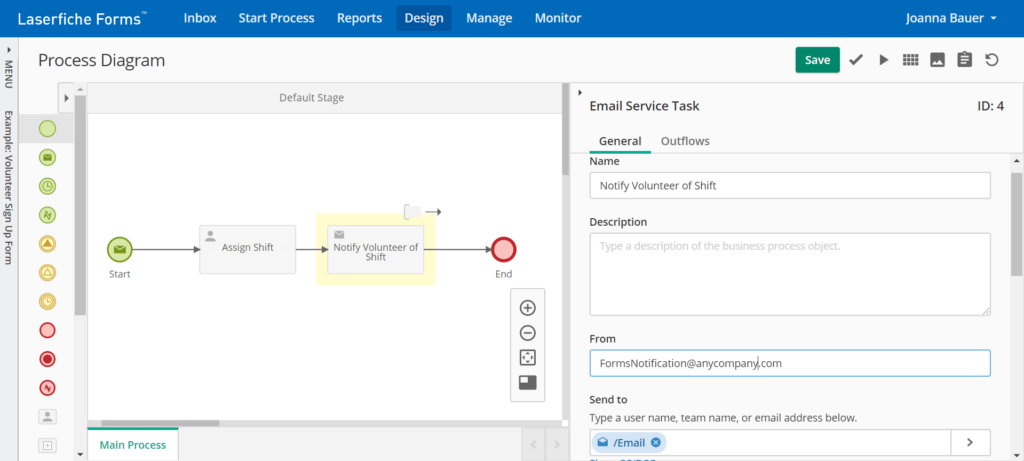 You can extend this process further by linking the form to a database using Lookup Rules. This will automatically show available shifts in the form so that the volunteer coordinator wouldn't have to look them up in a separate system.
If you are looking for more resources to help your organization respond to the COVID-19 crisis, visit this landing page.