How Laserfiche Staff Are Giving Back During COVID-19
In the middle of this pandemic, Laserfiche employees are rising above the fray and giving back to their communities during this time of need. Read on to see how.
Providing Personal Protective Equipment
3D Printing Efforts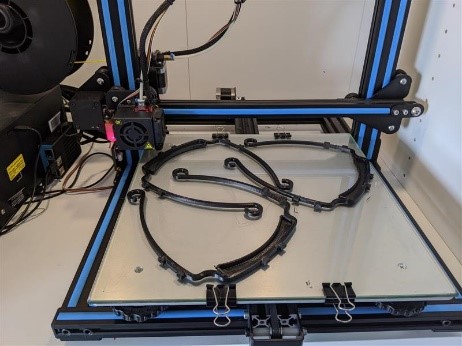 One challenge with the global spread of COVID-19 has been the increase in demand for personal protective equipment. Manufacturers are unable to keep up with the exponential demand, resulting in healthcare workers without the proper equipment to protect themselves. User Experience Designer Gregory Cullen wanted to help. He enlisted his 3D printer, which he has affectionately nicknamed "Becky," to print face shields nonstop for healthcare professionals. Gregory works with different groups to distribute them locally, and even set up a live stream so others could tune in to see Becky in action.
Project Shield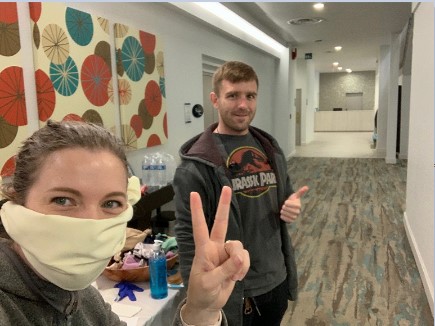 Content Manager of Corporate Events Danielle Gilstrap, along with Software Engineers Grant Walker and Jack Wong, volunteered with local Rotary District 5320 to assist with Project Shield. In a safe, hygienic environment with proper social distancing protocols, they helped assemble 25,000+ critically needed face shields to distribute to local healthcare workers.
Supporting Support Staff
Corporate Social Responsibility Program Manager Sarah Dao, and Event Planner Sarah Robillard created a GoFundMe campaign to purchase groceries to donate to workers providing essential services behind the scenes at MemorialCare Long Beach Medical Center, like custodial, housekeeping and laundry service staff. Many of these workers are coming home late in the day when grocery stores have run out of household staples.
Dao said, "We specifically want to support non-frontline workers because many of these positions receive limited recognition."
Donating Skills, Time and Blood
Director of Recruiting Eveline Jaynes is grateful to have a job during this difficult time when many businesses have had to lay off or furlough staff. She is paying it forward by donating her time to The Center Long Beach providing career counseling to those who lost their job or are looking for a job.
Using her extensive WordPress knowledge, Senior Product Manager Sarah Wefald is helping small businesses survive through this crisis. Wefald shared, "I put my agency principal hat back on, and I've been donating my lunch hour to consult small business owners who have never operated online before. Then, on evenings and weekends, I'm helping build or fix their website to help them stay afloat."
Since blood drives have been canceled and the nation is in great need of blood, Product Manager Tessa Adair donated platelets at her local American Red Cross — a roughly three-hour process with needles in both arms!
Helping Seniors and Food Banks
The elderly is a segment of the population of particular concern due to solitary housing, susceptibility to COVID-19, pre-existing health conditions and severity of virus outcomes. To promote social connectedness while maintaining physical distancing, Vice President of Finance Anna Kyritsis is collaborating with local organizations to deliver food boxes to seniors in need. This Easter, she coordinated and led a group of youth in sending seniors cards celebrating the holiday. In addition, Anna makes social phone calls to seniors to prevent feelings of isolation, keep their spirits high, and give them something to look forward to each week.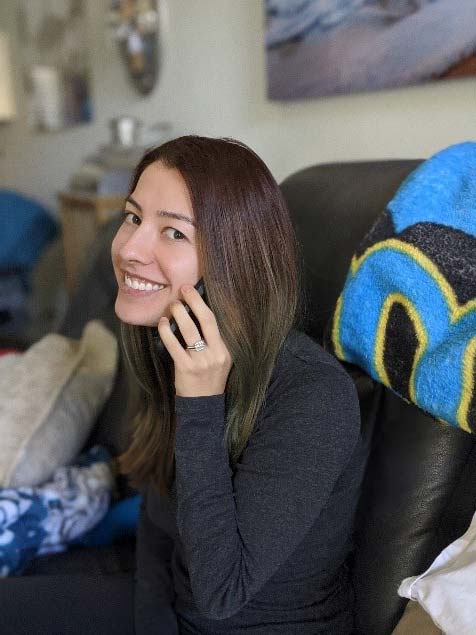 Corporate Social Responsibility Manager Noël Payne is volunteering with a local organization, L.A. Works, to make similar telesocial calls to vulnerable, homebound individuals. Additionally, Noël is verifying feeding operations for Food Oasis, a volunteer-run website that provides a database of food pantries in Los Angeles.
Retention Marketing Manager Lauren Higbee volunteers with Team Rubicon, a nonprofit that utilizes the experiences and skills of military veterans and first responders to help others prepare for and recover from disasters and humanitarian crises. During this COVID-19 crisis, Lauren has been recruiting volunteers in Los Angeles County for foodbanks alongside partner organizations like Feeding America. By connecting nonprofits with similar missions, Lauren hopes to allocate resources in a way that maximizes their reach and impact.
What are some of the ways that you, your family, friends or colleagues are helping others during this time? Follow us on Instagram and send us a message about how you or an organization you're involved with is giving back to communities in need.