Learn to Share: The Advantages of Shared Services in Higher Education
It's amazing how one of the first lessons taught in kindergarten has been forgotten by the time we get into college: sharing.
It's not the students—they're doing fine: they're sharing movies, music, textbooks, notes, answers. Perhaps they're even over-sharing.
It's the school administration. Many colleges and universities are needlessly running different document management systems for each of their administrative departments when using a single enterprise document management (EDM) system as a shared service would be more cost effective.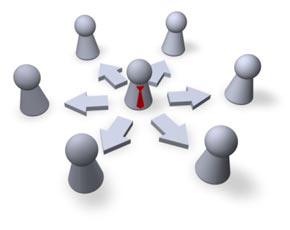 What is a shared service?
A shared service is one that is used by multiple departments in an institution—accounts payable, financial aid, student admissions—but is purchased, managed and supported by one department, usually central IT.
Why is sharing more effective?
By implementing shared services, colleges and universities can consolidate IT support into one service unit, reducing costs across the board. Taking a shared service approach allows the IT department to develop tools, processes, and expertise that other departments can use with slight modifications to meet their specific needs.
The Texas A&M University System notes that offering a "centrally supported ECM system provides many benefits," including:
Saving on costs through shared central support and eliminating the need for individual departments to maintain their own systems.
Facilitating document sharing with colleagues while protecting confidential information.
Enhancing overall office efficiency by eliminating paper-based processes, improving information accessibility and decreasing the need to store paper documents.
Ensuring continuity of operations by securing records and providing web access to critical documents during emergencies.
Streamlining life cycle management of business records with automatic enforcement of consistent, organization-wide records policies.
Supporting compliance requirements for document retention.
Because an ECM system balances the various needs of multiple departments with the centralized control of IT, the ECM shared service approach has helped universities increase productivity and efficiency without raising technology investment costs. And with the graduating 2014 of class being the most indebted class ever, it's more important than ever to keep costs low.
Get your institution on the fast track to implementing software as a shared service by downloading your free copy of our latest white paper, "Implementing ECM as a Shared Service in Higher Education."
Want to learn what higher education leaders think of the future of tech on campus? Read the industry brief: "Flexible Work Arrangements, Increased Efficiency, and Stronger Enrollment Strategies: College Officials Assess the Benefits of Campus Technology".