LFDS Trustee Migration Utility
The Laserfiche Directory Server (LFDS) is a license and user management server for Laserfiche Avante and Rio. LFDS allows an administrator to allocate and manage user licenses. Even though LFDS has already been part of Rio systems, as of Laserfiche 10.4, it is also available for Avante systems.
To help Laserfiche administrators convert existing Laserfiche repository users and groups to Laserfiche directory service accounts while preserving their security settings, Laserfiche released the LFDS trustee migration utility.
What are the benefits of LFDS?
The benefits of LFDS are as follows:
LFDS allows for more efficient use and management of Laserfiche licenses. Organizations without LFDS must create a separate licensed user in all repositories and Forms servers for each person. LFDS allows administrators to use only one license per person for multiple repositories and Forms.
LFDS makes it possible for users to be automatically signed in to other Laserfiche applications once they sign in to one Laserfiche application through single sign-on
Active Directory sync monitors for changes in the organization's Active Directory and automatically allocates or de-allocates licenses as people are hired or leave the company
LFDS allows organizations to take advantage of Laserfiche subscription licenses
What does the LFDS trustee migration utility do?
This utility:
Converts Laserfiche repository accounts to Laserfiche directory service accounts, but does not touch any Windows or LDAP users
Converts repository groups to LFDS groups and preserves nested group memberships
Retains current repository and entry level security assignments, as well as user-specific settings
Migrates Forms process history and assigned tasks for repository full users
How does this utility work?
The LFDS trustee conversion utility is run on one repository at a time. If it finds the same username in multiple places, it allows you to merge the users into one LFDS account.
Note: if a user has different usernames in different repositories, you must rename the Laserfiche repository accounts before running the utility for the user accounts to be merged.
When you first launch the utility, you'll see a list of usage notices.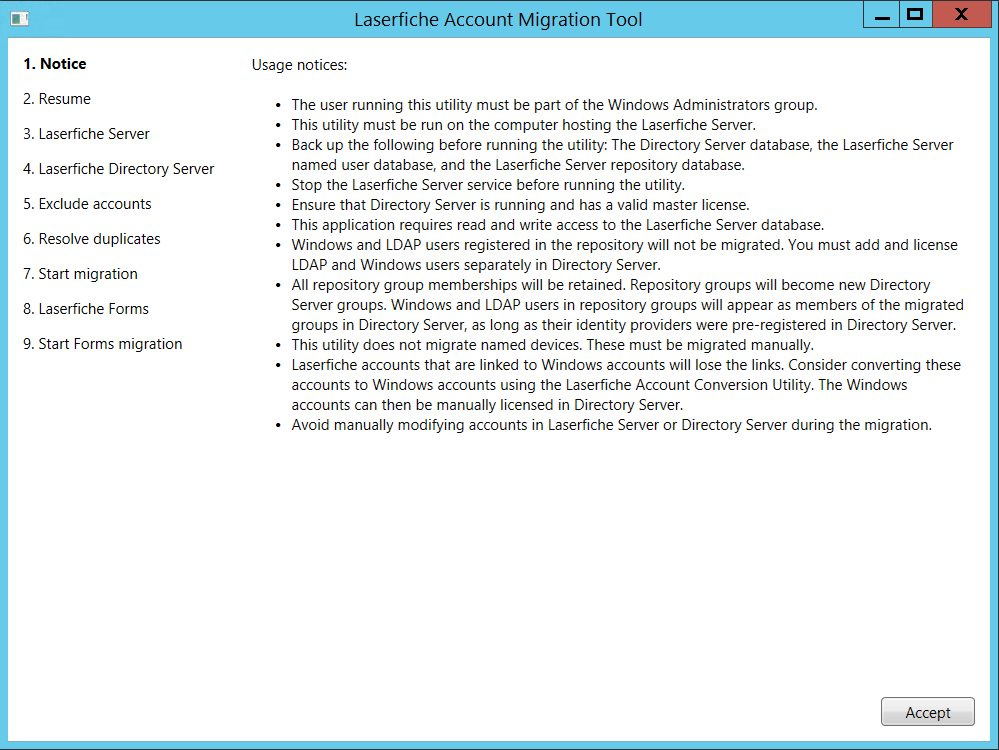 If the utility encounters duplicate users or groups, you'll be prompted to either merge or rename them.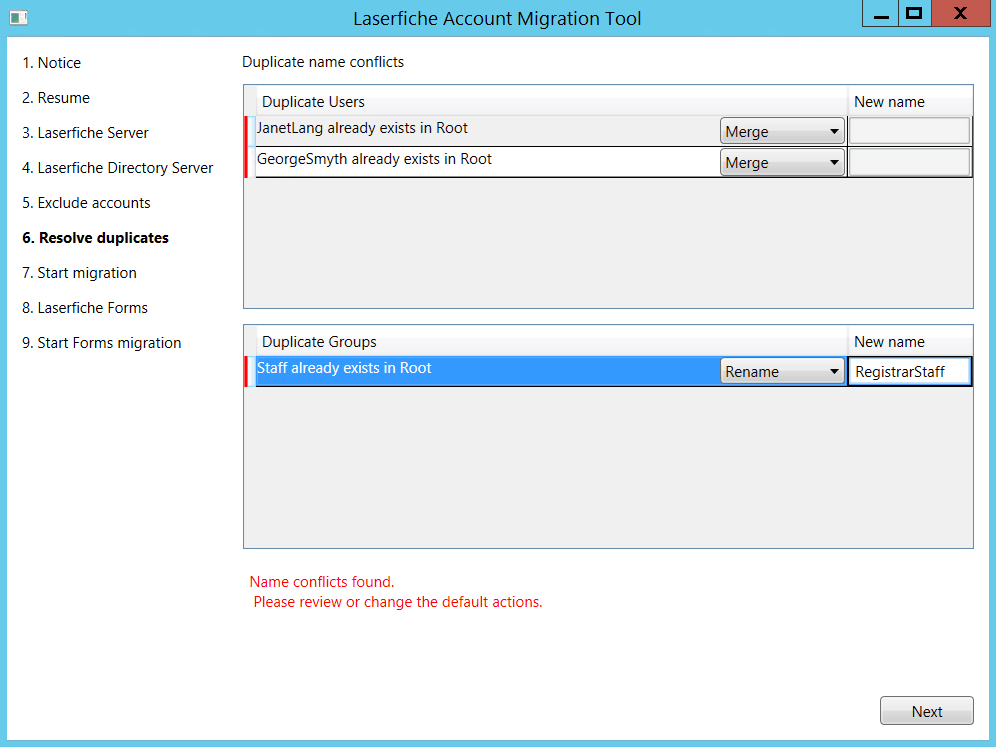 Once duplicates are resolved, the user migration begins.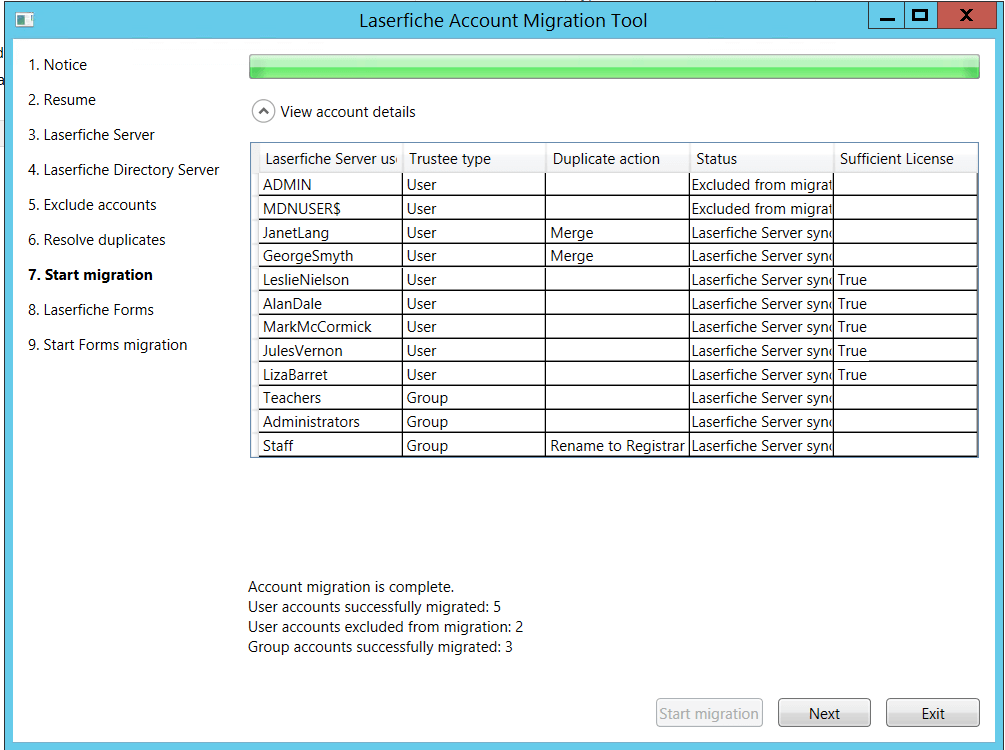 Lastly, the utility migrates the users' task history and information in Laserfiche Forms.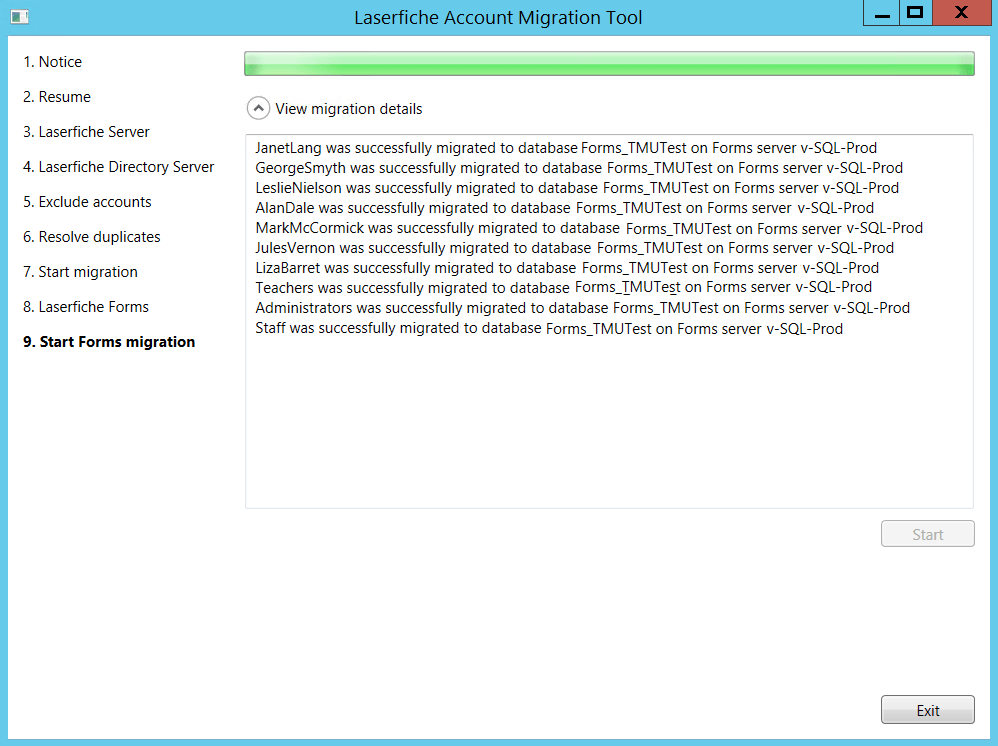 What are some things to keep in mind with using this utility?
This utility does not migrate Windows or LDAP accounts, which still need to be licensed through LFDS or with Active Directory sync. Once you've licensed Windows or LDAP accounts in LFDS, all of the user settings, group membership and entry access rights are automatically maintained.
This utility does not move over Forms participants, but makes sure that when you create these users in LFDS and assign licenses, their process history and task assignment remains the same. If you have Windows users as Forms participants, Forms 10.4 has an improved migration process that does not require this utility.
Administrators must turn off the Laserfiche Server and Forms server during the migration, which can take anywhere from 5 minutes to one and a half hours.
Where can I download this utility?
This utility, as well as accompanying documentation can be found here.
Read the accompanying documentation before attempting to run the utility.
*A Support Site login is required to download the zip file.*