How Old Line Bank Automates New Account Opening with Laserfiche
Laserfiche Solution Contributed By: Patsy Brizard, Assistant Vice President, Old Line Bank
Managing and processing new client documents at Old Line Bank used to be a cumbersome process. Paper applications and forms had to be mailed or faxed from branch offices to the main office resulting in wasted time and lost documents. Here is how Old Line Bank streamlines the management and processing of customer files for new accounts or loans with Laserfiche.
Watch: How Old Line Bank Optimized Audit Efficiency and File Transfers with Laserfiche
Scanning documents
If a customer wants to open an account, apply for a loan or make changes to an existing account, he fills out all of the required documents and submits them to a personal banker at one of Old Line Bank's branches. The personal banker enters the customer's information into the FIS Bankway financial system and scans all of the documents into Laserfiche. Some documents that are part of the new account opening process include:
Signature cards
VISA check card application
Disclosures on savings and checking accounts
Online banking enrollment
ID verifications
And more
A customer data specialist then inputs all of the general information into the documents' metadata, including the customer's name, tax ID number and account number. Here is what the metadata for a signature card looks like: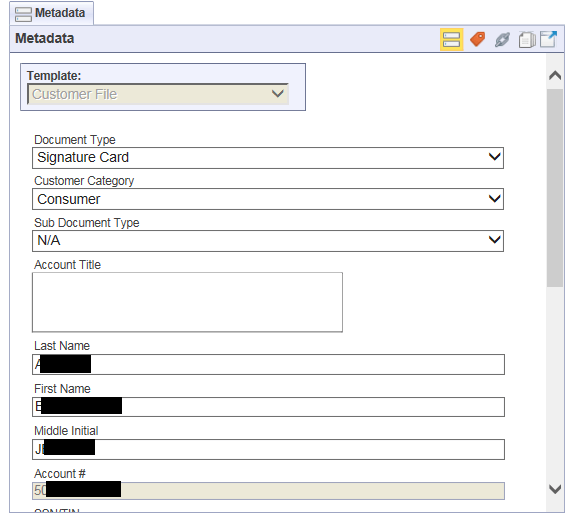 A second person checks the scanned documents to make sure that the metadata matches that entered in FIS Bankway.
Laserfiche Workflow
Once the metadata has been reviewed, corrected (if needed) and approved, Laserfiche Workflow picks up each document and routes it to the appropriate department based on document type.
Employees are notified via email that a document is awaiting their attention. The employee can open the document directly from the email by clicking on the Laserfiche Web Access URL or attached Laserfiche Client shortcut.
For example, if the customer filled out an online banking enrollment form, the e-banking department is notified. Here is the section of the workflow that routes documents to the e-banking department: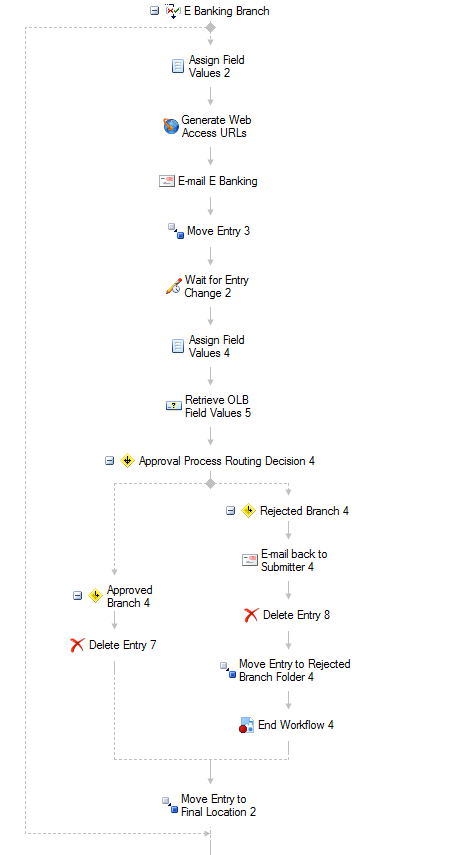 Each department performs the appropriate action on the document and signifies completion in the metadata. For example, if a VISA check card is requested, the e-banking department adds certain metadata such as check card number to the document and changes the value of the Status field to signify completion.
Laserfiche Workflow routes the completed document to the customer's Laserfiche folder.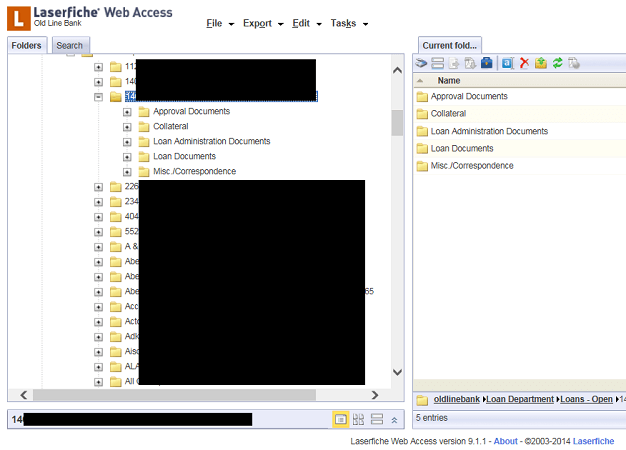 The customer's folder is divided into different subfolders based on document type. As each document is completed, Laserfiche Workflow routes it to the correct subfolder.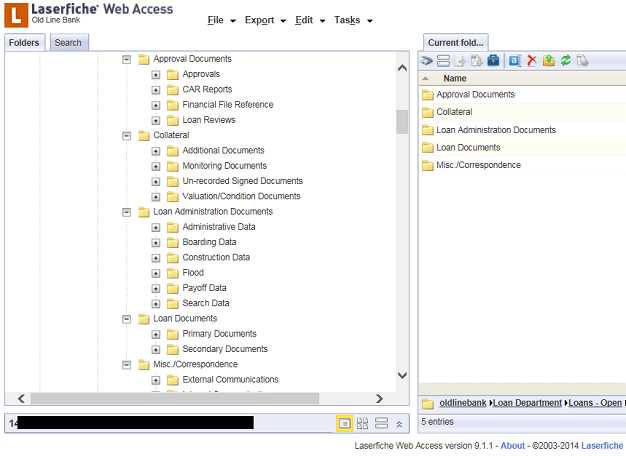 Benefits of Laserfiche
Implementing Laserfiche at Old Line Bank has resulted in the following benefits:
Audits are quick and easy. All documents requested by an auditor are copied to a single folder in Laserfiche that the auditor can access.
Client documents are now immediately available from any bank branch. For example, if a customer questions a check, the signature card can quickly be found in Laserfiche and a copy of the signature can appear instantly for verification.
The whole account opening process is much faster than before since documents no longer need to be mailed or faxed between offices.
Security is set so that employees can only access documents and metadata fields that they need to do their job.
Do you want to see how Laserfiche can help you automate your business processes? Schedule a free demo.