Reorganize Your Repository with Laserfiche Workflow
Laserfiche Solution Contributed By: Michael Wells, System Administrator, Chesterfield County, VA
During the migration from Laserfiche 7 to Laserfiche 9, Chesterfield County decided it was time to reorganize one of its oldest repositories. Here is how this repository, which contains documents related to technology purchases, was reorganized with Laserfiche Workflow.
Goals and challenges
The county faced a few challenges before the reorganization could begin:
Many of the older records had incomplete or missing metadata.
When this repository was originally created it was meant to store only one type of document. As a result, all documents were saved at the root folder. Over time, other types of documents were added, creating clutter and confusion.
The new folder structure had to remain familiar to staff to minimize retraining.
Here is what the repository looked like before the migration:

The county decided to:
Create a hierarchy of folders based on document type to accommodate the different types of documents that need to be stored.
Create one "closed" folder for all projects and then divide them by department, rather than having a separate "closed" folder for each team. The technology department is divided into different teams. Each team services different departments within the county. Since the departments serviced by each team change, it makes sense to organize closed projects by departments, and not teams, so that they can be located easily later.
Add numbers to the "status" folders so they are ordered according to the process order (01, 02, etc.).
Here is what the repository looks like after migration: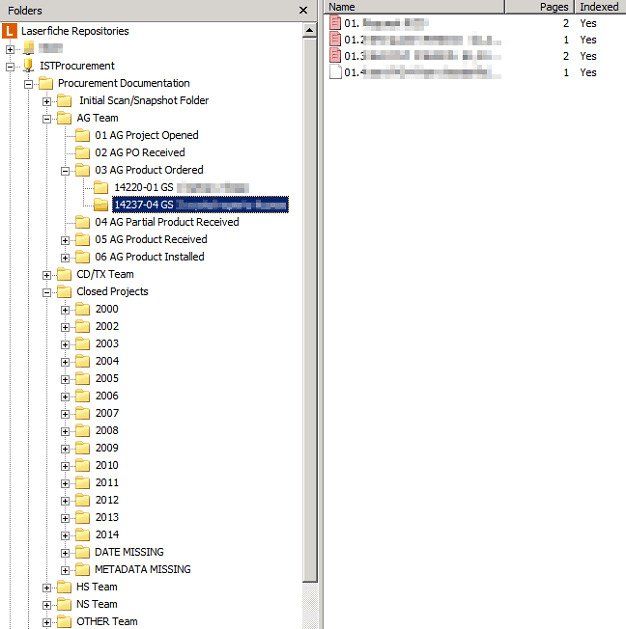 Laserfiche Workflow
Laserfiche Workflow moves the documents into the new folder. The workflow searches for all applicable records and routes them to a particular folder depending on how much metadata is complete.
Documents with complete metadata are moved to the appropriate "status" folder within the new folder structure.
Documents with partially filled in metadata (no closed date) are moved into a special folder for an employee to manually correct.
Documents without any metadata remain in a folder called "No Metadata." These are old projects from nearly 10 years ago, so adding metadata to them is not a top priority.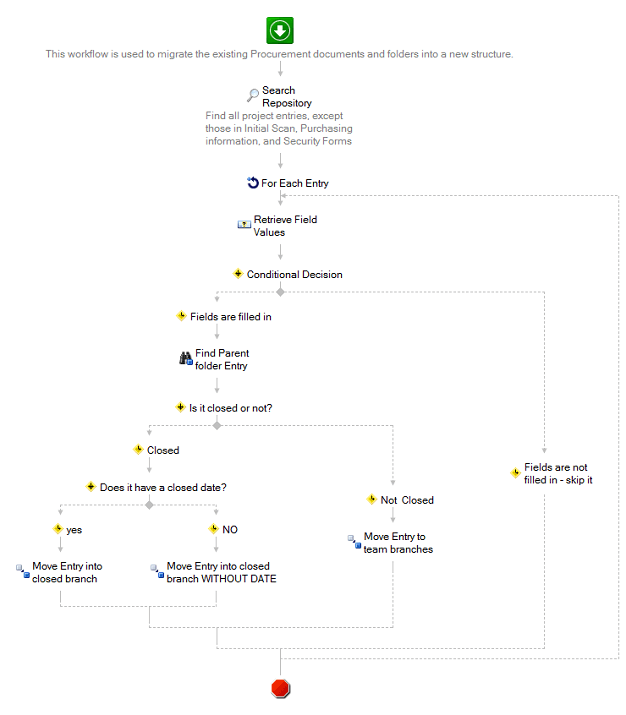 A Laserfiche Workflow business process, which can be run on demand, is used to delete the empty folders. When this business process is initiated on a folder, it searches for and deletes any empty folders within that root folder.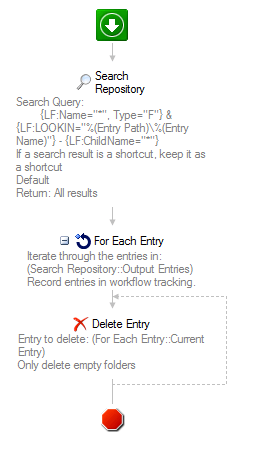 Lessons learned
Here are some things to take into account before migrating and reorganizing your repository:
Take inventory of the original repository and prioritize what needs to be reprocessed (e.g. adding or correcting metadata) by staff.
Make sure to run the workflow on a test repository or on a subset of files copied to a new folder before making it live.
Perform the whole migration process once on a copy of the repository, write down the steps and then perform it again on the live repository.
Before automating your business processes with Laserfiche Workflow, you need to diagram them. Download this guide to the 3 essential steps for business process diagramming and modeling!