Simplify Meetings with Laserfiche Mobile
Agendas for city council meetings can be over 100 pages long. Printing one copy for each council member takes a lot of paper and ink. During a meeting, looking through an agenda to find a particular agenda item can be time consuming and frustrating. Here is how one city manages meeting agendas with Laserfiche Mobile for the iPad.
Laserfiche Mobile
Once created, city council meeting agendas have pages generated in the Laserfiche Client. During the City Council meeting, each council member uses Laserfiche Mobile to view the agenda and any supporting documentation on his iPad.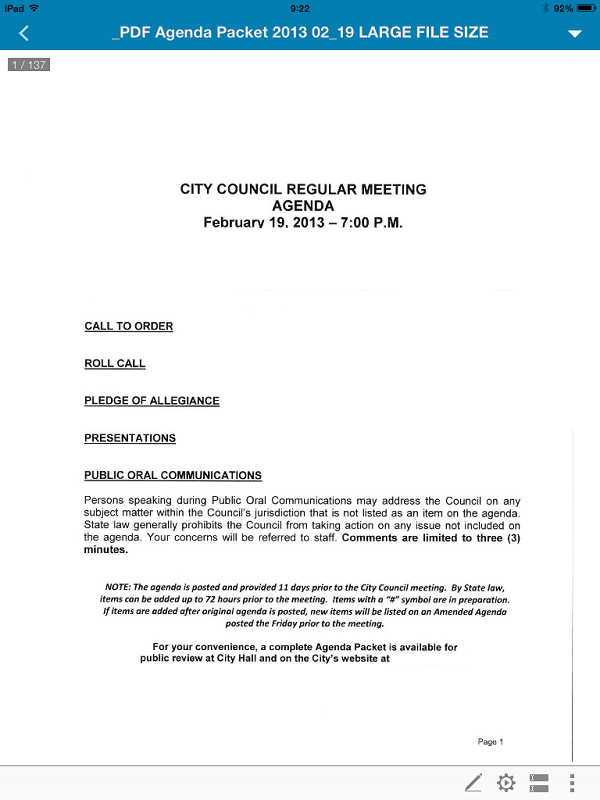 In order to make it easy for council members to follow along with the agenda items being discussed, the city makes use of annotations. After the agenda is printed into Laserfiche, an administrative assistant scrolls through the agenda and places a sticky note in every major section. During meetings, city council members can scroll through the document as the meeting progresses, but also quickly navigate to any other agenda item by clicking on a sticky note in the document's annotation pane.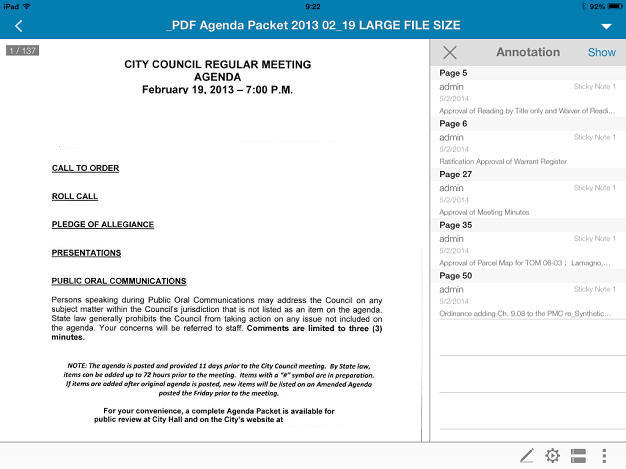 Advantages of Laserfiche Mobile
The city discovered the following benefits from using Laserfiche for managing city council meeting agendas.
Since the agenda is stored in Laserfiche, pages of content no longer need to be printed, copied and distributed.
Multiple council members can access the agenda at the same time from a single location in Laserfiche.
Council members can follow along with the meeting discussion and don't have to spend time rifling through pages to find required information.
Since the agenda is converted into a Tiff format, it is read-only and non-editable.
Agendas can now be accessible to the public via Laserfiche WebLink.