Submit New Course Proposals with Laserfiche Forms
Laserfiche Solution Contributed By: Darrell Rush, Document Imaging Technician, District Imaging Office, Ramon Moreno, Document Imaging Assistant, District Imaging Office and Nigel Parker, Director of Archives and Records Management, Tarrant County College District
Tarrant County College District (TCCD) is one of the largest and fastest-growing community college districts in Texas. It has a population of nearly 55,000 credit students across five campuses.
To accommodate such a large student body, instructors request hundreds of new courses or changes to existing courses per year. Here is how Laserfiche Forms reduced the time the college takes to approve new course proposals from 10 days to 15 minutes.
Legacy process
Every year, TCCD instructors can submit ideas for new courses or degrees for the upcoming school year. First, they must provide "intent to propose," or a broad idea of what they want to change. Once this is approved, they can present their official proposal.
Before Laserfiche, this process was paper-driven. Once an "intent to propose" form was filled out, it was sent to various reviewers by interoffice mail. It used to take a total of three days for each appropriate person to receive, review it and mail the form back.
With Laserfiche Forms, the review and approval process has been reduced to as little as five minutes per person.
New process
The instructor submits his or her "intent to propose" through a public Laserfiche form:

Once the form is submitted, it is sent to the division dean for review. The dean can approve it, reject it or request changes.
If the form is approved, it is sent to the vice president of academic affairs who can also approve it, reject it or request changes.
Next, the form is sent for final review to the director of program development, who can either approve or reject the intent for proposal.
If the form is approved, the proposal coordinator is notified by email.
All rejected and approved forms are stored in the appropriate places in Laserfiche.
If, at any time, the intent for proposal form requires changes, the initiator receives an email with a link to the form. The link passes the values of the form fields through the URL so that the initiator does not have to fill out everything from scratch before resubmitting.
Here is what the Laserfiche Forms process model looks like:

The Email link service task is configured this way: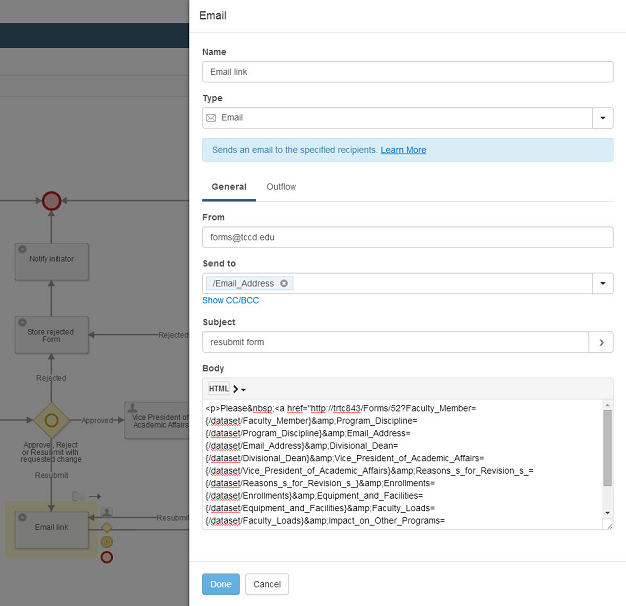 When a form is approved or rejected, Laserfiche Workflow sends a copy of the approved or rejected form to the submitter. Here is what this workflow looks like: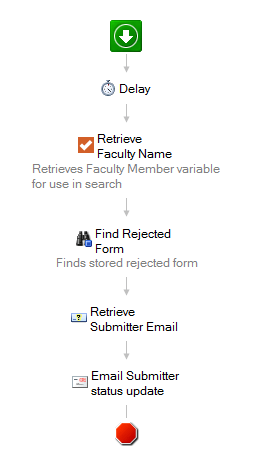 Benefits of Laserfiche
Automating the new course proposal process with Laserfiche Forms has resulted in the following benefits for TCCD:
The review and approval process has decreased from 10 days to 15 minutes.
The instructor is aware of the form's status at every step of the approval process.
If changes have to be made, the instructor can make them without having to fill out a new form from scratch.
Learn how Laserfiche has helped other higher education institutions automate business processes and reduce costs in this free, 101 page book: Quicker Better Safer: Higher Education.