Sunshine Week: 2 Stories Promoting Government Transparency and Citizen Engagement
Sunshine Week—which runs through March 16 this year—is a national initiative that raises awareness about the importance of government transparency. A cornerstone of democracy, government transparency creates accountability for organizations and keeps citizens informed about how their government is operating.
Even in the 10+ years Sunshine Week has been around, the different avenues of obtaining public information have changed. Ithaca City Clerk Julie Holcomb says, "Over the past decade we have increased the availability of public records via our website; however, there is a difference between making records accessible and making information accessible."
To Holcomb's point, it's not enough to simply put records online. To provide quality public service and instantly answer citizen inquiries and requests, government employees must have information at their fingertips. They must also minimize manual, repetitive tasks—like finding, filing and indexing documents—so they can focus on addressing the needs of the public. In order to meet these ever-growing needs with accuracy and efficiency, government organizations utilize technology to automate processes such as public records requests.
To celebrate Sunshine Week, Laserfiche shares two stories of how organizations promote government transparency and citizen engagement using Laserfiche enterprise content management (ECM).
1. Increase Transparency by Integrating Laserfiche with Applications
"Transparency is extremely important in public service," says Mike Almvig, Director of Information Services at Skagit County, WA. "We use technology to deliver increasing levels of transparency, public safety and reliability, while also ensuring the confidentiality, integrity and accessibility of the information we're entrusted to protect."
Now one of the leaders in collaborative open government, Skagit County used to manage an overwhelming number of documents and records manually. "Before we had documents available online, we used to have lines at our assessor's office, treasurer's office and auditor's office," says Almvig. The county has since implemented Laserfiche ECM across 20 departments, enabling the public to access contracts, legal documents and other public records through a public portal. "Those lines are gone—and if you walk up to the accessor's office, you're likely to be the only one there." The county is taking this process a step further and tying documents to geographic information system (GIS) data, which gives citizens access to information on their mobile devices based on their location.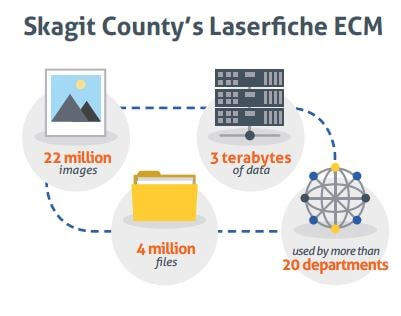 "With our mapping system, you can access all of the documents that are in the same township, section or range in the mapped area," says Almvig. "You can see all the deeds of all the houses in that area." The county's code enforcement uses technology similarly to help officers find information while in the field. Officers no longer need to travel to the office or make a variety of phone calls to retrieve documents.
2. Implementing Transparent Records Management
Kentucky Sanitation District No. 1 (SD1) is the second-largest public sewer utility in the state and must manage a lot of records. The State of Kentucky also mandates every public agency to provide public access to records relating to its expenditures and maintain these records on its website for three years.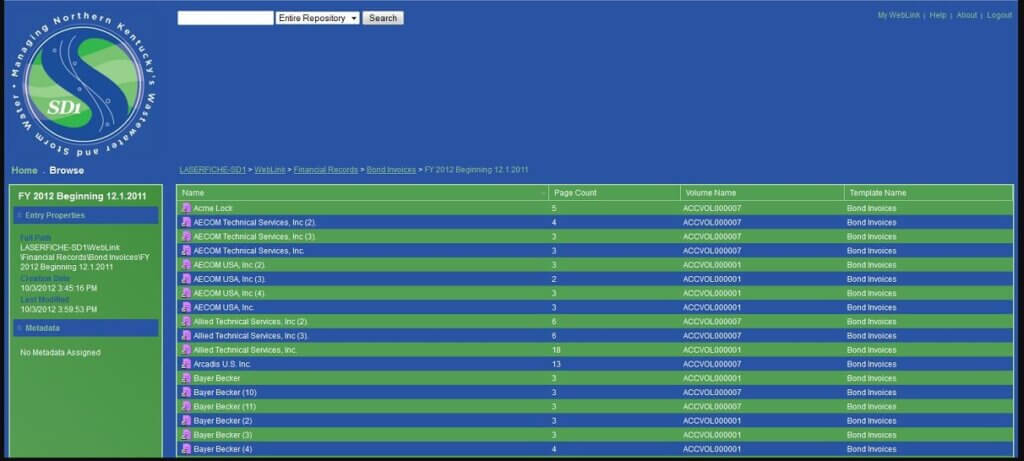 SD1's implementation of their online public portal
By implementing transparent records management with Laserfiche, SD1 has been able to fully comply with state legislation. Also, financial audits are easy: SD1 simply provides auditors with a laptop and access to whichever records they need, including invoices, board minutes, resolutions, etc. This means that staff members no longer have to spend long hours compiling requested records, and auditors are in and out of the office faster. At the same time, SD1's legal department can freeze or place a legal hold on any record related to pending litigation, ensuring that relevant records are always retained.
For more information about how your organization can increase citizen engagement using document management solutions, get a free copy of the Center for Digital Government's research report, "Reinvesting in Document Management," by clicking on the banner below.