Tech Tip: Capturing Geotag Information in Laserfiche Mobile
The release of Laserfiche Mobile 9.0 introduces the ability to store geographic information about a photo's capture location in Laserfiche fields.
These fields, called "geotags" are the coordinates (i.e., latitude and longitude) where an image is created and are recorded by the mobile device's operating system. This feature can help monitor the origin of documents and prove compliance with company policies.
Note: The coordinates placed in this field are the latitude and longitude recorded by the device's operating system.
Example: Shipping and Co. monitors the location of company trucks by taking a photo of the semi-truck's license plate when it arrives at specific weigh stations. When the photo is uploaded to Laserfiche a geotag field is automatically assigned to it, populated with coordinates of the exact location where the photo was taken.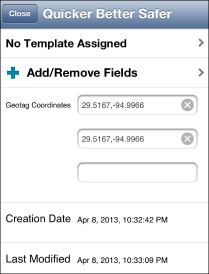 Note: The geotag field is configured on the Laserfiche Mobile Configuration page by an administrator. This field must be a character type field. Once assigned, all new documents created via Laserfiche Mobile will automatically save their geographic coordinates to the field.

If multiple photos are taken at different locations and uploaded as a single document, the geotag field captures one set of coordinates for each uploaded image. If the field is not a multi-value field, it will capture geographic coordinates from the first page with available coordinates.
For more information, see the Laserfiche Mobile Configuration help files.