Tech Tip: Common Searches in Workflow 8.3!
In Workflow 8.3, you now have two options for searching for information about a specific time a workflow runs (a workflow instance): the Search Pane and the new Common Searches Pane.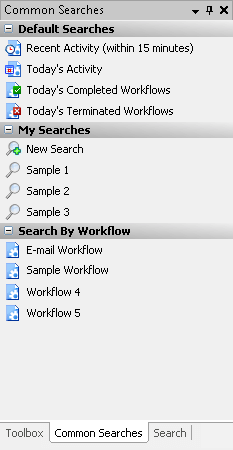 The Search Pane, as in Workflow 8.0, provides a variety of detailed search options, from Start Date to Entry ID, to help you find the exact workflow instances you are looking for.
The new Common Searches Pane makes searching more straightforward with a set of pre-configured searches you can run with one click. The Common Searches Pane has three categories of searches.
Default Searches
The searches in this category let you search for workflow instances that ran within the last day or the last 15 minutes.
Recent Activity: Workflows that ran in the last 15 minutes.
Today's Activity: Workflows that ran today.
Today's Completed Workflows: Workflows that ran today that did not end with an error.
Today's Terminated Workflows: Workflows that ran today that ended with an error.
My Searches
The My Searches category allows you to create and save a search for future use. When you click New Search under My Searches, you can configure and save a search in the Search Pane. Your saved search will appear under My Searches, letting you run that search anytime you want simply by clicking it.
Search by Workflow
The Search by Workflow category lists all of your published workflows. Clicking a workflow's name searches for all instances of that workflow regardless of when they ran or what version of the workflow they are.
You can further refine any of these common searches by right-clicking on the Common Searches Pane and selecting not to include running and/or completed workflows in your search.