Tech Tip: Configuring Themes in Laserfiche Forms
By: Sarah Seene
Technical Writer
You can create customized themes for Laserfiche Forms to ensure your forms match your company's branding, reflect different departments' styles, and more. Themes are easy to create and save so they can be reused over and over.
To customize a theme
1. While editing a form, click Themes.
2. On the Themes page, click the Customize tab.
3. Click a section to expand its options. You can customize the page logo, colors, fonts, borders, and more.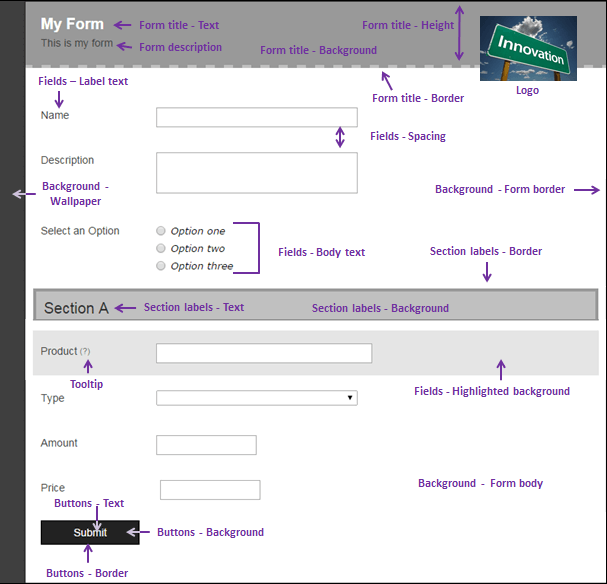 To add a logo to the top of your form, click the Logo section. Under Image, click Add logo. Select a photo from your Image Gallery, upload a photo by dragging it into the Upload tab, upload a photo by browsing for it from the Upload tab, or provide an image URL on the URL tab. Click OK. You can further configure the logo by specifying its alignment (left or right) and by specifying its width in pixels.
Backgrounds: Choose from a variety of colors and patterns for backgrounds, or specify an HTML color code or image URL for a background. Backgrounds can be tiled across the entire area, tiled vertically (along the left side the area), tiled horizontally (along the top of the area), or not tiled at all.
Borders: Choose from a variety of colors and patterns for borders, or specify an HTML color code for a border. You can also specify border thickness and whether the borders will have shadows and/or rounded corners. Borders can go along the top, bottom, right, and/or left of the area specified.
Text: Choose from a variety of fonts, colors, sizes, and styles. You can also specify an HTML color code for text.
Spacing: The space between fields and the height of the form title area can be customized.
Buttons: The "Submit," "Approve," and "Reject" buttons can each have their text, border, and backgrounds customized. Button backgrounds and borders can only be solid colors.
4. Save your customized theme by clicking the Add to custom themes button above your form.
5. Enter a name for the theme, and click Save. Your custom theme will appear in the Themes tab on the Themes page.