Tech Tip: Create More Useful Form Submissions in the Laserfiche Repository
By: Sarah Seene
Technical Writer
Laserfiche Forms 9.1 makes it easier than ever to save a copy of a form submission to a Laserfiche repository, complete with easily searchable metadata. Submitted forms often need to be archived to your Laserfiche repository or used to start a workflow. By configuring the metadata for these form submissions within Laserfiche Forms, you can ensure that when these submissions are saved to the repository they'll have all the information they need for archival purposes or for further processing with Workflow.
Example:
Vendors fill out a form when they want to reserve a booth at Pleasantville's Farmers' Market. The city approves and denies these forms online with Laserfiche Forms. Because the city only wants to save approved forms in their repository (and not all submitted forms), it uses a Save to Repository service task after the approval task in Laserfiche Forms.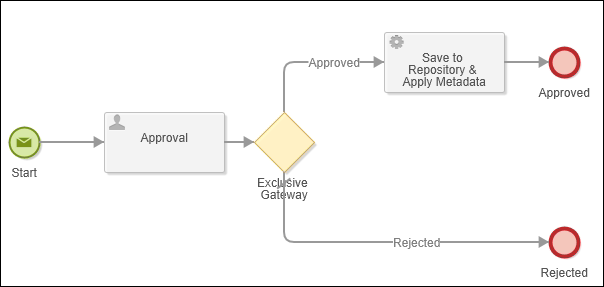 Using this service task, the process administrator can select the Laserfiche template and fields for the form submission and populate them using field variables. Thus, when a form is approved, it's automatically saved to the repository with the correct template and field values applied. When the city audits the Farmers' Market, they can easily find the appropriate form submissions (and any accompanying documentation) in the repository by searching by vendor name, market date, etc.
To configure a form's Laserfiche metadata
Open the Save to Repository service task settings. Under Save options, choose to save the form as a PDF, as a TIFF image, or as a "metadata-only" document in Laserfiche.
Click Configure Fields.
Choose a template from the drop-down menu at the top of the dialog box, and/or use the Add/Remove Fields button to add individual fields.
Assign values to each field. In most cases, you'll want to place variables in each field. Click the Insert Variable button next to the field and choose a variable from the list. Learn more about variables.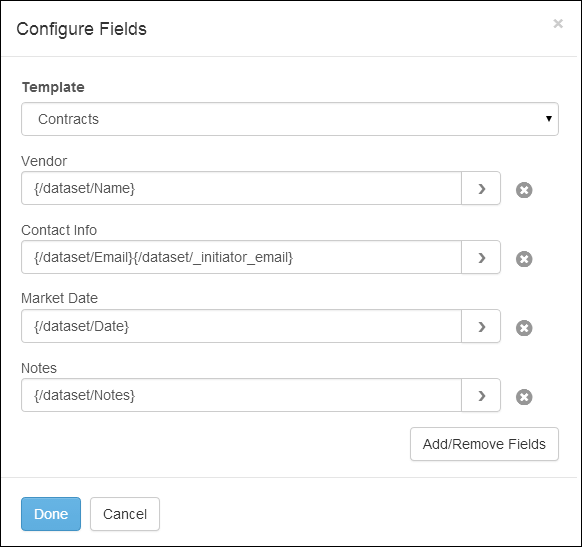 Click Done.
Optional: Under Parent folder fields, click the Configure Fields button to set metadata on the folder the form is saved in.
Optional: If file upload fields are present on the form upload, each will appear as a tab in this service task. Click on the name of the file upload and follow steps 2 -5 to assign it metadata.
Note: The Save to Repository service task has many other configuration options, all of which are described in detail in the online help files.