Tech Tip: Customizing Quick Searches
By: Connie Anderson
Technical Writer
The Quick Search bar in Laserfiche allows you to quickly perform a search without leaving the Folder Browser. By default, the quick search bar can search document text, entry names, fields, and annotation text. If you want to use the quick search bar to perform other types of searches, you can do so by creating a custom quick search.
Custom quick searches enable you to use advanced search syntax to add your everyday searches to the Quick Search bar for instant access, saving you from having to configure the search in the search pane each time you want to run it. After creating a custom Quick Search, you can select it from the Quick Search bar and enter search terms, making you and your searches more efficient.
For example, you might frequently run a search for documents with a particular tag. You could add a tag search to the Quick Search bar so that you can run that search without opening the Search pane. Alternately, you might frequently want to search for documents by a value in the "Invoice ID" field; you could create a custom quick search to search only that field, rather than all fields in the repository.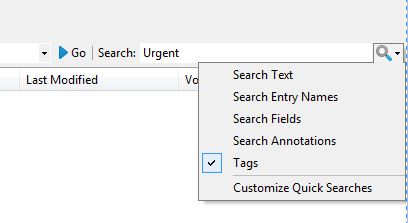 When creating a custom quick search, you will use a special token, %(SearchTerm), to represent the information that will be typed into the Quick Search bar. You can then create an advanced search syntax query using that token. The example in the screenshot below, for instance, will search for tags with a name that matches the search terms typed into the Quick Search bar.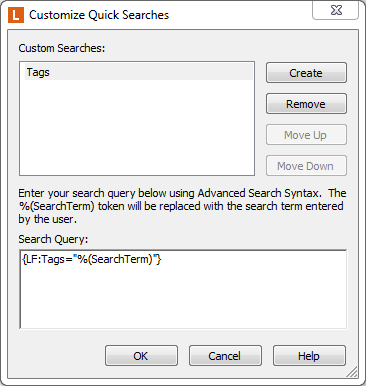 For more information, including complete instructions, see Quick Search in the Laserfiche User Guide.